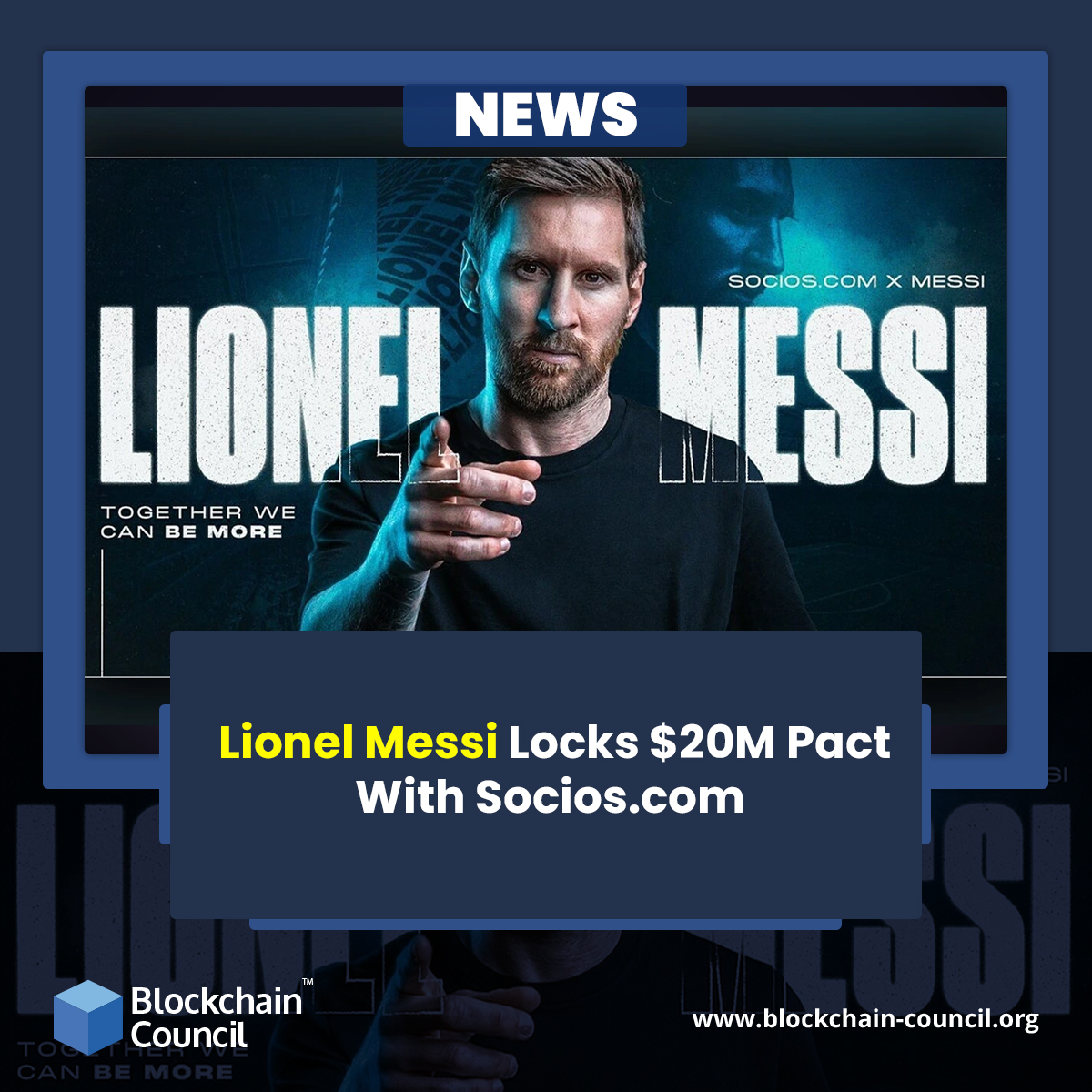 Seeing the craze for cryptocurrencies, it seems that this year the world will see some of the biggest collaborations between global sports icons and crypto-related firms and projects. With Lionel Messi joining this bandwagon, one can easily understand how big deal crypto has become across the global financial space. Yes, you read it right, one of the biggest footballers of all times, Lionel Messi is the latest entry to this fandom as the latter has locked a deal with popular crypto fan token firm, Socios to represent the firm, being its global ambassador, in the fast-developing crypto sphere.

The Argentinian star footballer has entered into a strategic partnership worth more than $20 million with the Socios.com platform. The terms specified that the three-year-long contract between Messi and Socios will, however, not involve any sort of cryptocurrency-based transactions. The team released an official Twitter post highlighting Messi's collaboration. Post the pact, Socios changed its Twitter Bio to 'Lionel Messi Approved' showing its excitement to lock a partnership with someone as renowned and loved as Lionel Messi.
This is not the first time that a sports sensation has agreed to become the face of a crypto company. Recently, David Beckham and Grand Slam winner Naomi Osaka have joined crypto platforms DigitalBits and FTX exchange respectively as their brand ambassadors. With Messi joining Socios, the portal is looking forward to expanding its outreach to a wider class of investors, specifically the loyal fans of the forward player.
The news announcement made by Socios stated that the firm will use Messi's latest crypto involvement in a publicity and promotion event for Socios related to the forthcoming Qatar World Cup that is scheduled for a November launch. In August 2021, Messi shifted his club from Barcelona to Paris St Germain and received cryptocurrencies as a signing bonus from the group. Socios will include this transaction as a promotional strategy to pump up the craze for its platform specifically aimed toward the fast-approaching Qatar WC.
Socios is a popular brand when it comes to the digital token space. It has a strong client base which includes collaborations with over 130 eminent football clubs and leagues. Messi released a statement showing his happiness about joining Socios. He aspires to create a stronger link and rewarding experience for his fans through the digital fan token ecosystem. Sports clubs come up with fan tokens to help people better engage with their favorite players. They allow fans to cast their votes on some crucial pre-defined decisions easily. These tokens work as a powerful connection between cryptocurrencies and sports.
The certified courses offered by Blockchain Council on cryptocurrencies and blockchain technology can help you play your best cards in the market space. They are designed to offer detailed knowledge to the participants in a lucid language and organized structure. 
If you want to keep up with the trends of blockchain industry, join our communities on Discord, Reddit and Telegram.