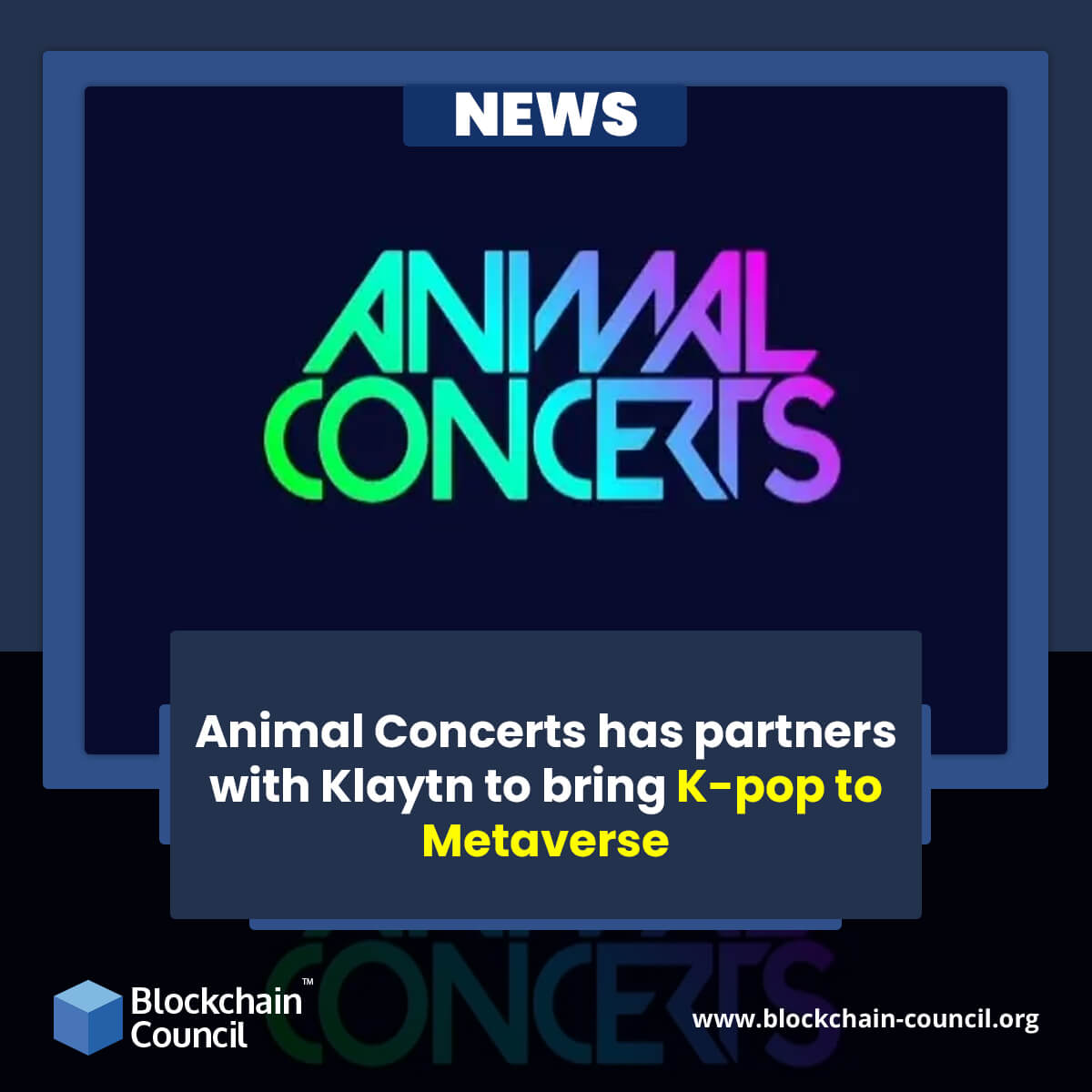 Working as a top-tier concert streaming platform focused on offering a next-gen entertainment experience, Animal Concerts has collaborated with Klaytn blockchain firm. Hailing from South Korea, Klaytn network is a decentralized platform controlled by the globally-renowned Kakao internet group. With this partnership, Animal Concerts' Metaverse ecosystem is looking forward to exploring the Korean entertainment sector and Klaytn is planning to support its global expansion plans.

According to the announcement made by the Klaytn team, the strategic collaboration with Animal Concerts will help the firm to increase the volume of NFTs traded on its portal. Klaytn shines as one of the three exclusive blockchain networks supported on the largest NFT marketspace OpenSea, however, the blockchain portal has the lowest trading volume. Also, South Korean unicorn and Klaytn's parent company Kakao is striving to come up with a fully-dedicated NFT and Metaverse interface called Kakao Games for the users.
The Animal Concerts platform will organize and support concerts in the Metaverse to bring an ultimate experience of technology-infused entertainment experience for customers. The company is also planning to issue a cryptocurrency token, Non-Fungible Tokens, and merchandise for renowned recording artists and creators. In its latest venture, the U.S firm has joined hands with Alicia Keys to promote her album KEYS amongst the masses especially NFT fans.
Talking about the project, CEO of Animal Concerts Colin Fitzpatrick stated that Non-Fungible Tokens can prove to be an effective tool for reviving the music industry that lost a significant share of its revenues in the COVID-19 crisis. Several artists have to face losses due to show and tour cancellations and are facing difficulties in connecting with fans in a live setup. However, with Metaverse concerts, artists can avoid such unforeseen cancellation of shows and also enjoy a reduction in touring expenses. The company is looking forward to gaininggain greater access to the $6B worth South Korean music industry as Klaytn is focused ontowards NFTs and Metaverse.
The spearhead is hopeful that the Korean entertainment industry will turn out to be a huge success for the company. He added that the technical limitations are likely to restrict the volume of attendees in a Metaverse concert due to scalability issues. However, the team plans to create a strong channel of virtual clusters across the existing and new Metaverse portals for hosting concerts in a real-like concert experience. The Klaytn group is a popular blockchain firm with a strong governance council that includes leaders such as LG Electronics, Netmarble, Shinhan Bank, Binance, Maker, etc.