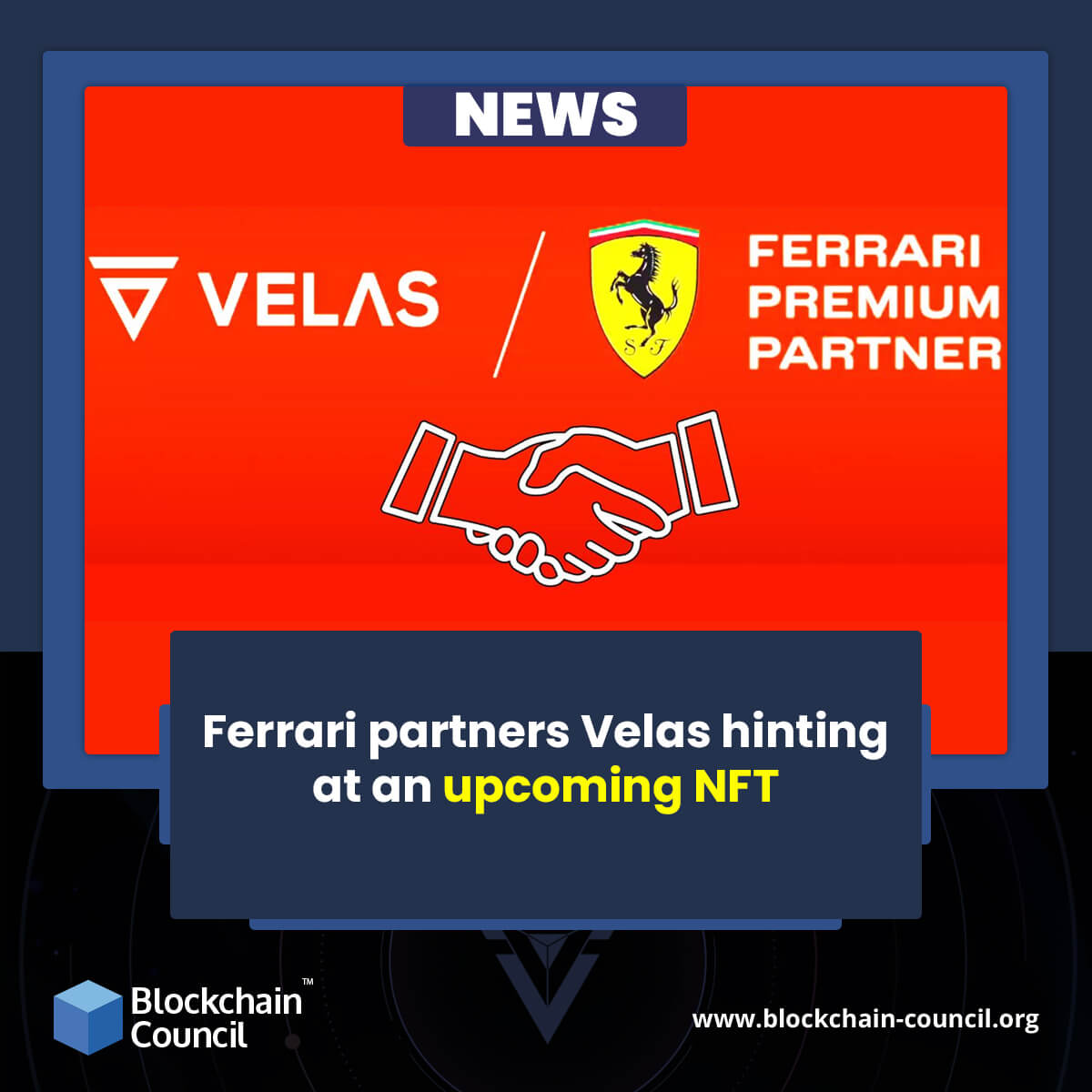 Ferrari, the globally-acclaimed luxury sports car manufacturing firm from Italy is gearing up to take the crypto industry on a sweep with its latest collaboration with Velas Network, a Swiss blockchain company. In an official announcement, Ferrari revealed news about its multi-year partnership arrangement with Velas focused primarily on the creation of 'digital content' for the Scuderia Ferrari fans. The integration is hinting towards Ferrari's plans to explore the fast-growing NFT market that can help in connecting Scuderia Ferrari professional sports team with its fans from across the world in a seamless way.
As part of the collaboration, Velas Network will work as a partner of Ferrari's Formula 1 racing team. The firm will be the Title Sponsor of the Ferrari Esports Series, the online series of the Prancing Horse, and of the Esports team that will take part in the F1 Esports Series. The prestigious F1 Esports Series is the official digital championship that will witness the participation of all the teams playing in the FIA Formula 1 World Championship.
The official post released by Ferrari addressed Velas Network as a top-tier firm in the field of digital assets, blockchain technology, and Non-Fungible Tokens. The team stated that Velas has managed to establish itself in the industry through its unmatched performance, technological expertise, and innovative services. The excellent characteristics make Velas a perfect partner choice for the Maranello team.
A similar reaction was given by Farkhad Shagulyamov, a co-founder and CEO of Velas. He said that the team is elated to join hands with a premier company like Ferrari. He added that Velas has provided innovative technology focused on the blockchain sector. The spearhead conveyed that the pioneering technology will now enhance the level of the motorsport industry.
Velas is an open-source blockchain company that provides unprecedented excellence of centralized and decentralized technology. In October, the firm disbursed $100M to startup companies using Vela's blockchain network. The entire ecosystem runs on its native currency called Velas (VLX) that has managed to enjoy a successful run in the industry. The token rose over 70% in the past seven weeks span. Recent times have seen tremendous growth in interest towards NFTs amongst investors. The tokens allow firms to reduce the gap between valuable assets and their collectors. NFTs help creators trade their creations with people safely. The use of blockchain technology helps to reduce the risks related to infringement, circulation of fake replicas, and copyright issues.