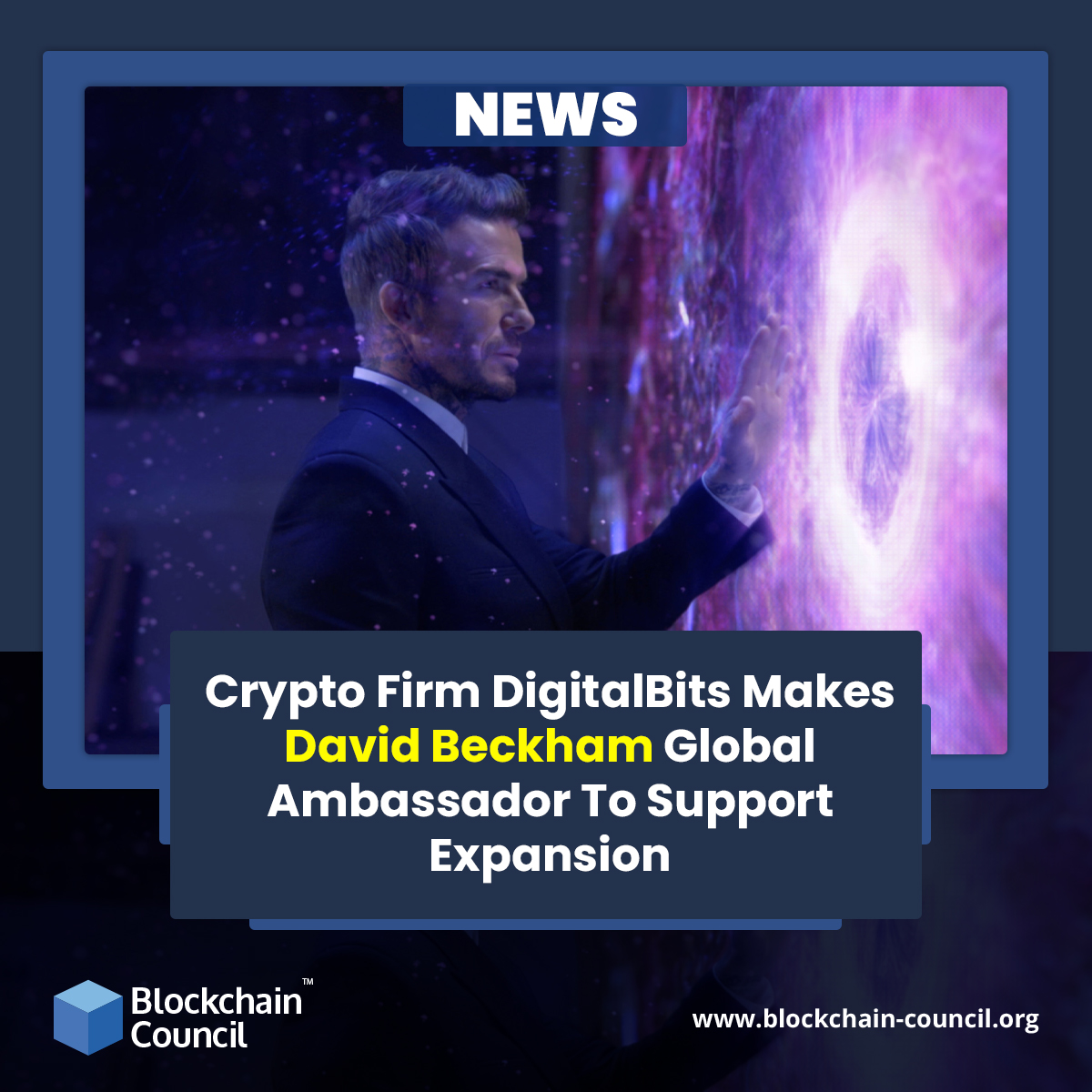 After leaving a legacy as an iconic legend in the game of football, David Beckham is gearing up for a successful inning in the cryptocurrency sphere. The star player has become the proud global brand ambassador for DigitalBits, a layer 1 blockchain protocol devoted to offering high-end security and scalability to users. With this collaboration, Beckham has become the latest addition to the list of global celebrities supporting and associating their names with cryptocurrency-based firms and projects.

According to the report, DigitalBits will use Beckham's popular public image and his global fandom to expand its outreach to new investors hailing from different parts of the world. The legendary footballer who is also a renowned philanthropist and successful businessman will strive to popularize DigitalBits amongst customers, businesses, brands, firms, and organizations across the globe. With his keen interest in inclusive technology, Beckham will lay the foundation of several projects showcasing the potential of the DigitalBits blockchain ecosystem.
The strategic partnership will pave way for new opportunities for Beckham and his fans to connect in a safe and secure environment. The speedy and eco-friendly decentralized ecosystem of DigitalBits will help Beckham to interact with his fans in an all-new manner. DigitalBits serves as the Blockchain for Brands and Beckham will employ his experience and connections with top-tier brands like Adidas, Maserati, Sands, Tudor, Diageo, and EA. The star player has a strong presence in the digital sphere too with a following of over 138 million. His annual impression crossed 9 billion across social media platforms like Instagram, Facebook, Weibo, Douyin, etc. Beckham is the most followed and engaged personality on social platforms in the U.K.
The collaboration will involve Beckham launching multiple NFTs and blockchain-based virtual assets minted on DigitalBits to create a new experience for customers. Beckham stated that he is delighted to connect with the DigitalBits platform for interacting with his fans online. He added that he is excited to work on NFT collections and innovative projects in the near future as part of the pact. A similar reaction was given by Al Burgio, the founder of DigitalBits who revealed that the team is happy to work with Beckham in unleashing the true potential of blockchain technology amongst users around the globe.
If you are planning to know more about crypto, then Blockchain Council's courses can help you in achieving this. The courses offer detailed information to the participants and help them to sharpen the skills required to succeed in the thriving crypto sector.
If you want to keep up with the trends of blockchain industry, join our communities on Discord, Reddit and Telegram.