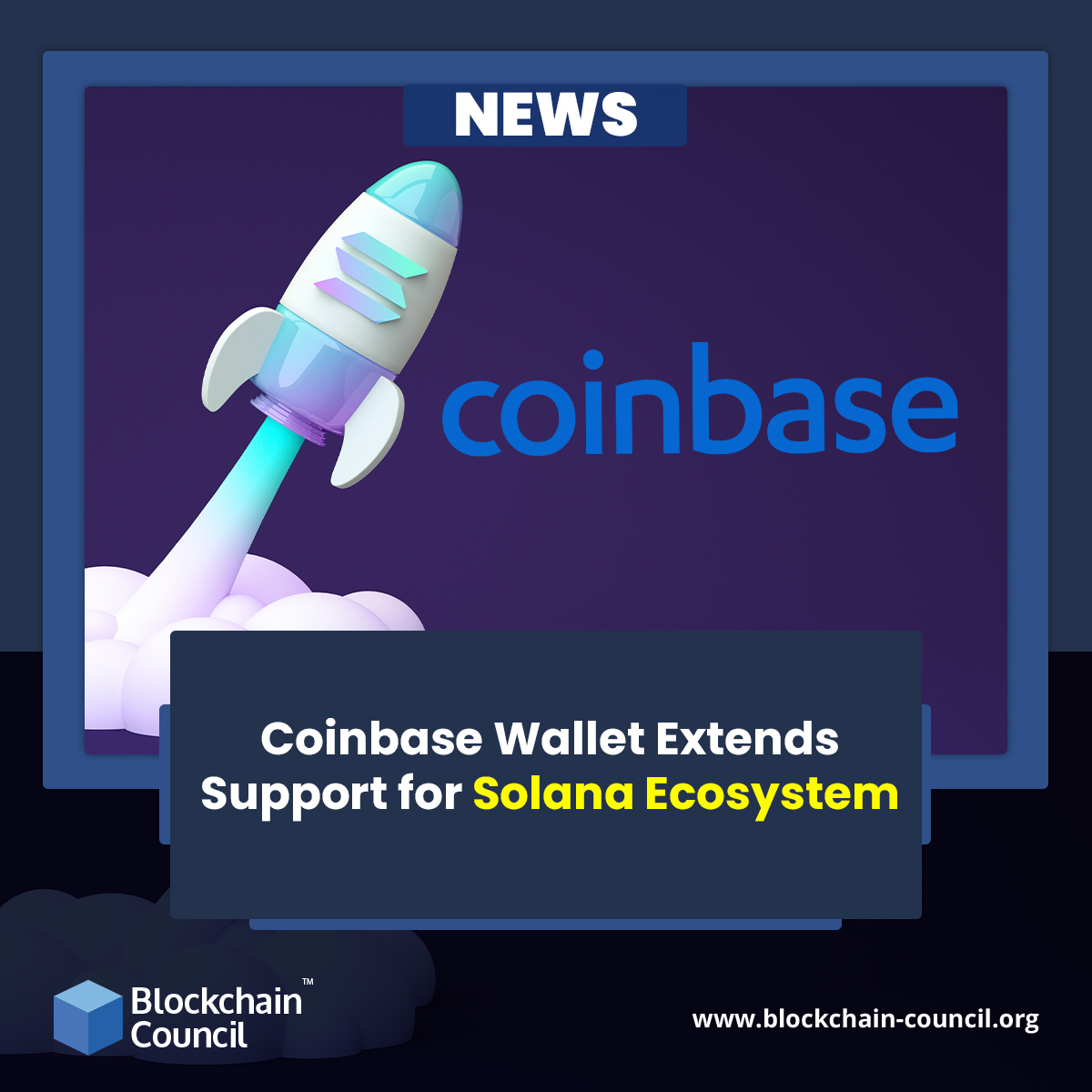 Coinbase has announced support for the Solana ecosystem on Coinbase Wallet's desktop extension.

As per the blog post of Coinbase, the users can control their SOL (Solana) and SPL (Solana tokens) along with the tokens secured on all of Coinbase Wallet extension's supported networks like Avalanche, Ethereum, BNB Chain, Polygon, etc. This will also allow users to access more of Web 3.0 bypassing the requirement of multiple wallets. 
According to Coinbase, this upgrade "makes it easy to track all of your cryptos across an ever-growing spectrum of supported networks, without the need to maintain numerous wallet applications." 
Coinbase Wallet also "proposes to further integrate with the Solana ecosystem, and enhance the experience for users to connect to Solana Dapps and control and monitor their Solana NFTs from within their Coinbase Wallet extension."
"Up until now, customers who wished to explore the Solana ecosystem or hold SOL and SPL tokens had to open yet another crypto wallet, maintain a new software or browser extension, and keep track of their assets across several surfaces," the blog post said. Users of the Coinbase Wallet extension may now " send, receive and save Solana (SOL) and all of its SPL tokens along with all of their EVM-compatible assets, such as the tokens stored on Avalanche, Polygon, Ethereum, BNB Chain, and many more" as reported on March 17.
The browser extension will now include SOL and SPL tokens. This will allow users to monitor their tokens secured in their Coinbase wallet on both mobile and desktop while using the Coinbase Wallet extension. However, Users will not be able to monitor their tokens using the Coinbase Wallet mobile app.
According to DefiLlama data, the Solana blockchain is now ranked fifth among DeFi protocols in terms of TVL (Total Value Locked), with $6.94 billion. As reported by CryptoSlam, an NFT data aggregator, Solana gained around $156.28 million last month in secondary sales volume and ranks as the second-highest blockchain for the same aspect. 
SOL's price has plummeted 18% in the previous 30 days, to $85.90 at the time of writing, matching the overall dismal performance of the crypto industry this year. In the short term, SOL is expected to reach a bullish objective of $122 if it breaks above the 20-day moving average of $86, and a bearish target of $66 if it fails to sustain and remain above that level.
If you want to know all there is to know about cryptocurrencies and blockchain technology, the Blockchain Council's extensive certifications are for you. The certifications provide subjective and practical information in an easy-to-understand format. They are affordable and provide you with immediate exposure to the developing industry.
If you want to keep up with the trends of blockchain industry, join our communities on Discord, Reddit and Telegram.