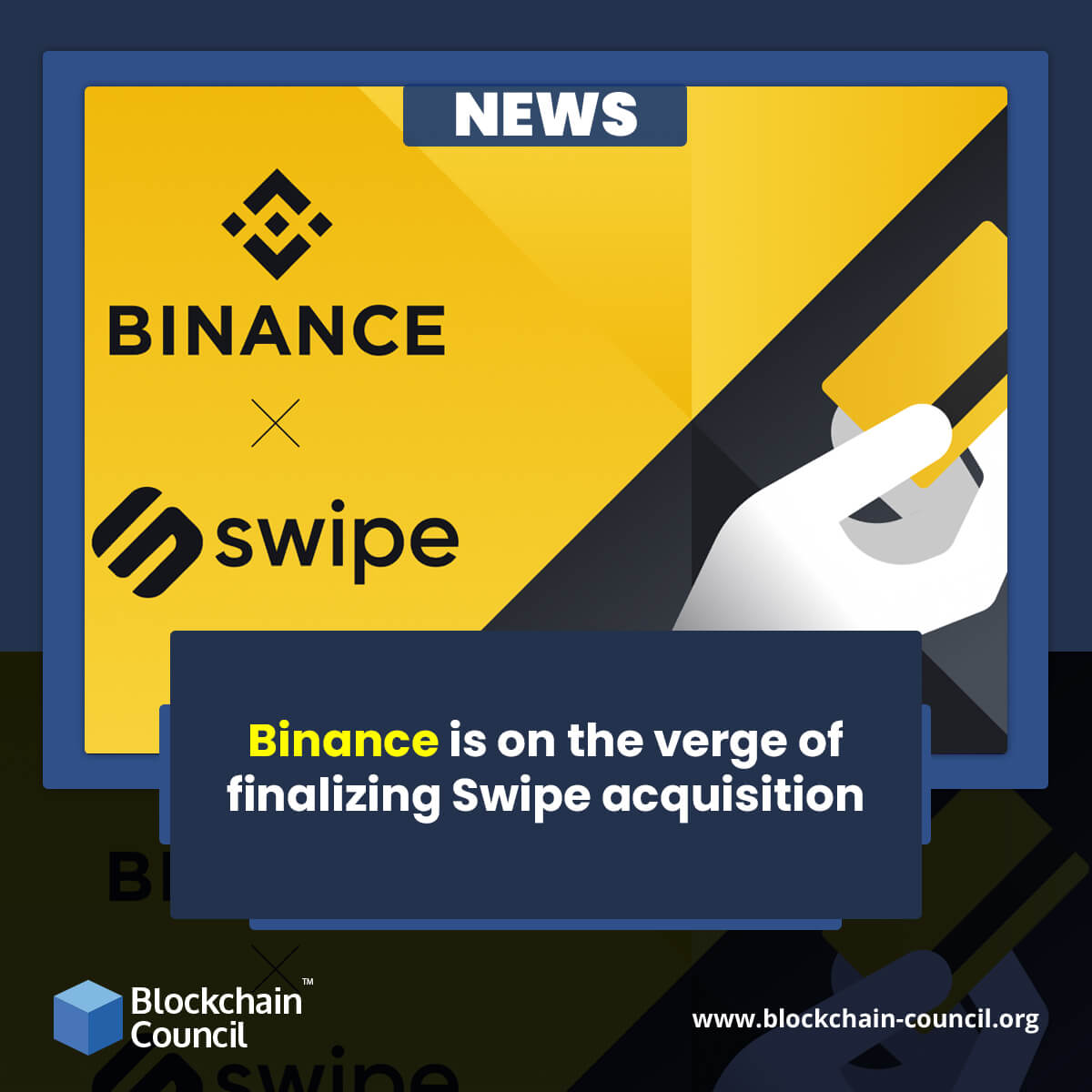 Taking pride in being one of the world's largest cryptocurrency exchanges, Binance is all set to acquire the last patch of outstanding shares of Swipe to finalize the acquisition procedure. Swipe works as a renowned crypto Visa card providing firm that sold a majority of its shares on July 6, 2020 to Binance as part of a collaborative agreement. The partnership was aimed to help Binance expand crypto adoption by linking fiat and virtual asset industry.  

As part of this acquisition, the users of Binance exchange will be allowed to spend their valuable assets at more than 70 million venues spread across the world without any issue. The strategic deal with Swipe will help Binance to strengthen its hold in the financial sector. The cryptocurrency exchange is looking forward to giving stiff competition to other retail crypto platforms like PayPal and Mastercard who provide crypto-related services to users. The exchange platform has confirmed that Swipe's CEO Joselito Lizarondo will leave his office after the acquisition process is completed.
The official reports conveyed that Swipe will work as a potential card program manager and technological channel for the powerful Binance cluster. Swipe is expanding its channel through crucial partnerships to fuel its operational capacities for investors. The firm has collaborated with its partner firms to facilitate card services in recognized zones and market fields.
The trading services provided by Binance exchange has helped it emerge as one of the most popular crypto exchanges with strong investor support. This year, Binance garnered a lot of negative attention from the industry for getting indulged in regulatory controversies. However, these issues did not hamper the growth of Binance as it continued to expand its operations through new partnerships. Recently, Binance earned an in-principle license from the Central Bank of Bahrain and Canada government to execute its operations.
The exchange is providing support for a wide range of virtual tokens. Earlier in November, Binance CEO Changpeng Zhao revealed that the platform is working to establish a $115M project to expand its cryptocurrency and blockchain cluster in France and Europe. The exchange collaborated with the World Trade Center in Dubai to flourish the industry in the country.