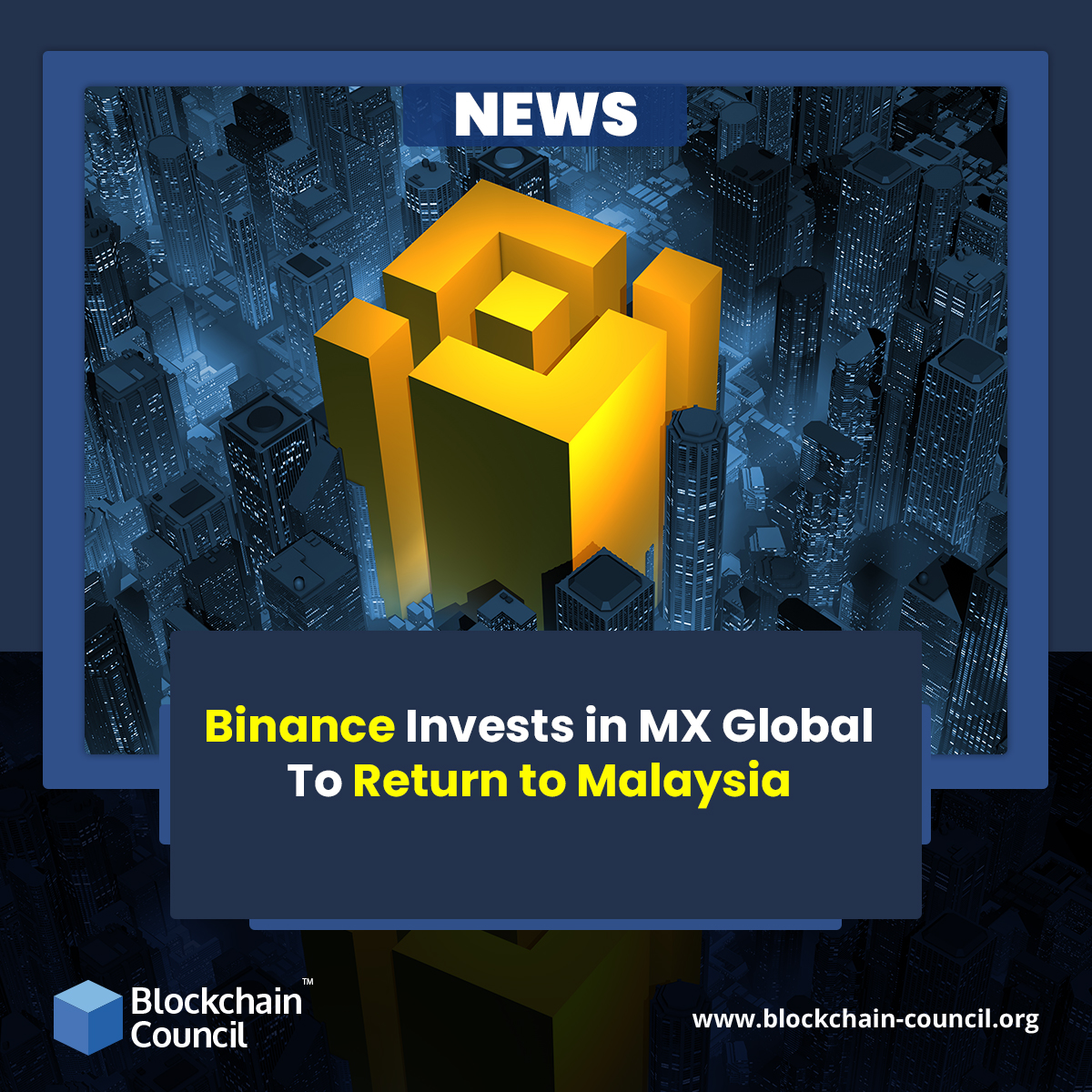 Thriving as one of the largest cryptocurrency exchange portals in the world, Binance has locked a strategic deal with MX Global that shines as a popular digital asset trading ecosystem. To support its expansion plans, Binance has made an equity investment in MX Global to hold a grip on the fast-developing crypto space in the country. The constant growth witnessed by the global crypto market has pulled in new customers who are actively investing in virtual asset products through trusted and regulated exchanges for enjoying safe trading.

Talking about the investment by Binance exchange, MX Global CEO Dato' Fadzli Shah stated that the firm aspires to be used as a liquidity portal for digital assets and token issuers in the local as well as the global market. The collaboration with Binance will help the entity in furthering its vision and placing itself in the race with other prominent players in the global parlance. The chief added that the teams will put in their joint efforts to leverage a safe, reliable, and real digital asset trading channel for users.
For those who are unaware, MX Global takes pride in being one of the four Recognized Market Operator-Digital Asset Exchange or RMO-DAX. Earlier in June 2021, the exchange received full approval from the Securities Commission Malaysia. The team strives to build a strong and trusted ecosystem for the decentralized economy.
Legal Troubles Faced by Binance Exchange
Where Binance continues to sustain its position as a leader amongst cryptocurrency exchange portals, it has been in some hot waters with regulatory authorities in Malaysia. In July 2021, the SC accused Binance of working illegally in the state. Various regulatory organizations stated that the exchange operated without fetching a license for working as a Digital Asser Exchange. The portal was not registered under Sections 7(1) and 34(1) of the Capital Markets and Services Act 2007. This compelled Binance to shut stop its operations in the region.
The exchange received backlash from Dutch and Japanese regulators too for running the portal without proper licensing. The authorities such as the Cayman Islands Monetary Authority and Italy's securities regulator also emphasized that the exchange is not authorized to work in the regions. Despite all this, Binance continued to expand its operations within the cluster. The exchange is looking forward to stepping into the Russian market space. The firm entered into strategic partnerships with SM Brand Marketing, YG Entertainment, etc. to support its growth plans.
Planning to dive into crypto but have no clear idea about the industry? Then, Blockchain Council's certifications on blockchain technology and cryptocurrencies can help you sail through this easily. The courses are designed by experts to offer in-depth knowledge on the subject matter so that the participants can gain an edge in the field.