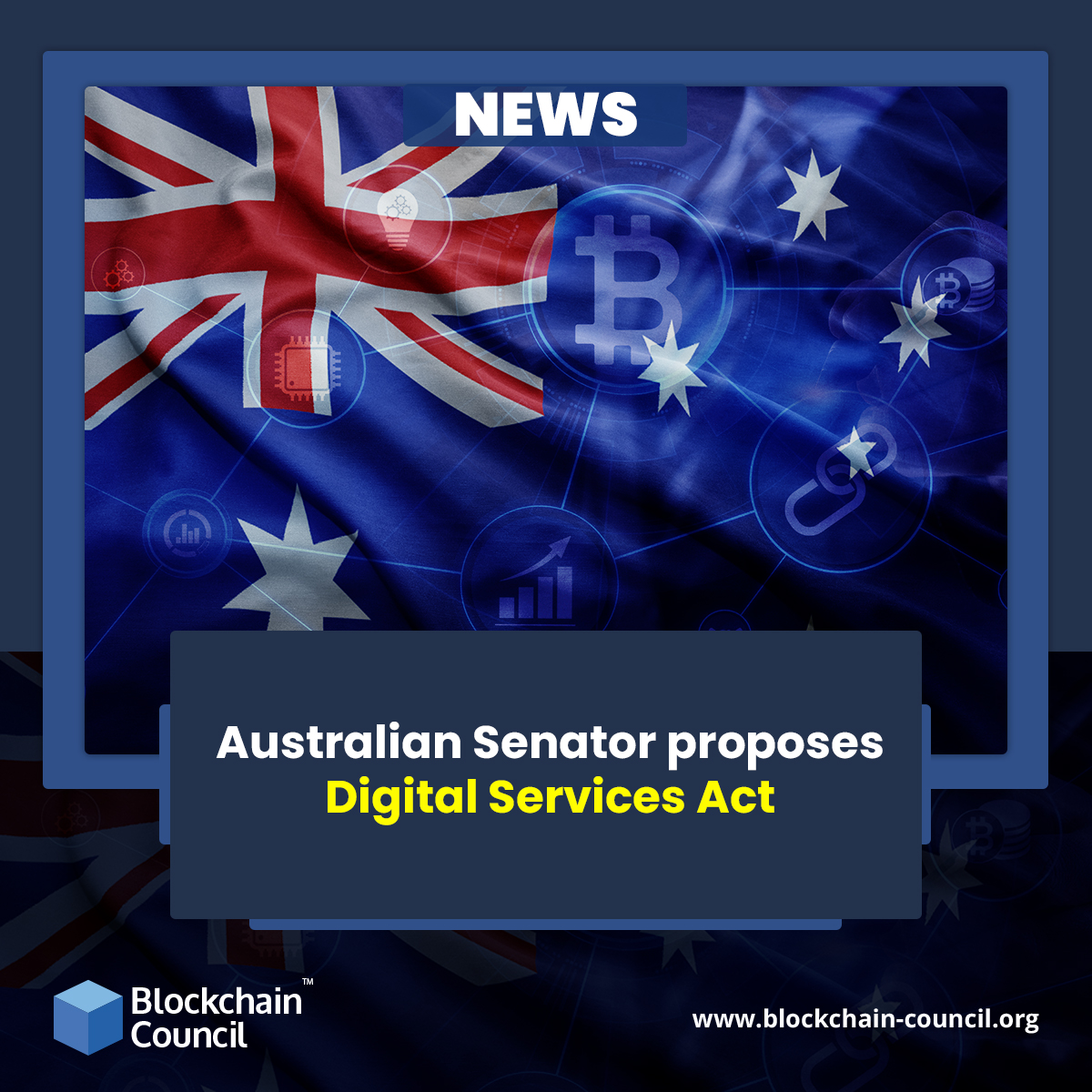 To protect consumers from malicious attackers in the space, the fresh legislation package will address issues about crypto custody, taxation, and DAO operations.

Senator Andrew Bragg of the Australian Liberal Party kicked off the Australia Blockchain Week conference with a surprising legislative proposal that he claims would provide the framework for the country's new Digital Asset ecosystem.
DAOs (decentralized autonomous organizations), crypto market custody, licensing, debanking, and taxes are all part of the proposed DSA (Digital Services Act) law package. In his conference presentation, Senator Bragg noted that the Act's rules will "protect (crypto) clients from unscrupulous operators."
Senator Bragg described the DSA's four key pillars of guidance. He emphasized that the DSA will be technologically agnostic, operate under broad and flexible principles, be governed by a Minister rather than a bureaucratic body, and employ government resources and employees. Such guidelines, he believes, would assist Australia in demonstrating that it is ready to play a larger role in the crypto business.
"This will indicate that Australia is a business-friendly country with everything in order and transparency."
The Senator also spoke on DAOs, emphasizing the need for all levels of government to take them seriously. He even went so far as to call the current limits "an existential threat to the revenue base."
According to data given by the Australian Parliament, company tax is the government's second-largest revenue stream after income tax; however, DAOs are not taxed as corporations.
Building on Australia's crypto hub ambitions: address to @BlockchainAUS.https://t.co/j79BpbGJKI pic.twitter.com/8bf7Sqjut4

— Senator Andrew Bragg (@ajamesbragg) March 20, 2022
Senator Bragg responded by saying that if an increasing number of firms become DAOs, his country's "dependence on corporate tax is untenable." As a result, the DSA would charge the government with developing a framework for developing DAO standards without suffocating its essential values.
According to the rules, consumers would have access to audit, assurance, and transparency services from DAOs that would assist them in discerning between retail and wholesale firms. Senator Bragg urged the Treasury Department to address the problems while also "keeping the field open for DAOs to continue to live up to their name."
Michael Harris, the head of corporate development at the Australian crypto exchange Swyftx, supports the government in establishing stricter rules for the local crypto market. Tighter restrictions, he argues, pose no threat to exchanges since "the bulk of Australian exchanges already take their duty of care to customers quite seriously."
Because of its high rate of acceptance, Harris believes Australia should be leading the developed world in crypto legislation. According to a study conducted by pollster Finder between October and December 2021, 22.9% of Australians held cryptocurrency. Harris went on to say that:
"This is a significant step forward for us." Australia has one of the highest cryptocurrency adoption rates in the developed world. So it's only natural for us to take the lead in terms of regulation."
One of the biggest issues in the crypto sector recently has been the use of cryptocurrency by people and countries to avoid global economic sanctions. For example, the US Senate is presently debating whether the Russian government can continue to pay its military campaign in Ukraine with the aid of Bitcoin.
According to Senator Bragg, "The truth is that we don't live in a libertarian paradise. Regulatory arbitrage is not an option."
On March 15, blockchain tracking firm Elliptic discovered that some sanctioned persons are hoarding cryptocurrency, but Senator Bragg indicated that the Australian government was helpless to punish such offenders under the present Digital Currency Exchange (DCE) legislation. The absence of authority of the DCE prompted the new measures to prevent sanctioned persons from exploiting slack crypto rules, according to the DCE.
If you want to know all there is to know about cryptocurrencies and blockchain technology, the Blockchain Council's extensive certifications are for you. The certifications provide subjective and practical information in an easy-to-understand format. They are affordable and provide you with immediate exposure to the developing industry.
If you want to keep up with the trends of blockchain industry, join our communities on Discord, Reddit and Telegram.