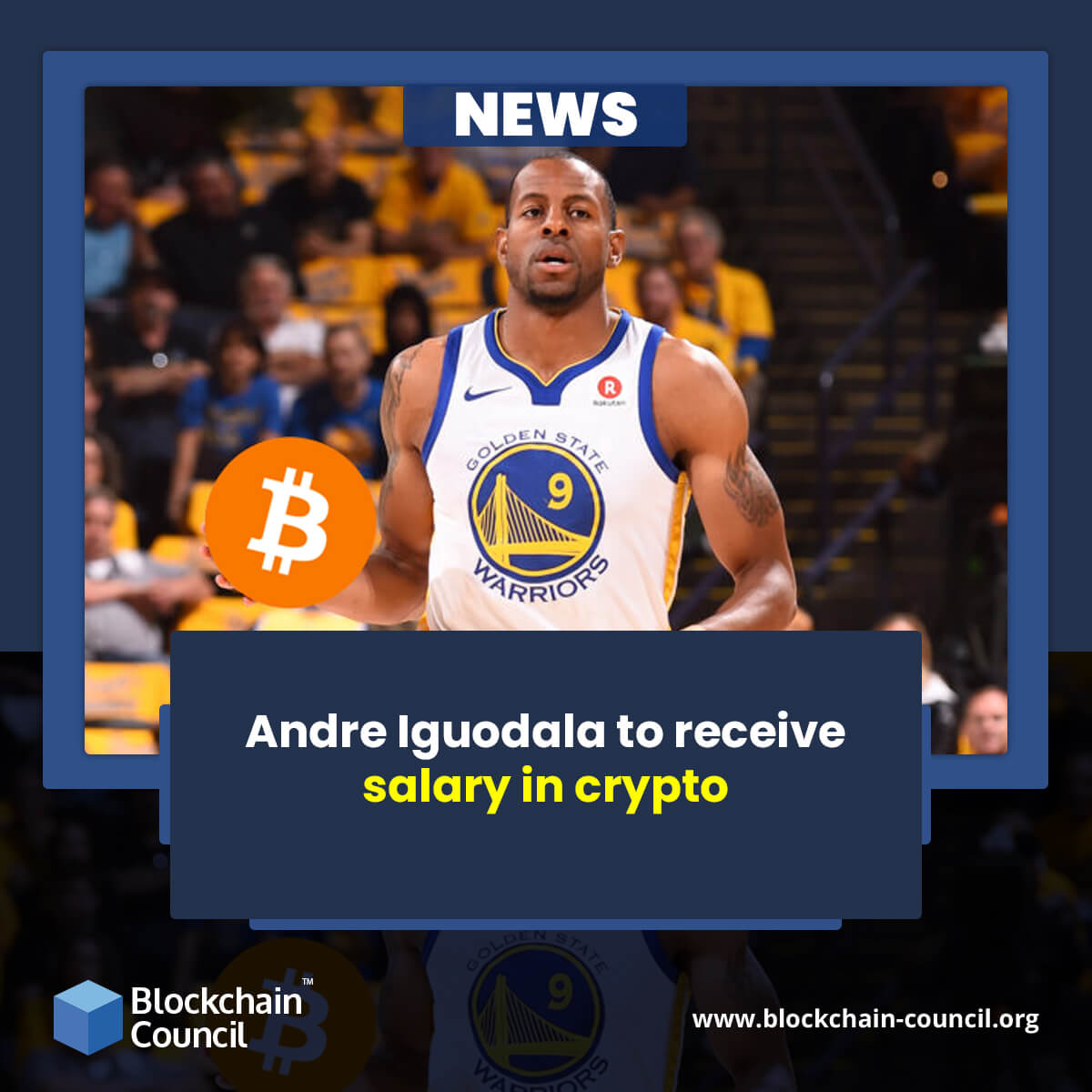 In recent times, we have seen many incidents where renowned personalities from multiple fields have shown interest in receiving their salary in crypto. The latest addition to this list is Andre Iguodala, the three-time NBA champion and basketball player for the Golden State Warriors. The star player revealed on Twitter that he would take a portion of his annual salary worth $2.647 Million in Bitcoin (BTC) through Cash App. Also, Andre stated that he has planned to give $1M worth of BTC tokens to his fans with a view to promoting Bitcoin adoption amongst investors.

I'm excited to announce I'm taking part of my salary in BITCOIN w. Cash App! Bitcoin is the future, @klaythompson and I are both believers. To make bitcoin more accessible, we're giving out $1M in bitcoin back to fans today. Drop your $cashtag w. #PaidInBitcoin & follow @CashApp

— andre (@andre) January 10, 2022
Talking about the economic trends in 2021 and not mentioning cryptocurrencies will be like ignoring the glittering stars in the whole wide galaxy. With the virus engulfing a major part of the world population, the entire economy seemed to have stopped. Interestingly, when the. The craze for crypto increased exponentially and people started seeing them as a resort to traditional payment channels.
The popular Basketball Player is not the first to accept his payments in cryptocurrencies. There has been a striking rise in the popularity of crypto earnings amongst celebrities, sportspersons, influencers, government authorities, etc. Undoubtedly, Bitcoin has managed to emerge as the top choice for them. Easy access, decentralized structure, high-end safety, complete transparency, etc. are some of the top reasons for the growing craze for crypto assets amongst people. Presently, at least seven NFL players are accepting salaries in crypto over cash. In 2020, Miami Mayor Francis Suarez and NYC Mayor Eric Adams decided to accept their pay in BTC. Suarez even announced to invest his 401(k)-retirement savings in the virtual token.
The shift to crypto salaries has stored potential for employers as well as employees. The firms need to spend hefty amounts for managing the payments of employees working from different parts of the world. There is no need to collect the banking information of employees or face the hassle caused by the time-consuming transfers. The workers can easily swap their digital earnings for the currency of their interest without undergoing fiat-to-crypto conversions at exchanges. The employees can exchange their crypto for stablecoin and avoid volatility risks. The widescale expansion of crypto is likely to streamline payment systems making them more secure and user-friendly.