You might have come across the race gaming companies are often getting into. Yes! It's about creating features that will eventually be a part of the metaverse. Although it seemed weird initially, it does make perfect sense now! Virtual reality gaming has the potential to completely take over the video game industry within the coming years. Through this article, we will be looking into what metaverse gaming is, the difference between normal games and metaverse games, as well as the top 10 metaverse games you can immerse yourself in 2023. Scroll down to learn more!
What is gaming in the metaverse?
The Metaverse technology fuses social media, online gaming, augmented reality (AR), virtual reality (VR), and cryptocurrencies to enable individuals to communicate virtually.

The most beloved element in the realm of video games is 3D virtual games. This leads to people having quite intense relationships in the Metaverse world as well. Gaming in the metaverse provides a variety of functions as well as services that are highly relevant to our daily lives.
Gamers no longer participate in conventional gaming. Gamers can combine playing the game with some other pursuits like digitally conducting conferences, performances, or events.
Such features are offered by video games like Roblox or Fortnite, wherein millions of users can engage at once. Players can chat, talk and do things together with friends, and that is what makes them more interesting.
Want to know more about the Metaverse and how it works? Visit our detailed guide to understand What is the Metaverse?
Elements of metaverse gaming 
A metaverse game may include a lot of different components, but we're able to focus on the core ones. There is, of course, a possibility that our list may not contain all, but we try to include the following fundamental components, which are given below.
A 3d Virtual World That Is Accessible

Gamers Use Virtual Characters To Communicate And Participate

Possession Of In-game Items, Whether Important Or Unimportant, To The Game's Goals

Gameplay Principles And Goals

Vr Equipment To Allow Participants To Take Part
Top 10 Metaverse Games To Play In 2023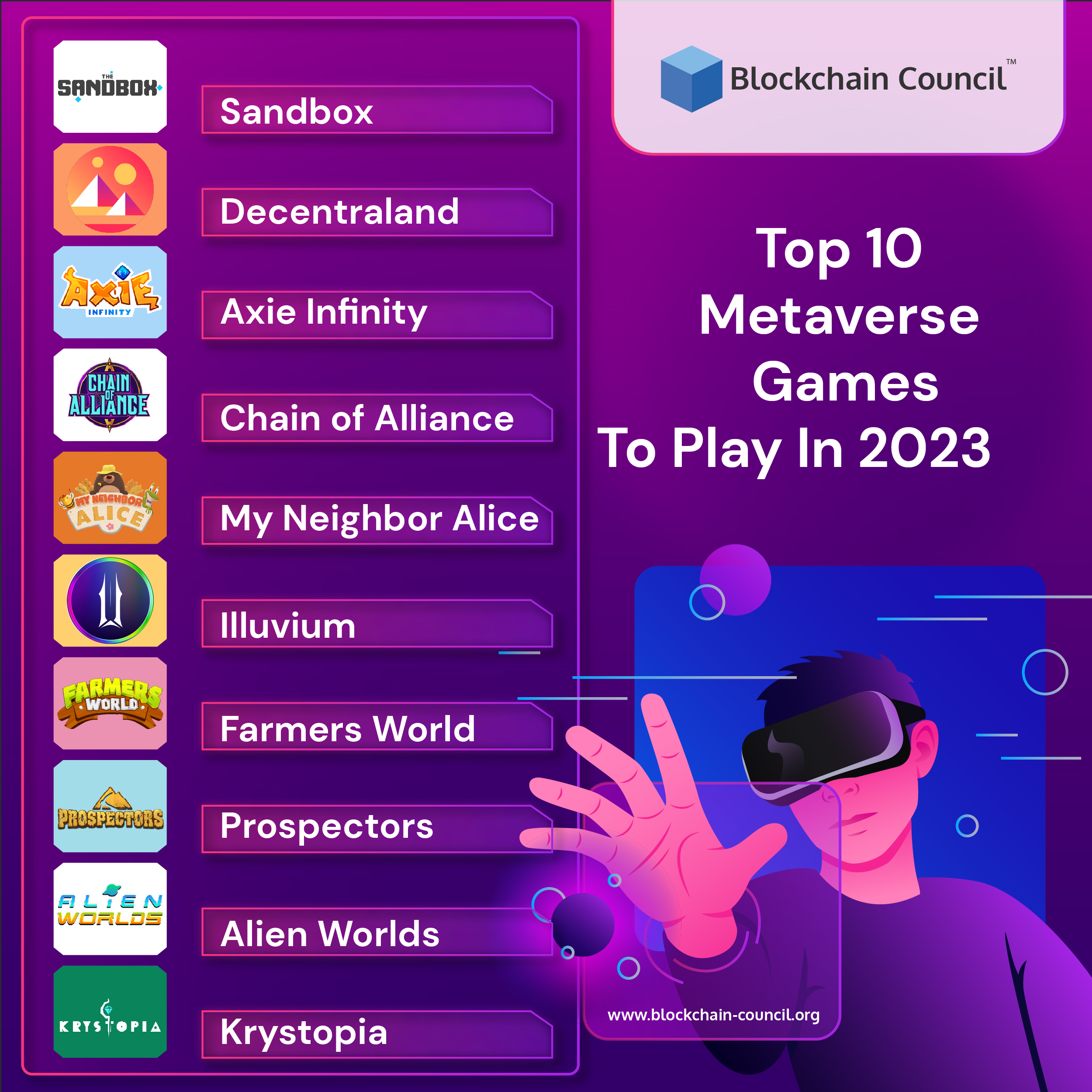 Here given below, is a list of games that may or may not be in development, but most of the games in the list are released already, so gamers around the world are either already playing those games or can just play them now.
Sandbox
In 2012, French co-founders Arthur Madrid and Sébastien Borget of Pixelowl initially made Sandbox available as a smartphone game. It's just another user-generated infrastructure where individuals may customize their identities to look like blocks and utilize metaverse blockchain technologies as well as smart contracts to safeguard the content they publish.
Sandbox mostly includes three different things. Use the 3D modeling program VoxEdit to design avatars, cars, plants, animals, tools, as well as other things. The Global market, Sandbox's secondary offering, allows players to export their works so they can sell them there. Game Maker, the outcome, enables its users to create 3D video games without needing to write a single line of code.
Sand is the name of the primary money in the Sandbox. As from the Sandbox world map, players can also choose properties (a group of territories) that they can buy and sell. Players also have the choice to advertise those assets throughout the Open Sea NFT marketplace.
Decentraland
Decentraland was revealed to the wider public by Argentine partners Ari Meilich as well as Esteban Ordino in the early 2020s. A player can use MANA funds to make personas, buy gear, and buy a place in this virtual environment, including more than 90,000 land pieces. Every lot, which is 16 digital square meters, can be rented out by a landlord for whatever is located on it, including homes, restaurants, playgrounds, theaters, casinos, as well as other structures. Players can also generate income by setting up an event where virtual artwork will be sold and planning a concert, including selling things, among other things. Users of each of these websites use MetaMask, among the most popular digital money.
Axie Infinity
Axie Infinity is a Vietnamese company that Sky Mavis founded in 2018. In the same computer game with a Pokemon-inspired aesthetic, gamers can raise, nurse, collect, and trade fictitious creatures known as "Axies." There are about 500 interchangeable body parts in each creature. Axies' children exhibit a variety of qualities but also talents depending on their biological makeup.
Axies have the option of fighting others Axies or going on bounty hunts to acquire rewards. For the Axies to reside, players can acquire property and houses that they can build using the system's materials.
The simulated creatures and other items inside this game have worth in the form of non-fungible tokens (NFTs), which have been virtual holding licenses controlled using blockchain technology. Locating academics or people to whom they can lend three of their Axies also helps players find tokens. The Axie Infinity Shard, or AXS, is the main means of dealings in the game. Inside this computer game, rewards for killing enemies or completing objectives include calming love juice or SLP tokens. Axies can only be fertilized with SLP and AXS tokens.
Chain of Alliance 
Initially released in 2020, Chain of Alliance is merely another role-playing medieval video game with customizable characters and an NFT rating. A maximum of eight figures from each player's squad may be fielded every round. Players should choose the greatest players and also provide them with the right equipment to increase their chances of succeeding.
My Neighbor Alice
Players can purchase and maintain digital locations that Alice looks after or perhaps farming areas inside the co-operative construction video game My Neighbor Alice. Identical to Farmville, players can select the products to cultivate, the livestock to hatch, and how players want to connect with many other players. Users can also operate a honeybee farm as well as beehives and then afterward sell the honey as another source of income. My Neighbor Alice NFTs (which can comprise vegetation, fauna, dwellings, clothing, ornaments, and a lot more) can be exchanged on the Alice marketplace in addition to other blockchains.
Illuvium
A lot of debate in the video games industry is now being sparked by Illuvium, a very recently launched video game title that is being touted as a "true triple-A, 3D blockchain." In this game, gamers seek for such mythical creatures called as illuvial by exploring a strange world. One can either catch them with fragments or cure them. These species could then aid players in combat with more than a hundred new creatures, as well as other gamers. Illuvial NFTs are also marketable; their value increases with their strength as well as rarity. If anyone possesses three identical illuvial, and every one of those has attained its utmost rank during the fighting, then the player can combine or integrate into a single new entity to increase their potential.
Players can retrieve their armor and weapons in the Illuvium habitat. Players are given incentives in the form of Illuvium cryptocurrency, or ILV, after achieving challenges and assignments. Players can, however, exchange ILV on the IlluviDEX.
Farmers World
Anyone can purchase property in Farmers World, which will be published in 2021, extract gold, cultivate vegetables, raise animals, catch fish, and create cottages for player-owned farm animals. Items can be purchased in AtomicHub's store.
Among many of the goods manufactured on gamers' virtual real estate that is classified as NFTs include eggs and milk. Players can buy or sell the harvested crop to all other players.
Players also need to defend their farm from all other invaders (red and white clans), in addition to other gamers who might try to take the supplies or defend their farm from wild forest creatures.
Prospectors
The Prospectors is a multiplayer economic strategy-based video game that transports players to the Wild Frontier of the nineteenth century, according to its designers. The objective of the game is to collect gold which players can exchange for Prospectors Gold, the virtual money used in the play.
Users begin the adventure with three workers that they can use to operate for themselves or other people. To begin with, the employees may assist players in constructing a mine and begin digging. Free land is available for mining; however, it must be rented out to put up buildings. The property will be restricted for non-payment of rent, and anything associated with it will be sold through an auction.
Alien Worlds
Published in 2020, Alien Worlds assigns players the role of a galactic adventurer who must mine Trilium, the in-game commodity, among six worlds. One "vote rights" are determined by the amount of TLM they hold on a planet, and each world possesses its own elected leader.
Users start with shovels, but it's ideal to purchase their site or pay a landlord to begin mining if anyone requires additional TLM and more potent mining equipment. Players can also gain tokens by engaging in mining tasks as well as combating fellow adventurers.
Krystopia
Krystopia is an adventure story game where players play as Commander Nova Dune, a galactic researcher who travels to planet Krystopia upon receiving a strange distress beacon from there. Players who enjoy mazes or riddles will definitely enjoy this game. Its residents would come upon Nova and her extraterrestrial companion Skrii, and they would engage in trials like those in an escape room.
Future of metaverse gaming
Every day that goes by, the metaverse soars to unprecedented levels. The next major innovation that would alter the look of the virtual environment is currently considered conventional technology. Innovative technologies like blockchain, the Internet of Things, and 3D visualization are complemented by Metaverse by its full cinematic experience.
This goes without saying that the video game industry always grows despite what many haters say. Additionally, it is predicted that throughout the future, the gaming sector will keep dominating all other sectors. Right now, everyone on the planet is obsessed with just about any new video game. No matter whether it is a re-release or just a newly launched game. People around the world play games unless and until the game offers quality. Now, this thing completely changes with the metaverse. Now the game is not just about completing missions, fighting, and all, but the user sees the virtual world that looks almost real even though this technology is still under development, when it becomes fully functional, it completely dominates other sectors in the industry.
Conclusion
Since Metaverse continues to be in its infant stages, numerous businesses have already introduced cutting-edge gaming consoles. Future-oriented ventures such as Decentraland and Sandbox were just a few instances, while major tech players, including Microsoft and Facebook, are launching their original Metaverse initiatives. As a result, a greatly improved edition of Metaverse is probably on the horizon.
The above list of games are just a few of many games that are already released, like Batman VR, Resident village VR and also many games are yet to release, and also some are already in development. Every once in a while, there are numerous rumors. Almost any company as of now wants to test their game in a metaverse environment, so either they just start a game development or have at least an idea of how to make a game for this platform since being a new technology, mainly big companies have started many projects, especially in gaming.
Metaverse is still quite a mystery about what changes in an industry like gaming since the change in this industry happens now and then. For that to happen, all anyone can do is wait.
You can learn the metaverse by enrolling in metaverse certification courses offered by Blockchain Council. These courses are extensively designed keeping in mind the current industry standards. Apart from the metaverse, Blockchain Council offers certification programs in cryptocurrency and blockchain as well. Check out the Blockchain Council's website for the list of available certification programs.