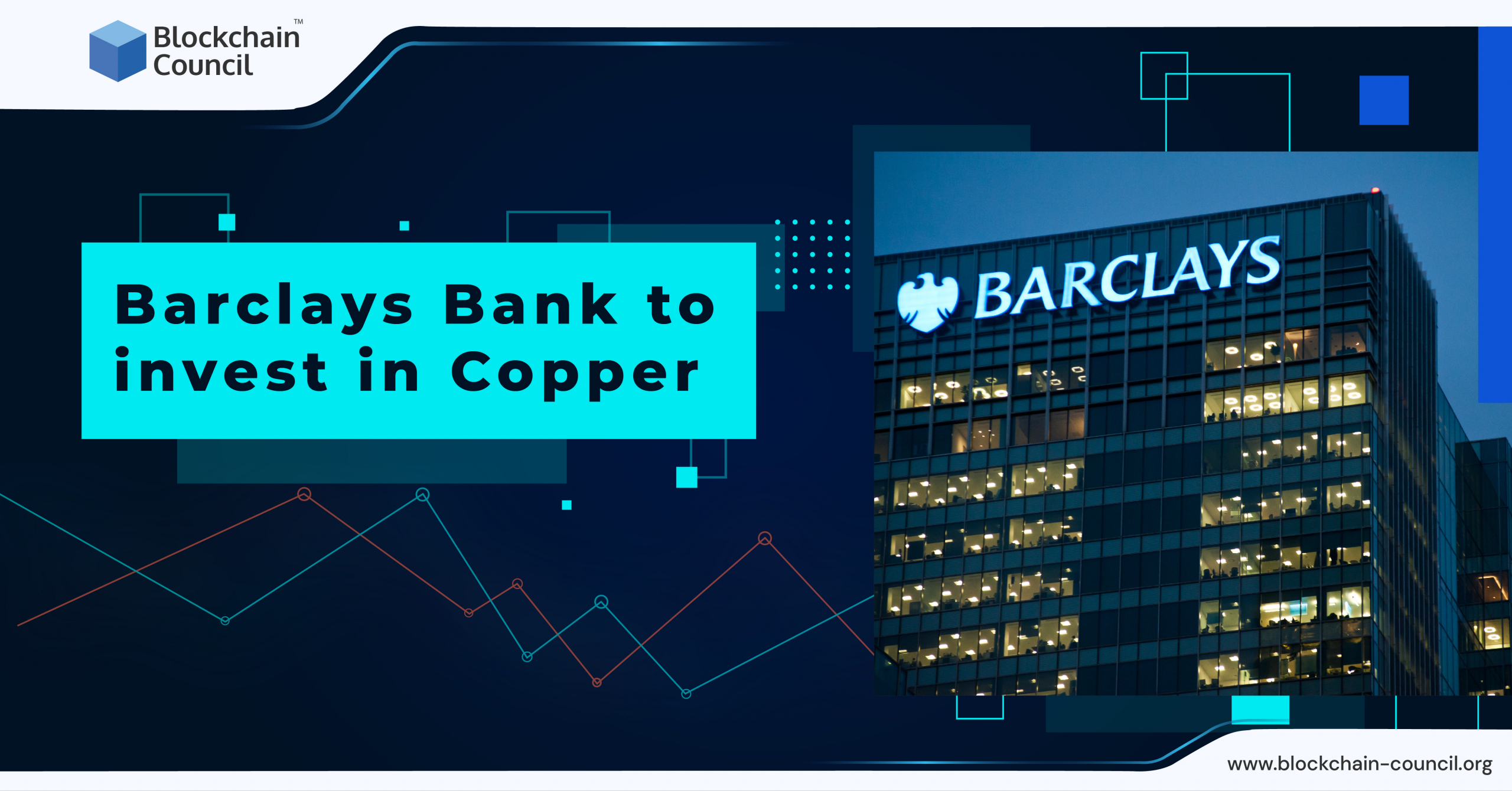 The UK government has made its intentions clear to convert the UK into a global cryptocurrency hub. This project will play a major role in the country's strategy to increase its economic competitiveness post-Brexit. The UK Treasury announced a set of initiatives aimed at achieving this goal. There has been a lot of movement concerning the cryptocurrency industry in the UK with many partnerships happening between the country and crypto firms. 

The latest significant event in the UK cryptocurrency sphere involves a major UK-based financial institution looking to take a stake in a well-known crypto firm. Multinational banking giant, Barclays is reportedly aiming to invest in crypto custody firm, Copper, despite the ongoing bear market. 
"Barclays officially became the first financial institution in the UK to become a crypto advocate in 2015 when it coaxed charities to accept cryptocurrency, specifically Bitcoin as a form of donation", according to this Bitcode Prime report. But the bank has a temperamental history with the crypto industry as it has denied its services to major crypto exchange providers, Binance and Coinbase in the past.  
Barclays is a British multinational universal bank with its headquarters in London. The bank operates as two divisions – Barclays UK and Barclays International, supported by its service company, Barclays Execution Services. The bank's net worth currently stands at around $31.86 billion with its impressive partnerships like the English Premier League and Rainmaking. Copper, founded by Dmitry Tokarev in 2018, is one of the most prominent names in the fast-evolving crypto industry. The crypto firm counts former chancellor Lord Hammond among its advisers and is a crypto platform providing custody, prime brokerage, and settlement services to institutional investors deploying money into digital assets. Copper lists some significant venture capital firms among its investors such as MMC Ventures, LocalGlobe and Dawn Capital.
Barclays will form part of a number of new investors planning to invest in the crypto asset company. The bank aims to invest an undisclosed sum into the project, but it has been speculated that the number will be a few million USD. This funding will conclude a more than nine-month delay in Copper's $ 500 million Series C funding round that commenced in late 2021 with the firm seeking to raise funds at a $3 billion valuation. However, due to the struggling crypto market and waning investor interest, the firm has brought this figure down to $2 billion. This significant reduction comes after major players in the crypto industry have failed, with crypto hedge fund Three Arrows Capital and crypto lender, Celsius Network filing for bankruptcy resulting in even lower investor confidence. 
The British Financial Conduct Authority (FCA) has recently begun clamping down on regulations concerning digital assets and the crypto industry as the country works towards becoming its goal of becoming an international crypto hub. The regulation requires digital asset providers to apply for temporary registration to allow them to continue trading. However, Copper failed to secure this crypto-asset registration from the British financial regulator. Unfortunately for the crypto firm, delays originating from its battle with the FCA regarding the Temporary Registration Regime have muddied investor proceedings for the fundraising, including that of recurring investor, Tiger Global. The battle reached its climax in March 2022 when Copper decided to set up its hub in Switzerland (despite having a hub in London)  following a partnership with State Street, a global traditional custodian. 
With the UK's plans to become the next global crypto hub, its financial regulators need to find the fine line between creating a secure, legal crypto trading environment and chasing prospective investors away with regulations that make projects impossible to achieve as the industry grows globally.