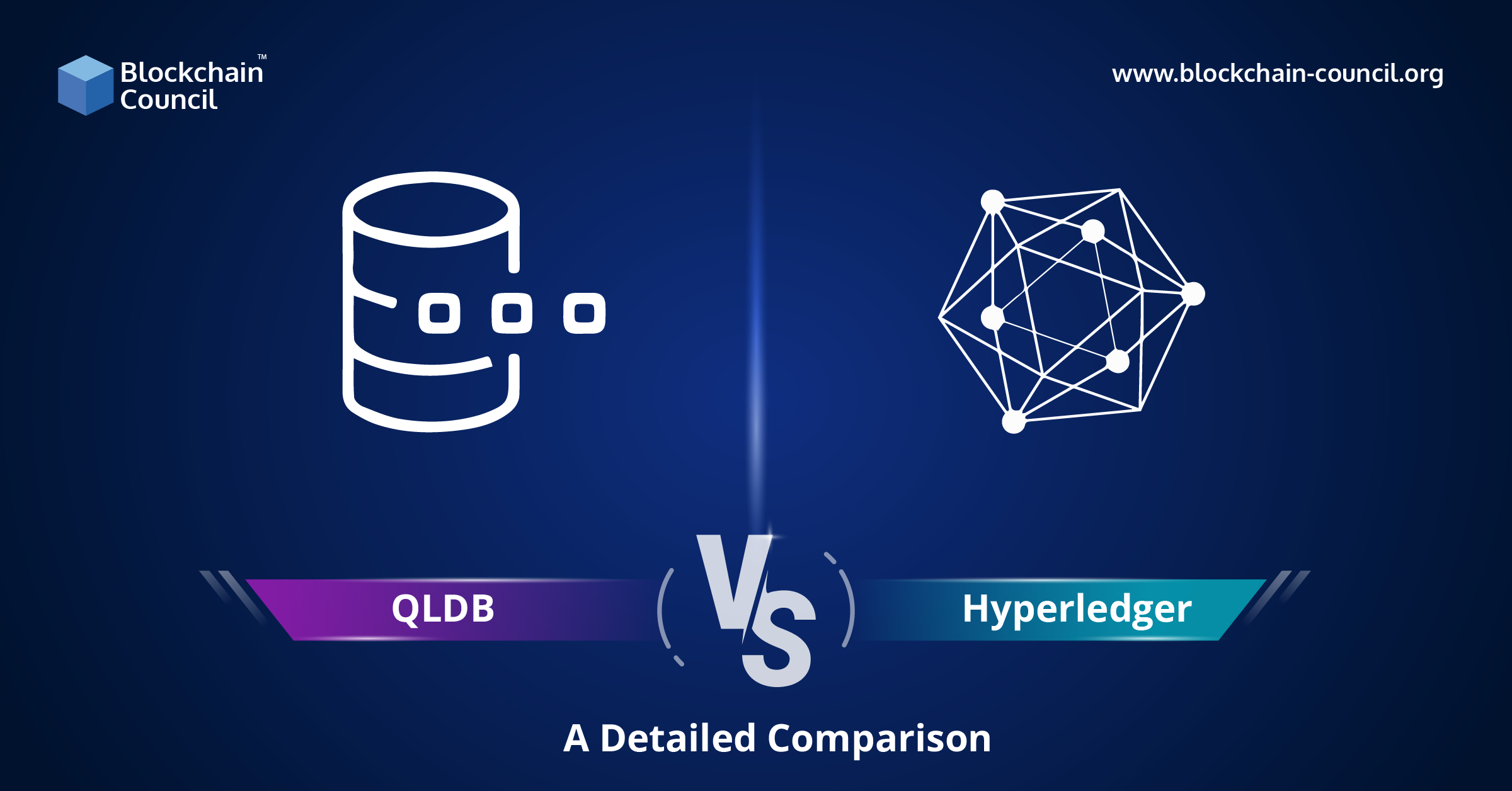 It's 2022, and an increasing number of organizations are eager to incorporate blockchain into their operations in order to benefit from massive growth.

Undoubtedly, blockchain has the potential to transform every sector present in today's world. Let's talk about the very popular Hyperledger blockchain that is enormously popular among enterprises from start-ups, small businesses, mid and large-sized companies. On the other hand, Amazon always tops the list when it is about any technological advancements. While blockchain was becoming a robust database by storing data in its distributed ledger, Amazon, being the tech giant, realized that businesses can't just use a decentralized database as they need to protect their private data as well. That is why they came up with AWS QLDB. In today's guide, we will learn about this blockchain platform and also how it differs from Hyperledger blockchain. 
A Detailed Guide on Amazon QLDB 
To define it, Amazon QLDB is a fully managed ledger database that provides an unchanging, transparent, and cryptographically variable transaction log owned by a central trusted authority. A user can use QLDB to track every application and maintain the total history of all the changes made. An advanced blockchain course will give you a detailed idea of how to use the QLDB platform to maintain the privacy of a business.
The Best Features of Amazon QLDB are: 
Almost everyone is familiar with Amazon. Therefore businesses are choosing this platform based on the factors of credibility, trust, and authenticity.
Another great part of using QLDB is that this platform is centralized. So it provides an unmatched security factor. 

By using QLDB you will have access to a growing population of blockchain developers who are already working on the applications that you will need in the future. Plus, if you want to learn

blockchain development

on your own so that you can handle the platform in a better way, lots of courses are available there too. 

As per the proven track record, Amazon's customer service skills are better than average platforms. So, you will have more support whenever you need any help. 

Finally, speaking of the recent time of writing, Amazon's worth is $1.7 trillion, so chances are high that your business will be in good hands even if any costly mishap takes place. 
However, Amazon has a plan to levy cultural and political sway for any kind of business you do with them. It won't be an issue if your ideas align with theirs. But, here's an important point to keep in mind, the tech giant has a history of knocking off great services and products to allow counterfeit products on its marketplace. So, you need to be careful about your business objectives, products, and services before letting Amazon QLDB with central access to your data. Let's get back to the details of the QLDB platform now. 
A Beginner's Guide to QLDB Platform
Just like other blockchain platforms, Amazon QLDB is a ledger-like blockchain that works for keeping a history of data. The use cases of this blockchain platform are mentioned below:
It is used to track the cryptocurrency and banking transactions 

Helps to track custody chains 

Provides transparent records of the transactions 

Maintains thorough and accurate claims for the insurance industry
What are the perks of using Amazon QLDB? 
Let's think about how data was stored in a centralized until blockchain became so popular. With the rise of blockchain, there are two ways to store data: 
Making proper use of a centralized ledger lets you record all the logs and transactions. Many insurance companies, credit card industries, and supply chains widely use this centralized ledger. 

Secondly, the users can also use ledger technology on an open-source blockchain framework. 
The issue here is that none of the approaches are optimal for the current challenges of the blockchain industry. Cryptography and rational database can't work together and that's the biggest drawback here. Amazon QLDB is a centralized ledger-based database that is powered by a blockchain framework. It comes with a scope to properly deploy and configure a ledger-powered blockchain database. As a result, any organization can control both the stored and distributed data. There are more benefits like: 
QLDB maintains a verifiable history of changes 

It uses an immutable transactional log, also known as a journal, that tracks whenever an application changes any data

It is easy to use the QLDB platform because many experts developers are already familiar with this flexible document data model. If you want to become one of the experts, you have to

learn blockchain technology

and the development process from a renowned institute

The good news is that Amazon claims to offer total support for the transactions 

It provides a fast, real-time data flow

QLDB is a server-less platform and you don't have to count ongoing energy costs

It seems to be affordable 
Let's move on to the topic at hand, how is QLDB different from other platforms like Hyperledger?  But before discussing that, let's learn about Hyperledger first. 
A Detailed Guide on Hyperledger 
Before we discuss what Hyperledger is, let's look at what this project is not! Chances are high that with so many blockchain platforms available out there in the fintech industry today, you will get super confused. For your information, a Hyperledger is not: 
A company 

A blockchain 

A cryptocurrency
So, What Is It? 
Simply put, it is an umbrella project formed under the Linux Foundation. The ideology is that the near future will see the world have multiple private chains running separate markets and because every business is unique in itself, they need unique applications developed by personalized rules. 
n late 2015, a small number of developers started the project named Hyperledger blockchain. It contains libraries, distributed ledgers, domain-specific projects, and tools. This project aims at providing organizations with a customized way to adopt blockchain for their business. 
Hyperledger blockchain takes a community approach to help businesses adopt blockchain.  While on the other hand, Amazon's QLDB follows a closed-source approach, not necessarily bad though! After all, Amazon is a massive structure with countless affiliates and partners. Therefore, the tech giant is easily capable of providing cutting-edge technology and top-notch development to the users. 

While comparing QLDB with Hyperledger, it is clear that the Hyperledger blockchain is an open-source platform. The foundation behind it takes a community approach to building businesses adopting blockchain. On the other hand, Amazon's QLDB takes a closed-source approach which is not necessarily wrong, it is just how Amazon wants to operate. Let's move on to more comparisons between these two platforms: 
It Is Easier To Use QLDB 
QLDB offers a much easier scope of use. It provides an SQL-compatible query language and familiar database capabilities that help the developers to work with different data types and structures. If you want to learn about these data types in detail, learn blockchain technology from a reputable institution that offers advanced courses. 
Moreover, Amazon QLDB supports the document-oriented data model and enables a flexible way to access and store data. This is a huge advantage for the enterprises because they can store both structured, and semi-structured data easily. 
Another good news is that you don't have to be a programmer if you want to work with QLDB. Any computer-savvy person can enter data and view the ledger and sort information. If you are accustomed to Quickbooks or Microsoft XL, you can easily handle QLDB. The setting-up process is easier too. Amazon has a good reputation for decent customer support, so that's a relief too. 
Talking about Hyperledger, it doesn't offer the users the same level of ease. You need a tech-savvy team or at least a dedicated employee with the certification of a blockchain course to use Hyperledger. Often that becomes an issue for small organizations. 
Open Source 
Currently, the whole blockchain industry is moving towards open-source because of the endless benefits. While comparing Hyperledger and QLDB, you will find that the Hyperledger project is managed by an open-source community.  The Linux Foundation is at the center of action here as they want to improve the business adoption of blockchain in the upcoming years. While on the other hand, QLDB is a closed-source approach. Looking at the whole picture, Hyperledger blockchain is the winner here. There are lots of benefits of an open-source blockchain project like flexibility, agility, cost-effectiveness, less maintenance cost, and much more. 
Hyperledger is Less Expensive 
Amazon QLDB follows the "pay as you use" approach. According to several online sources, a bookkeeping application developed for a medium-sized business cost somewhere between $50 and $100 monthly. So, it is quite reasonable when compared to high-end bookkeeping software. 
Please note that with QLDB, you can transfer all your data for free now. However, that might change as the platform attracts more and more users shortly. 
On the other hand, Hyperledger is free – you just have to pay for the dedicated staff who is running it for you. 
Use Cases 
Let's focus on the use cases of both platforms now. Each of them has its enterprise blockchain use cases which will let you gauge the capacity of each platform. 
Hyperledger includes use cases like tools, libraries, distributed ledgers, and domain-specific use cases. Some of the most famous examples include supply chain management, training and education programs, smart energy management, streamlined supply chains, blockchain trade finance, etc. 
While moving on to the QLDB platform, it is quite versatile in its approach by offering a vast range of use cases like insurance, manufacturing, finance, retail, HR payroll, and supply chain. The QLDB can perform as a centralized ledger that stores critical information. For example, it can keep a track of bank accounts, loan details, debit and credit transactions, etc. With QLDB, enjoy the benefits like transparency, immutability, scalability, etc. 
The Set-Up and Support Quality 
Amazon QLDB is pretty easy to set up as you will have to download a QLDB driver and connect the application to the blockchain platform. This premium solution comes with an in-built support system. So, feel free to seek help from their support staff if you get into any problems. 
Moving on to the setting up procedure of Hyperledger blockchain is not easy! You will have to follow a series of steps to complete the process. However, when you are taking Hyperledger training, you will find a detailed tutorial to better understand the setup process. 
Being an open-source project, the Hyperledger platform is a bit more complex than the QLDB. You have to visit the Hyperledger support pages to get links to StackOverflow, chat rooms, community calls, and any way to communicate with other members who are using this technology.  
Doing Business with Amazon
Before you decide on choosing QLDB over Hyperledger, here are some facts you need to consider: 
Jeff Bezos controls nearly 40% of the e-commerce sales in the US where the competition is very high 

Amazon is trying to address the issue of its knocking-off the popular products on its eCommerce platform 

The Americans uses Amazon as a search engine over Google

Amazon follows B2B, B2C, and D2C business models. 

Amazon web services control almost 50% of the cloud-computing industry
So, now you know why Jeff Bezos is known as the most powerful man in American culture. 
Conclusion 
To sum it up, there is no doubt that both platforms come with a unique solution to different audience types. You have to base your decision on your unique needs from the blockchain solutions. If you are still curious about how they differ from each other, we recommend you to take up our blockchain course that will cover everything you want to know.