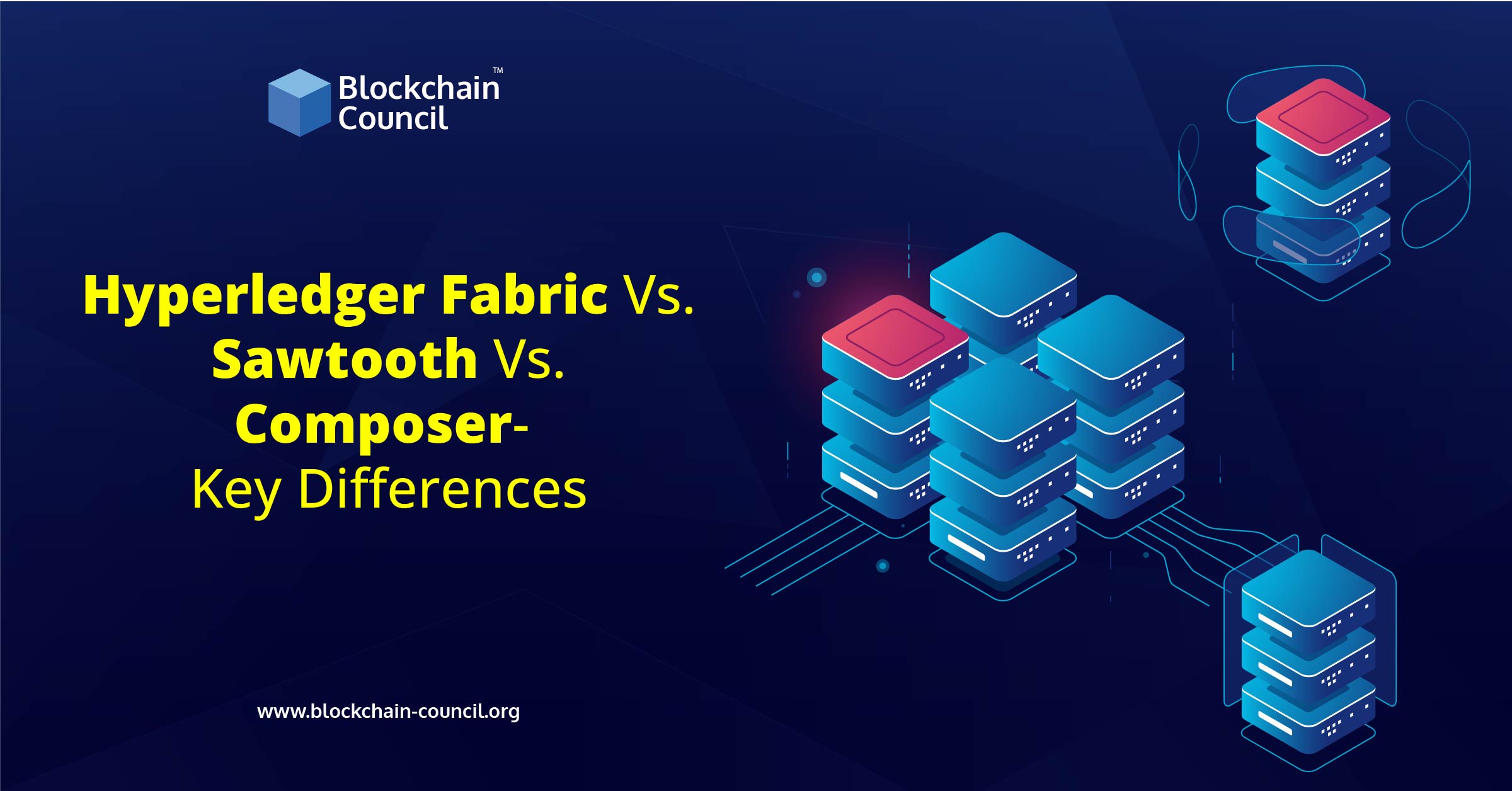 Besides cryptocurrency, people are engaging in other blockchain-based technologies and initiatives too. As a result, the attention has shifted to Hyperledger, a popular blockchain initiative among businesses.

Hyperledger is a set of frameworks, rules, and tools for creating and maintaining open-source blockchain applications and networks for various organizations.
Businesses may use Hyperledger to apply blockchain solutions to their unique challenges or increase their efficiency. Hyperledger Fabric, Sawtooth, Composer, and Cello are some of the Hyperledger project's subprojects. This blog will cover all that you need to know about the Hyperledger blockchain project and its sub-projects so you can start utilizing the platforms in your company.
What is Hyperledger?
The Linux Organization in San Francisco, California, founded the Hyperledger global enterprise blockchain platform in December 2015. It began with 30 participants and has now expanded to more than 120 members. It has a set of principles, rules, and methods for creating and maintaining open-source blockchain networks and platforms for various organizations. Hyperledger facilitates the development of blockchain tools and networks by ensuring the necessary infrastructure and protocols. To create commercial blockchain initiatives, designers leverage Hyperledger Greenhouse (the structures as well as tools that support Blockchains). Nodes in the network are all familiar with one another and may engage in consensus-building procedures.
Hyperledger is a global collaboration of leading organizations in finance, banking, IoT, supply chain management, manufacturing and production, and technology. Bosch, Daimler, IBM, Samsung, Microsoft, Hitachi, American Express, JP Morgan, and Visa are among them and a number of blockchain-based companies such as Blockforce and ConsenSys.
Hyperledger Fabric, Hyperledger Indy, Hyperledger Caliper, Hyperledger Burrow, Sawtooth, Composer, and Cello are some of the sub-projects that make up the Hyperledger project spread across a network of computers and considerably increase the efficiency of their systems as well as the quality of their services. Unfortunately, it can be difficult to distinguish between them, especially if you're new to the crypto space.
What Is Hyperledger Fabric?
Hyperledger Fabric is considered as an open-source initiative from the Hyperledger corporation that serves as a basis for building modular apps and innovative services. In addition, it is referred to as a blockchain platform that allows private businesses to construct blockchain-based products and apps utilizing plug-and-play elements. According to hyperledger experts, ledgers, standards, protocols, and contacts are all part of the Hyperledger platform.
As we now know, corporations may easily divide data and have speedy transactions that will be quicker when the quantity of nodes in a network is decreased, as Hyperledger Fabric is a private platform that needs access rights. Only authorized users can connect to the server; thus, businesses can limit access to their internal staff, keeping impostors at a distance and establishing an exclusive network system.
How Does Hyperledger Fabric Work?
Hyperledger Fabric was created to address typical blockchain-based restrictions, including private exchanges and secret contracts. It offers a flexible and secure platform for providing industrial blockchain services. It establishes rules for storing information about network users and their access to information points. It also supports permission-based membership for sectors such as finance, healthcare, etc.
Features of Hyperledger Fabric:
Need-to-know information
Businesses require the privacy of specific data pieces owing to competition, data protection legislation, and regulations on personal data confidentiality, which may be done by data division on the platform. Therefore, Hyperledger Fabric supports channels that allow information sharing only with those who need to know.
Digital keys and sensitive data are protected
Assistance from HSM (Hardware Security Module) is essential for protecting and maintaining digital keys for robust verification. It supports both modified and unmodified PKCS11 for key creation, which is useful for instances like biometric authentication and management. HSM improves the security of keys and confidential material in the circumstances, including authentication and authorization.
Permission-based blockchain network that is secure
Hyperledger Fabric is a permissioned network structure with known credentials for all members. Therefore, it is necessary to analyze if your blockchain use case requires compliance with information protection laws when choosing a permissioned system.
Many use cases, particularly in the financial and healthcare industries, are governed by data protection requirements that necessitate understanding who is part of the network and who has access to certain data.
Modular construction
The Hyperledger Fabric design's flexibility allows network builders to bring in their favored element solutions, which is a benefit. "Carry your personal identity" is among the most recommended categories for modularity.
Several multi-company systems have identification verification in place and prefer to reuse rather than rebuild. Consensus or encryption, in which several nations have their very own encryption methods, are other elements of the structure that can be readily brought in.
High performance
The Hyperledger Fabric platform is based on a modular design that divides the process of financial transactions into three stages:
Decentralized logic computing and agreement ("chaincode")
Exchange order
Payment processing confirmation and commitment
This division has numerous benefits: Fewer layers of authentication and confirmation are required among node types, and system expansion and overall performances and efficiencies are improved.
Requests on a distributed ledger that is immutable
The ledger is a sequential record of state transitions for the blockchain application. Each transaction generates a collection of asset key-value pairs that are created, updated, or deleted in the ledger. The peer's file system, which also has LevelDB integrated, is appended with the immutable source of truth for v1.0.
What Is Hyperledger Sawtooth?
Hyperledger Sawtooth is yet another component of the Hyperledger project, an open-source corporate-level blockchain technology that aids in the development of distributed ledger platforms and networks. It is a mindful selection to create enterprise-specific apps and services. It is a blockchain-as-a-service system that helps you construct bespoke smart contracts that operate under a set of conditions without having to understand the underlying infrastructure.
The significant aspect to understand here is that the blockchain platform is typically used to create distributed ledger technology apps and networks. The design philosophy focuses on distributing ledgers and making smart contracts secure, especially for corporate use. The core technology allows apps to coexist within the same blockchain while also allowing them to choose exchange rules and authorization mechanisms. C++, Go, Java, JavaScript, Python, and Rust are among the programming languages supported by Hyperledger Sawtooth.
How Does Hyperledger Sawtooth Work?
Hyperledger Sawtooth isolates the nucleus system from the application domain, making blockchain application development easier. It enables developers to select a programming language tool and implement certain appropriate terms and conditions for the operation of their application. Sawtooth supports preferential permissions, which means that the very same blockchain database may deploy a specific set of clusters with various permissions. In addition, the ledger may store important information like licenses, connections, and their identities.
Features of Hyperledger Sawtooth
Application Development Made Simple
The application layers and central core layers are separated, making it easy to create blockchain-based solutions without compromising the core. Due to the increasing size of many cryptocurrency networks, the implementation of a diverse set of smart contracts is also critical. Large firms can design applications in their preferred programming language.
 Networks that are both private and public
According to the requirements, the Sawtooth platform provides two blockchain options. This framework enables customers to initiate permissioned and permissionless accessibility.
Most of the networks do not allow enterprises to develop either permissioned or permissionless accessible platforms.
Features of Permissioning: 
Enterprises can resolve any concerns with Hyperledger Sawtooth's private blockchain. Each group of devices or network nodes has a detachable permissioning mechanism.
Outsiders would not be able to access the confidential material kept by nodes. Each node requires its own permissioning option, guaranteeing that each component has a separate degree of clearance.
Structural Modularity
The Hyperledger Sawtooth has a modular structure that allows it to be easily customized to meet the demands of businesses. To be precise, if a company wishes to employ an overseas function, they may simply plug it in and access it.
Parallel transaction execution
Parallel transaction confirmation is considered as one of the most important characteristics of Sawtooth. This functionality allows for simultaneous authentication of several exchanges and is more secure, private, and efficient. Practically, this feature reduces the load on the network, thereby minimizing the processing time.
What Is a Hyperledger Composer?
Hyperledger Composer is a collection of open-source technologies for solving business challenges and increasing operational efficiency. Businesses and blockchain developers may use it to construct blockchain apps and smart contracts to solve specific problems. It fosters collaboration among companies and commercial networks in order to create blockchain-based applications and solutions. Hyperledger Composer provides sample applications with simple testing methods to help developers build reliable blockchain approaches.
The main purpose of Hyperledger Composer is to simplify incorporating blockchain applications with current business systems and speed up time with value. It helps you create a use case for blockchain deployment in a few weeks. You can also use Hyperledger Composer to build a corporate platform while merging current networks and information into blockchain applications. It is developed using JavaScript and various editors like node.js, nmp, CLI, and others.
How does Hyperledger Composer Work? 
The existing Hyperledger Fabric blockchain architecture and runtime are supported by Hyperledger Composer, which uses blockchain consensus methods to guarantee that transactions are approved as per corporate network members. It authorizes applications to access information from business networks through easy and restricted access points. In addition, business networks can use Hyperledger Composer to add participants and connect them with innovative identities across several systems.
Features of Hyperledger Composer
Easy data integration
The issues regarding data integration when interconnecting or replacing the existing system are no longer a headache with the use of Hyperledger Composer's loopback feature.
Instant access to the Proof of Concept model
To save your time, Hyperledger Composer offers an already structured Proof-of-Concept model. These are instant and easy-to-use models.
Easy programming language
To define any business network, a solid structure modeling is required, and Hyperledger Composer offers to structure the network using JavaScript, one of the easiest programming languages.
Comparison: Similarities and Differences
The most notable distinction between Hyperledger Fabric, Sawtooth, and Composer is that Fabric and Sawtooth are known as frameworks, whereas Composer is a toolset.
The common feature of all three Fabric, Sawtooth, and Composer is that they are considered as Hyperledger open-source initiatives.
Fabric is a private blockchain network and does not support the Ethereum Virtual Machine, whereas Sawtooth is a public network or permissioned blockchain that supports the Ethereum Virtual Machine.
Fabric, on the other hand, offers membership management features that Sawtooth does not offer.
Sawtooth consumes more time in developing an application as compared to Fabric.
Despite being a tool, Composer supports the Fabric framework but not the Sawtooth framework.
In comparison to Hyperledger Sawtooth, Hyperledger Fabric is a commonly used framework. In contrast, a Hyperledger Composer is an open-source tool used to employ blockchain networks.
Hyperledger Fabric, Sawtooth, and Composer are part of today's technology revolution and guide blockchain technology's progress. Fabric and Sawtooth are frameworks for creating blockchain applications for businesses, while Composer is a tool that makes creating smart contracts and apps for Fabric simple.
Conclusion
Using the Hyperledger components, a company may use a variety of modular blockchain solutions and services to substantially increase the performance of their operations and the efficiency of their business processes.
If you're new to blockchain technology, you should look into getting a blockchain certification and learning about blockchain technology, cryptocurrencies, Hyperledger, and other Hyperledger multiple projects.
Blockchain Council offers some of the best certification courses at affordable prices. You need to simply search for the course that best meets your expectations.