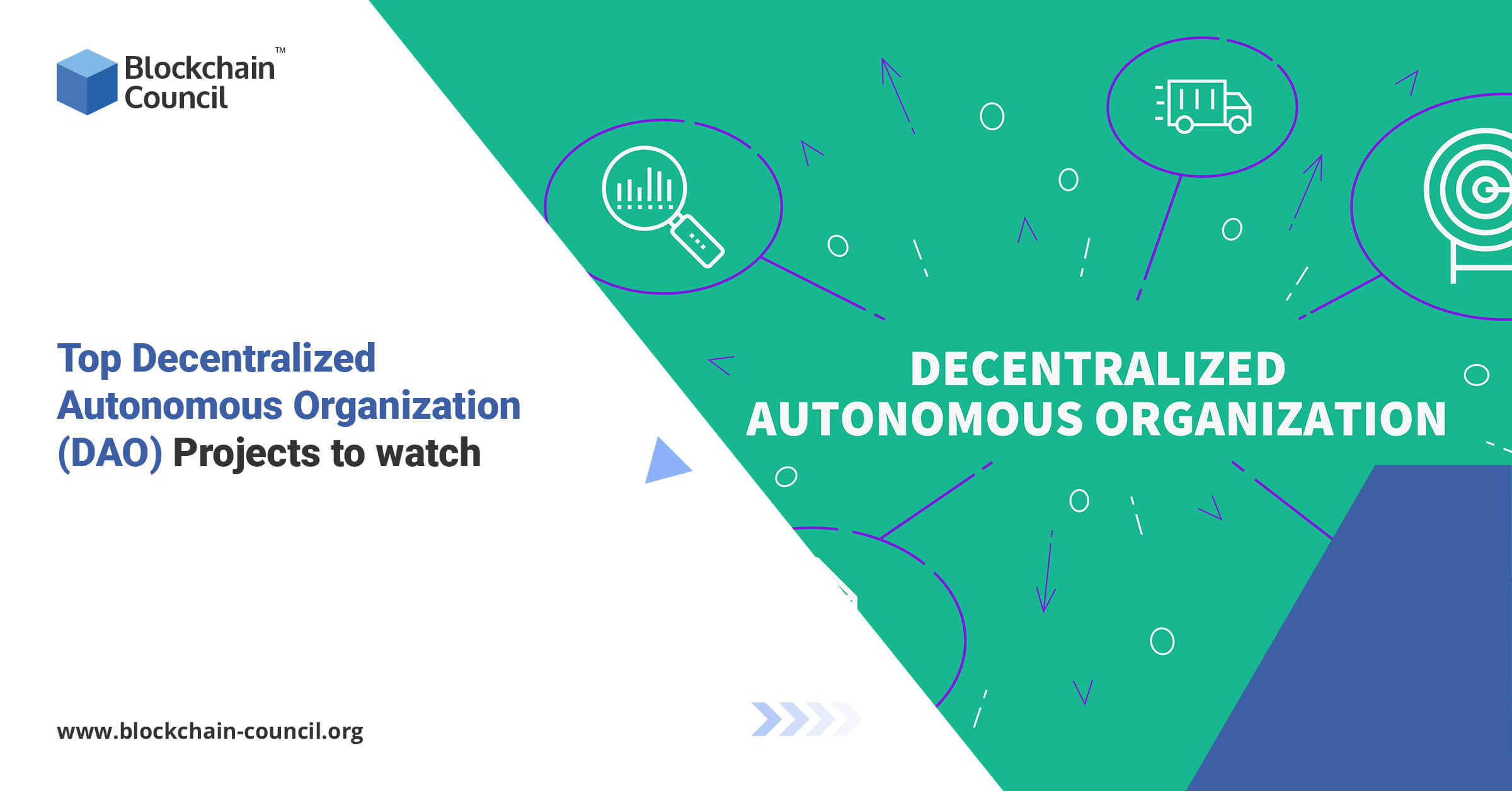 The blockchain platform introduced the tool "decentralized autonomous organizations (DAOs)" with the objective to support the decentralized business ecosystem. They play an important part in decentralized finance. They could play a more significant role as DAO infrastructure becomes more proficient, and once-overlooked stakeholders in finance follow up on bigger governance requirements. A DAO is a blockchain technology-fueled association that depends on smart contracts to support itself. Despite the fact that there might be some degree of human intercession, the objective of a DAO is to be really decentralized in its activities. DAOs are new, yet they can possibly affect the DeFi space as well as organizations in a wide range of different fields and enterprises.

Here are some of the top DAO projects to look for in 2021 :
Table of content
KyberDAO

Aragon

Gnosis DAO

Rocket

Metafactory

Saint Fame

Raid Guild

Closing Thoughts
KyberDAO
KyberDAO is a descendant of the Kyber Network, an on-chain liquidity strategy authorizing consistent trade of cryptocurrency tokens. The KyberDAO came into existence in July of 2020 and let the individuals who hold KNC tokens partake in decisions concerning the working of Kyber Network.
The Kyber group put forward a few proposed advantages of taking part in the KyberDAO, including boosting support by compensating KNC holders with ETH tokens, giving transparency in governance, and putting stakeholders focused on  long-term goals of growth and improvement of Kyber. The Kyber Network possesses a market cap of more than 227 million dollars.
Aragon
Aragon is a decentralized autonomous organization and a structured block for others to introduce their DAOs. It aims to enable clients to connect with anybody from any place under the system of a DAO. It proclaims to be the platform for around 1,500 DAOs to date. These DAOs encompass around 350 million dollars in joined assets.
ANT token holders can show their agreement and disagreement on choices that influence the course of the Aragon procedure; simultaneously, they can start or join Aragon-empowered DAOs. The Aragon Fundraising project aims to permit DAO members to access fundraising for their organization effectively. At the time of writing, Aragon encompasses a market cap exceeding 157 million dollars.
GnosisDAO
GnosisDAO is the newly reported decentralized autonomous organization from Gnosis. It is a program that helps  DeFi space developers. GnosisDAO formulates its supervision around forecast markets. Based on the status and needs of the market, it delivers useful proposals to its decentralized representatives. The SAFE token will be utilized to manage the DAO, and the DAO will have authority over 150,000 plus ETH and 8,00,000,00 GNO tokens.
Rocket
Rocket is a DAO where members accept non-fungible tokens (NFTs) for either dollar-fixed token DAI or the U.S dollars. NFTs can't be traded for different tokens as cryptocurrencies, for example, Bitcoin and Ethereum blockchain. Thus, Rocket gives an approach to NFT holders to get to liquidity without giving up their NFT stake.
MetaFactory
MetaFactory is an alternative for individuals who might want to give shopping a shot at a community-based platform. It is a marketplace where clients can purchase shirts, caps, Fannie packs, and stuff like yam jams. However, it means to be substantially more than a retail site. Its objective is to crowdfund attire and clothing makers and to permit financial investors to profit by the income through a decentralized platform. 
They expect that MetaFactory and its branches will be a prototype for brand factories organized as DAOs.
Saint Fame
Saint Fame is a web-based fashion house. It is self-marked as a trial in an unpredictable fashion world. Stake owners in the Saint Fame decentralized autonomous organization network bought $FAME tokens and assigned a fashion designer to make a shirt and afterward endorsed the design before the shirt went on the market for sale. In this way, it comes to be a collective decentralized fashion house. Clients can reclaim $FAME tokens for Saint Fame items.
Raid Guild
Raid Guild is a decentralized group of hired professionals whose goal is to help their customers assemble, debug, and refine their Web3 projects. It is a non-proprietary decentralized network of website developers and designers who have a couple of Web3 projects added to their repertoire and expect to include them to their portfolio. Raid Guild functions utilizing the MetaCartel Network. 
Closing Thoughts
DAOs are believed to improve with the coming years. The inventory of DAOs is developing remarkably fast, with a 660% increment in functional DAOs between 2019 and September 2020. 
As new DAOs spring up, the individuals who foster them will realize: what users like, what the significant obstacles to its adoptions are, what use cases DAOs can best serve, and many more. 
The potential for continued dissatisfaction with business as usual in 2021 could lead an ever-increasing number of buyers in all fields to request more noteworthy ownership for organizations that they take an interest in. This viewpoint matches with the goal of DAOs, and could drive further making of and investment in DAOs.
To get various courses related to blockchain technology, enroll yourself at BLOCKCHAIN COUNCIL. And take professional guidance from the ethereum expert and receive certifications for learned courses.
If you want to keep up with the trends of blockchain industry, join our communities on Discord, Reddit and Telegram.