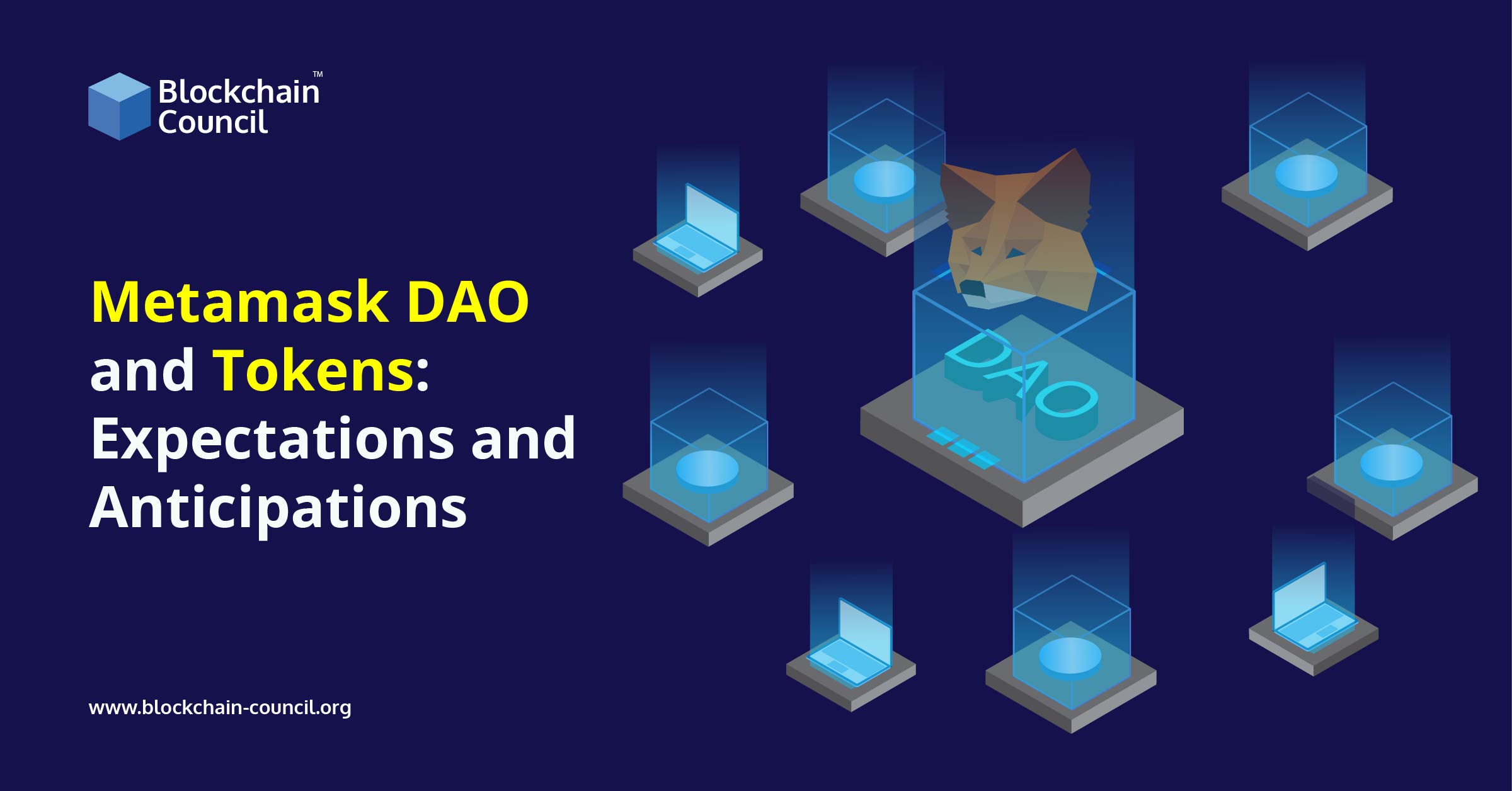 Joseph Lubin, the creator of ConsenSys, has stated that MetaMask will bring its own token and Decentralized Autonomous Organization. The new update for the MetaMask coin is still to be determined, with details regarding both the token and the DAO only recently being available. What will that involve, precisely?

According to Joseph Lubin's interview with Decrypt, MetaMask targets "progressive decentralization" and wants to be a prominent participant in the upcoming web3 sector. MetaMask will soon deploy DAO as part of the implementation strategy to boost the platform's finances. The MetaMask DAO will serve as a finance source for the network, with no governance responsibilities.
Lubin stated that in the framework of MetaMask, a DAO is now being constructed. It will not manage MetaMask, but it would permit the financing of extraordinary advanced MetaMask elements.
In addition, the crypto wallet will develop its own cryptocurrency market. A few of the wallet's early users are anticipating the announcement of the new token's airdrop. Nevertheless, the MetaMask developers have yet to reveal important information about the token.
In the DAO business, such a funding-focused strategy is not new. Endaoment, Charity Blockchain DAO, and more donation-focused DAOs have come up. Furthermore, MetaMask DAO intends to raise funds from outside sources through its DAO. However, no more specifics have been revealed.
The MetaMask Web3 wallet is wholly managed by the creators, who are part of the ConsenSys Software Inc. company. It provides the best blockchain certification to its users. For several years, ConsenSys has been at the forefront of Web3 and blockchain technology, with specific attention on Ethereum-based systems in place. After blockchain learning, MetaMask became by far the most famous browser-based Web3 wallet, with millions of customers around the globe. However, novices can learn blockchain technology to better understand the blockchain concept before investing in MetaMask.
Apart from this, the ConsenSys organization believes that it is a chance to step ahead further. To do this, MetaMask will construct a Decentralized Autonomous Organization (DAO) following the blockchain development. It will function as a fresh funding source for the wallet's future expansion. Although many people believe DAOs as alternative governance models, they may be used to meet a wide range of purposes and objectives. It's critical to remember that the MetaMask DAO is only a financing tool, not a determinant of the development of a system.
Decentralized Autonomous Organizations (DAO): What Are They?
With the widespread use of blockchain courses and technology, a new type of business or organization has emerged. A decentralized autonomous organization, or DAO, is a firm registered on its own by smart contracts based on blockchain technology. The central concept for DAOs is to let a broad group of collaborators engage in the administration and growth of the project. DAOs function as a result of a mix of smart contracts that allow individuals to participate equally in decision-making practices inside the business.
Why are DAOs necessary, and how are they superior to traditional organizations?
Traditional business models, in which ownership of a company is held by a small number of individuals or even a single person, have been replaced by decentralized autonomous organizations. In fact, the traditional strategy has a number of flaws, one of which is that it fails to consider the perspectives of all members of the company.
However, DAO aids in the "hearing" of everyone's thoughts. The full automation of blockchain technologies enables members of the organization to vote in an open and transparent manner while also carrying out their judgments.
Some of the advantages of DAO are:
Blockchain-enabled governance
Unlike traditional organizations, which are led by identifiable individuals, DAOs are run by computer code. The community is not controlled by a single individual, thanks to blockchain-based governance. As a result, choices are made more quickly and transparently. A blockchain development company with experience can help you create a DAO and integrate intelligent contracts into it for speedier functioning.
As a consequence, decisions are made faster and more transparently. A seasoned blockchain development firm can assist you in creating a DAO and integrating intelligent contracts into it for faster operation.
DAOs use digital contracts on the blockchain spine to achieve consensus. The virtual contracts are self-executing and include tamper-proof, immutable data. The algorithms incorporate complex data and eliminate the need for human intervention. DAO decision-making, on the other hand, is faster and more convenient. You don't require the physical presence of people to vote on an issue with DAO. A blockchain developer with experience in Ethereum contract creation can assist you in creating DAO smart contracts.
Transparency and instant trust
When thinking about DAOs, the words "transparency" and "immediate trust" spring to mind.
The best part of DAO creation is that it instantly establishes trust and openness, allowing entities to focus on achieving their common objectives. Participants do not need to know one another since the rules of participation are contained in a public, secure, and open-source blockchain record. Furthermore, because the blockchain ledger is tamper-proof, no participant may change the protocols without a majority vote. As a result, the main aim of a DAO entity is to promote a group's common interests.
DAOs, in contrast to typical corporations, have a uniform organizational structure with no management. Each token holder has voting rights inside the organization. One of the coding rules in the DAO development stage says that voting power is proportional to the number of tokens held. Other than that, no member has any special benefits or rights. So, before writing the code, an expert Ethereum development firm knows this necessity.
What Is a Blockchain and How Does It Work? 
A blockchain is a collection of discrete blocks. Each block provides data about finances that occurred over a specific period. They also have a unique identifier that distinguishes them from the rest of the chain's blocks. Solving cryptographic issues results in the creation of blocks. Mining refers to the process of resolving such issues. Consumers receive a reward for mining a block on the blockchain network. So you can learn more about it through blockchain technology training. While public blockchains are the most common, private blockchains are being investigated as a quick fix for a variety of commercial and government applications.
What Is the MetaMask Token, and How Does It Work? 
Web3 and blockchain projects frequently produce native coins. A coin like this can either provide access to project payouts or provide new functionality. MetaMask is set to debut its cryptocurrency soon, while specifics are limited. There is no specific information on how the token will be allocated. A uniswap-based strategy, in which all users obtain free tokens, has high prospects among consumers.
Although, one thing is certain: the MetaMask tokens would not be used as a "money grab."
However, it's unclear what this implies in practice, as receivers will immediately begin looking for methods to exchange their MetaMask token for actual dollars. Furthermore, since anyone may easily set up liquidity pools, the various decentralized exchanges can assist the trade of this currency from the minute it is introduced.
That's not something we're willing to wing, Joseph added during ETHDenver. It's also not something we're going to put our platform in peril of either regulator or provide governance to 'airdrop farmers' or on the similar lines. ConsenSys has yet to announce a particular worldwide release for the token, nor has it stated if it will contribute as a factor in its DAO.
If you come along with a MetaMask token today, know that it is not a genuine offering. As persistent speculations about such an asset became stronger over time, there have been various bogus MetaMask tokens. There is no formal token until the team — or ConsenSys — provides further information on how the allocation will take place and what the token includes in the blockchain technology.
What Can I Do to Support the MetaMask DAO? 
There is currently no information on how the MetaMask DAO will function. Aside from cash donations, user engagement will be limited because it is not a standard governance-oriented DAO. Despite the numerous unknown issues, it is wonderful to see ConsenSys embrace decentralization for the initiative and increase its value.
Consumers can traditionally participate in a DAO by making suggestions and voting. However, neither of these functionalities appears to be present in the MetaMask DAO. Instead, the team decided to create a DAO to help fund innovative new MetaMask features.
Where to get the MetaMask token?  
The distribution of the MetaMask token has yet to be revealed by ConsenSys. However, because MetaMask is an Ethereum-focused Web3 wallet solution, it's reasonable to presume the token will function on the Ethereum network. The company can, instead, instantly airdrop the token to current MetaMask addresses and create a website to allow people to obtain tokens or adopt a whole other strategy.
It's pointless to be concerned about how to obtain the MetaMask token until further information is released. The wallet, though, has over 30 million current consumers, making the transfer a practical challenge.
Is My MetaMask Wallet Affected? 
The DAO and the cryptocurrency will have no impact on how consumers access MetaMask presently. Customers will be able to access decentralized apps (DApps) among all supported blockchains using the Web3 wallet, which will maintain its features. Joe Lubin also said the company's general user interface, which is currently clumsy, will be changed.
It will most likely be included in the plugin's next version, and consumers will have automatic access to the new functionality once that application is developed. In addition, they can follow and learn blockchain technology to be handier with this new technology.
Is this connected to ConsenSys's recent funding round? 
Many might draw connections between the MetaMask DAO/token news and ConsenSys' Series D investment of $445 million. It's difficult to determine if one is related to the other, but the cash will undoubtedly help ConsenSys meet its objectives and improve its total product portfolio. ConsenSys is valued at $7 billion after receiving $450 million in Series D investment.
At that price, ConsenSys may potentially look into some odd ways of bringing the cryptocurrency to existence and distributing it. The token will impact the firm and vice versa with increased stakes.