When we talk about organizational structures, we usually think about the centralized cluster where instructions flow in a hierarchical chain. This system surely ensures a sense of discipline within the organization. Though, it knocks out the freedom of expression, especially at the lower levels. So, when DAOs came into the picture, business magnates started exploring their potential as a resource for management and control.
In simple words, a DAO is an independent organization managed by the communities. The underlying laws are established via smart contracts that decide the selected course of action to be adopted in the future. The members might at any time openly evaluate DAO's digital code, cast votes, and give suggestions.

The entire infrastructure of a DAO blockchain platform is solely managed by its members, who collaborate on key project decisions, including technological improvements and treasury allocations. The protocol's future improvements are proposed by community leaders, who then get together to vote on each one individually. The established requirements decided upon in the smart contracts help to reach a predetermined point of agreement with complete transparency.
Those who support Decentralized Autonomous Organizations unanimously vouch for its potential to fundamentally alter the way firms operate. These entities are revolutionizing the working and decision-making paradigms of the global business space. Currently, several DAO projects are available in the market, accomplishing some impressive feats. The concept is new and challenging. Yet, experts are putting in their best efforts to chalk out innovative use cases for DAO expansion.
You are now well aware of DAOs. So, as our next step in this process, we will help you understand how DAOs are created. Let's start:
Steps to Create a DAO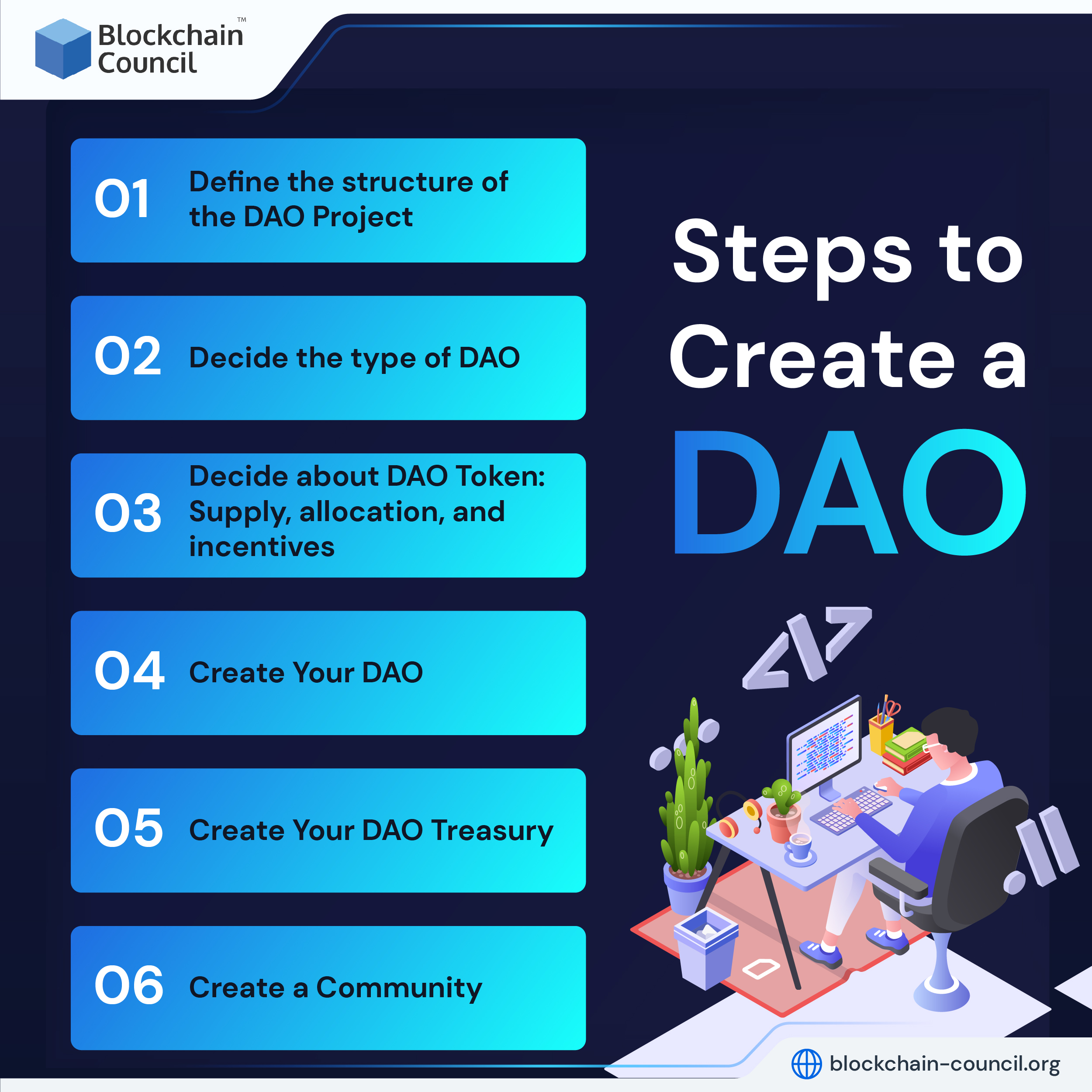 1. Define the structure of the DAO Project
Determining the core structure of the DAO should be the first concern if you are planning to make one from scratch. Remember that a decentralized structure is not a magic wand that can similarly serve every organization or project. Before reaching an Ethereum expert for writing codes or hopping on to DAO tools, you should first determine the structure of your DAO.
Here are some questions that you can ask yourself before proceeding with the big DAO creation task:
What do you expect your DAO will achieve? What are your goals?
Decisions your DAO will make?
Is your company ready to accept a community-focused decentralized ownership structure?
Is there a current difficulty in your industry that a DAO could solve?
Will your community, consumers, and customers benefit from a DAO?
Can you launch a business without the DAO?
What are the technical and developer resources needed for the DAO launch?
How do you envision your community assisting you in realizing your DAO vision?
Are you prepared to face the changing dynamics of the crypto markets?
2. Decide the type of DAO
Once you have decided upon the structure of your DAO, your next task should be choosing the type of DAO. DAO, as a concept, is still in its development stage, so one cannot give a complete list of areas where it can be used. However, there are some legitimate domains where DAOs can make a revolution. Your DAO will not necessarily operate within a Nation-State and City-Stage governance framework, but the backdrop is essential in outlining your broad DAO structure.
Deciding upon the type of DAO can be confusing. This is why we have tried to list some types of DAOs to help you choose easily. Take a look:
Protocol DAOs
Protocol DAO is the most prevalent form of decentralized autonomous organization. A protocol DAO, as the name implies, focuses on governance via decentralized protocols. To deliver DeFi services, several DAOs use smart contract technologies. The most well-known protocol DAOs are MakerDAO, Uniswap, and Yearn Finances.
Investment DAOs
In investment DAOs, crypto owners come together to support new projects, startups, etc. or make investments in them. They are based on the enforcement of governance rights powered through smart contracts.
Grant DAOs
Grants DAOs are similar to Investment DAOs in that their objective is to support new initiatives; however, these DAOs are solely for DeFi projects. The Uniswap Awards are the most popular DAO grants.
Social DAOs
Social DAOs are portals supporting social networking within the crypto community. Blockster is a popular social DAO. Such platforms provide digital democracy by allowing everyone's ideas to be heard and allowing individuals to discuss their common interests.
Collector DAOs
Artists who make art with nonfungible tokens (NFTs) rely on collector DAOs to demonstrate ownership of their work. One such project is PleasrDAO, where NFT collectors, DeFi promoters, and digital creators have come together to form a DAO.
Investment DAOs
Investment DAOs, a typical form of decentralized autonomous organization, are used to raise funds for businesses. Investment DAOs are also known as Venture DAOs at times. These are most typically utilized to raise capital for new blockchain technology and cryptocurrency ventures.
Media DAOs
Media DAOs enable content product owners (i.e., readers) to contribute directly without involving marketers in exchange for the native currency as a reward for their work. For example, Forefront provides several alternatives for DeFi aficionados, such as a crypto education hub and growth prospects for incubated enterprises.
Entertainment DAOs
Entertainment DAOs provide decentralized entertainment by letting creators bring their idea to life while maintaining control over their administration. Flufworld is a popular entertainment DAO where members can customize 3D NFT Fluffs and license them out.
Philanthropy DAOs
Compared to protocol DAOs, this decentralized autonomous organization is significantly less frequent. These DAOs are dedicated to aiding social responsibility projects navigating the Web 3.0 world. The Big Green DAO is the first Philanthropy DAO, and it is a charity organization that strives to raise awareness about growing food.
3. Decide about DAO Token: Supply, allocation, and incentives
Ever heard of token allocation? If not, you need to dig a bit. Once your structure and type are crystal clear, you must allocate your token. Getting this right from the outset will allow you to fundraise more efficiently and get support from your original supporters and community.
DAO tokens help in:
Giving incentives, rewards, and other perks
DAO voting and governance on the working of DAOs
Opening wider opportunities for growth and development for your community
Choosing the token supply volume and allocating them is crucial for the DAO development team. A good understanding of the use cases of the DAO token and its allocation can help to achieve optimum business growth. It helps to create value for users and the community. Like any other project, early investors in your DAO project will expect rewards in return for their support. Thus, it is necessary to maintain sufficient funds to fulfill the working capital requirements and reward the community.
4. Create Your DAO
While startups have a choice to create their systems from scratch, several DAO startup templates and tools are also available in the market to help them. They can help in:
Ascertaining the legal infrastructure of the DAO
DAO coin minting
Building teams
Finding members, and
Deciding the name of your DAO.
The following are the most common Ethereum blockchain tools for building a DAO:
Aragon: Aragon is a DAO toolset that includes governance and dispute resolution.
Colony: A colony is a plug-and-play DAO platform that can be launched in 90 seconds.
Syndicate – This software focuses on the launching of an investment DAO.
OpenLaw- The resource enables developers to swiftly generate legal documents that are compatible with Ethereum.
DAOstack- It is an open-source, tech-oriented toolset for launching a DAO.
Orca Protocol- The Orca Protocol is a "people-first" protocol that assists individuals in organizing themselves decentrally.
After establishing your DAO, you'll need to fix your DAO treasury tools to handle your tokens, crowdfunding, and treasury tasks successfully.
5. Create Your DAO Treasury 
After you've completed your DAO token's ICO supply and allocation, it's essential to guarantee that you can secure the collected funds. Some popular DAO Treasury Tools are:
Gnosis Safe- Platforms like Gnosis Safe help to secure DAO treasury through multi-signature wallet solutions. Since its inception in 2017, Gnosis Safe has been safeguarding projects within the Ethereum ecosystem. The multi-sig feature requires several people to sign transactions before execution.
Multis- Built on Gnosis Safe, Multis offers a one-shot solution for all your DAO treasury management requirements.
Juicebox- Juicebox thrives as a popular fundraising portal for DAO projects.
Llama- This is a fully-secured multi-sig wallet DApp dedicated to DAOs.
Parcel- Parcel offers access to cost-friendly treasury tools for managing payments, payrolls, payment requests, etc.
Utopia- Utopia provides a DAO treasury tools suite for managing accounts, creating reports, and payments.
Governance Tools for DAO
Commonwealth- It is a unified platform offering services for holding discussions, conducting voting, and managing funds.
Paladin- The portal helps in depositing, managing, and lending governance tokens.
Snapshot- Snapshot is a perfect portal for submitting and voting on proposals related to DAO governance.
Sybil- Created on Uniswap, Sybil helps in on-chain governance and delegation.
Boardroom- It is a robust resource for DAO governance.
Tally- Tally facilitates voting and delegation of votes for on-chain governance proposals.
6. Create a Community
A trustworthy, independent community is the strongest pillar of a DAO ecosystem. The creation of a community should be prioritized when developing a DAO cluster. An interactive, engaged, and strong community can help in the constant expansion of the DAO project. The success of a DAO project largely depends on how freely the community is able to participate in the decision-making and management of the DAO project.
Conclusion
With the shift towards decentralization, we can expect steady growth in DAO innovation. Firms are spending hefty amounts on reforming their working systems and making them community-centric by adopting Blockchain, Web3, and DAOs. The overall perception of DAO recommends that they are highly effective in creating an independent environment within an organization. DAOs make decision-making and voting more practical, transparent, and open-sourced. They work as a catalyst that paves the way for the global expansion of Web 3.0, Blockchain, and Crypto.