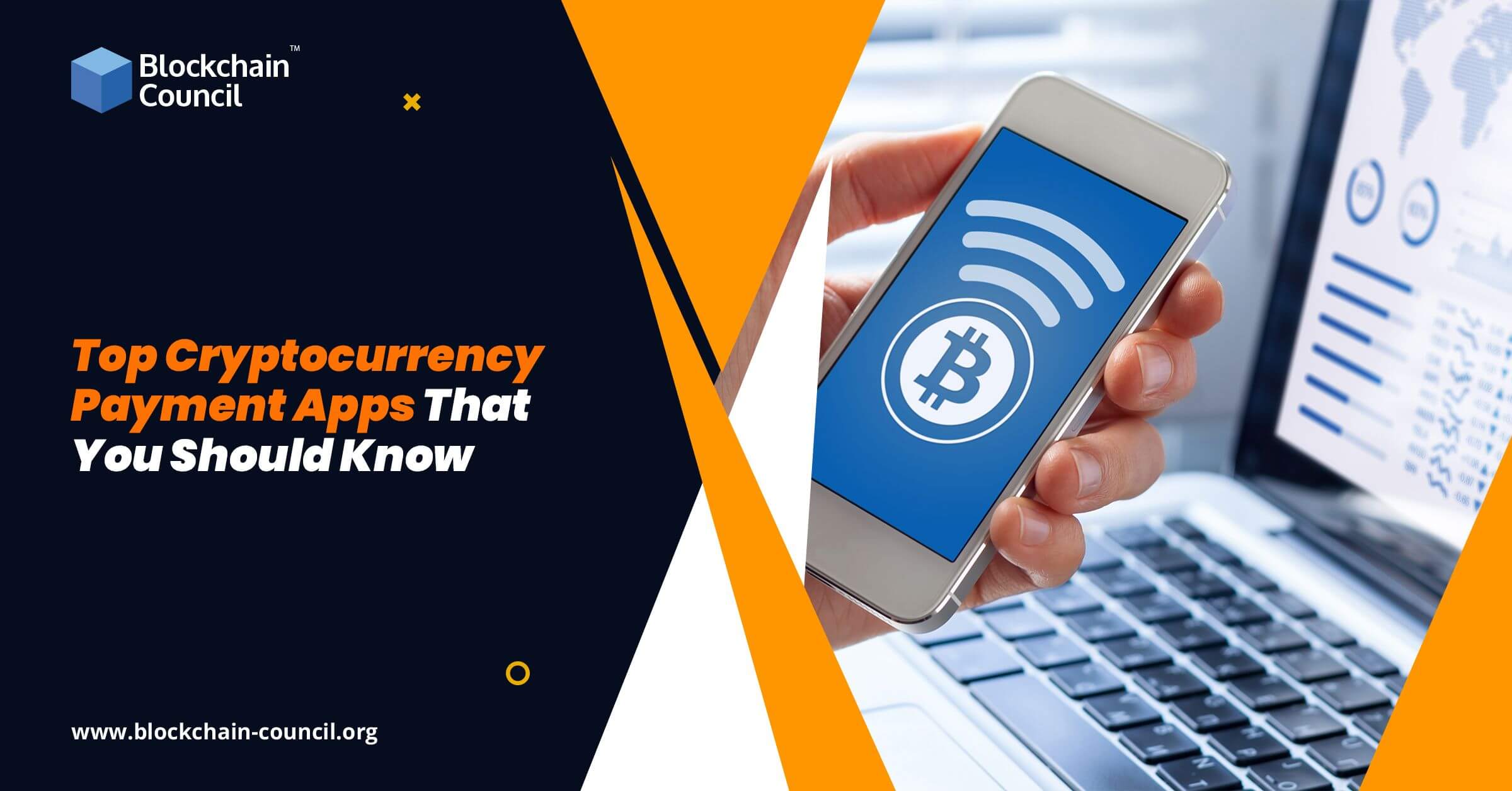 Are you a crypto enthusiast? Want to perform crypto transactions using a user-friendly payment app? Want to know which are the best options that are available? This article has got you covered. 

Table of Contents 
What is Crypto Payment App?

Best Crypto Payment Apps of 2021 

Apple Pay To Be Used to Spend Bitcoin: Recent Announcement 

Concluding Lines 
What is Crypto Payment App?
Cryptocurrency payment Apps allow businesses and individuals to accept cryptocurrencies from any country as a form of transactional payment from clients and other participating parties customers in exchange for goods or services. The main purpose of such apps is to promote the widespread adoption of varieties of cryptocurrencies.
Since cryptocurrencies are backed by Blockchain technology, they facilitate easy and confidential transactions and, most importantly, eliminates banking fees.
Want to know more about cryptocurrencies and Blockchain technology? Get started today with the best cryptocurrency and Blockchain certifications now! 
Best Crypto Payment Apps of 2021 
Let's explore some of the top-rated crypto payment apps of 2021.
If you want to take control of your crypto, turn crypto into dollars, leverage multi-sig security, and manage funds across platforms, go for Bitpay. It is known to be one of the world's largest providers of Bitcoin and cryptocurrency payment services. It helps you manage and secure your funds with multi-signature and key encryption. Moreover, one can also keep track of their funds by receiving prompt email and push notifications related to payments, transfers, and proposals and spend all around the world. 
The BitPay Wallet app supports various cryptocurrencies such as Ether, Bitcoin Cash and many dollar-pegged stable coins. 
eToro is one of the leading trading platforms that is home to around 12 million traders across the globe. One can invest in a wide category of digital assets on this platform without spending any markups, ticketing, or management fees. Moreover, there are no restrictions on trading volume as well. 
Cryptopay is another popular platform that enables individuals to easily access cryptocurrencies across countries. With Cryptopay, one can buy BTC, ETH, LTC, and XRP with their credit card or debit card and enjoy the economical rates and flat fees. Talking about crypto transaction fees, it's just charge 1% for the currency exchange. 
Coinbase provides the easiest way for users to buy, sell, and manage their cryptocurrency portfolio. It offers a variety of advanced features that make it the ideal platform to start trading for beginners and experts as well. It allows android users and iOS users as well to keep track of cryptocurrencies and manage their assets securely. It also allows individuals to store their funds in a vault with time-delayed withdrawals.
This is a unique, UK-based cryptocurrency app that is centered on empowering people to offer a mobile-first payment solution. Due to its popularity, it now has more than millions of users around the globe. 
Electroneum (ETN) is helping all those who have no visa, no MasterCard, no PayPal, etc., to pay for goods and services, both in-store and online. Electroneum app lets anyone hold and transfer value in terms of ETN immediately at a minimal cost. 
Apple Pay To Be Used to Spend Bitcoin: Recent Announcement 
According to the recent announcement, Apple Pay can now be used to spend Bitcoin. The news statements read that the US cardholders of the BitPay Prepaid Mastercard can add their card to Apple Wallet and spend in stores, in apps, and online through Apple Pay. 
As BitPay continues to improve its global blockchain solutions to make paying with cryptocurrencies faster and safer, apart from Apple Pay, Bitpay also plans to add support for Google Pay and Samsung Pay by the end of next month. Bitpay intends to empower customers to manage and spend Bitcoin and also turn it into dollars and pay with the BitPay Card.
Please note that these are not the only crypto apps. There are many others, and we have just listed a few of them. 
Concluding Lines 
Have you used any of these crypto payment apps? Which, according to you, is the best one? Let us know in the comment section below. 
If you want to familiarize yourself with the ins and outs of Cryptocurrency trading right from scratch, you can get enrolled in one of the Cryptocurrency certification programs and become a Certified Cryptocurrency Trader. 
To get instant updates about Blockchain Technology and to learn more about online Blockchain Certifications, check out Blockchain Council.