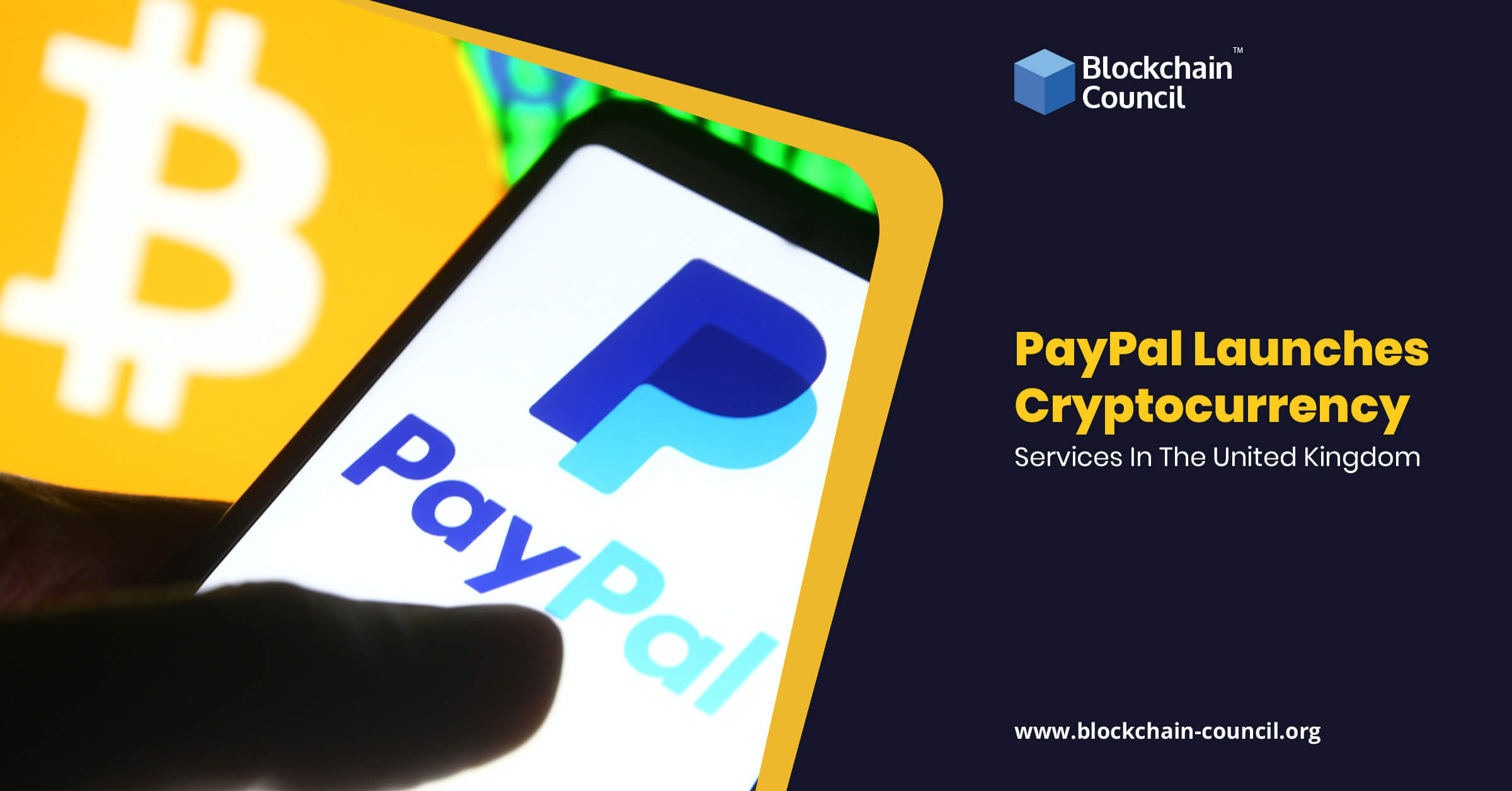 The global payments processing giant, PayPal, have been willing to launch their cryptocurrency services in the United Kingdom and have been making statements regarding their plan. Finally, they have announced officially that they are launching their cryptocurrency services in the United Kingdom from the following week.

The crypto service from PayPal which was launched in the United States during the month of October in the previous year would allow the citizens of the United Kingdom to buy cryptocurrencies and securely keep them in their PayPal crypto accounts. This initiative from PayPal marks the first venture from the company where they are going to provide crypto-related services to people outside the borders of the United States of America.
PayPal, which is a multi-million dollar payments processor, just confirmed that they will be providing services related to cryptocurrencies to the good people of the United Kingdom starting right from next week while expanding into foreign territory with their array of services. According to the suggested reports, it is confirmed that the services will be quite similar to the ones that the company provides back in the United States.PayPal will allow the citizens of UK to purchase four different cryptocurrencies on their platform. These four cryptocurrencies include Bitcoin Cash, Bitcoin, Litecoin, and Ethereum. 
According to the statements made by the authorities from PayPal, they are pretty sure that the demands for the aforementioned services will be quite high in the UK, as it was similarly on very high demand in the US when PayPal had launched their crypto initiative there. Jose Fernandez da Ponte, who also happens to be the General Manager for Blockchain, digital currencies, and other crypto-related services in PayPal commented in a statement that corroborates the aforementioned idea that since the services are doing great in the US, he is very hopeful that they would bear similar outcomes in the UK as well. 
In order to offer and maintain this array of functionality in their crypto-related services, PayPal will continue to use the services from Paxos which also happens to be one of their key partners for all this time. Paxos is regulated and albeit a popular cryptocurrency company that is well established in New York. According to a report from CNBC, the giant payment processor has already established contacts with the crypto regulators in the UK regarding their initiative and also to make sure that all their endeavors and services are in complete compliance with the current and local law.
Demand for crypto is going pretty strong
The cryptocurrency services that PayPal is providing in the United States are actually doing extremely well there and can be easily called a really successful venture. Dan Schulman, who is the Chief Executive Officer of PayPal mentioned in a statement that the growing demand for cryptocurrencies have actually surpassed the initial expectations of the company by multiple folds. He added that this is also because the company is always more concerned about making sure that the general public can feel more at ease while venturing into the crypto space and that PayPal makes it even more easier for them. He further stated that even though the cryptocurrency coins and tokens have been introduced in the market a while ago, it usually required a relatively more sophisticated and updated user to be able to access them with ease, and if that ease could be provided on a platform, then there is absolutely nothing quite like it. PayPal wishes to do just the same.
However the company is not willing to limit itself only to providing crypto services which are limited to the investments aspect of the cryptocurrencies. PayPal is actually working on shifting their strategy of services more towards the areas that are more concerned with the cryptocurrency payment processing services. On the 30th of March this year, the company announced the launch of their latest product in the market which they have named as "Checkout with Crypto". The product is geared towards enabling faster payments done through crypto at millions of online marketplaces and stores. 
However PayPal is still functioning as somewhat of a closed ecosystem. They are still not allowing individuals to conduct withdrawals of cryptocurrencies that they had purchased, to third party digital wallets. People are hoping that they will eventually look into this issue and resolve it as well.
Finishing thoughts
Learning Blockchain, Bitcoin and other cryptocurrencies are easy now, all thanks to reputed online courses and training sessions. Blockchain Council is one such organization that offers online training and certification programs to aspiring trainees to render them desired competencies so that they have a successful career in the Blockchain space. Keeping the rising demands of blockchain professionals in mind, Blockchain Council certifications are diversified to meet each aspirant's discrete needs. They have a host of training and courses on Bitcoin and Cryptocurrencies that provide world class knowledge and support.
To get instant updates about Blockchain Technology and to learn more about online Blockchain Certifications, check out Blockchain Council.