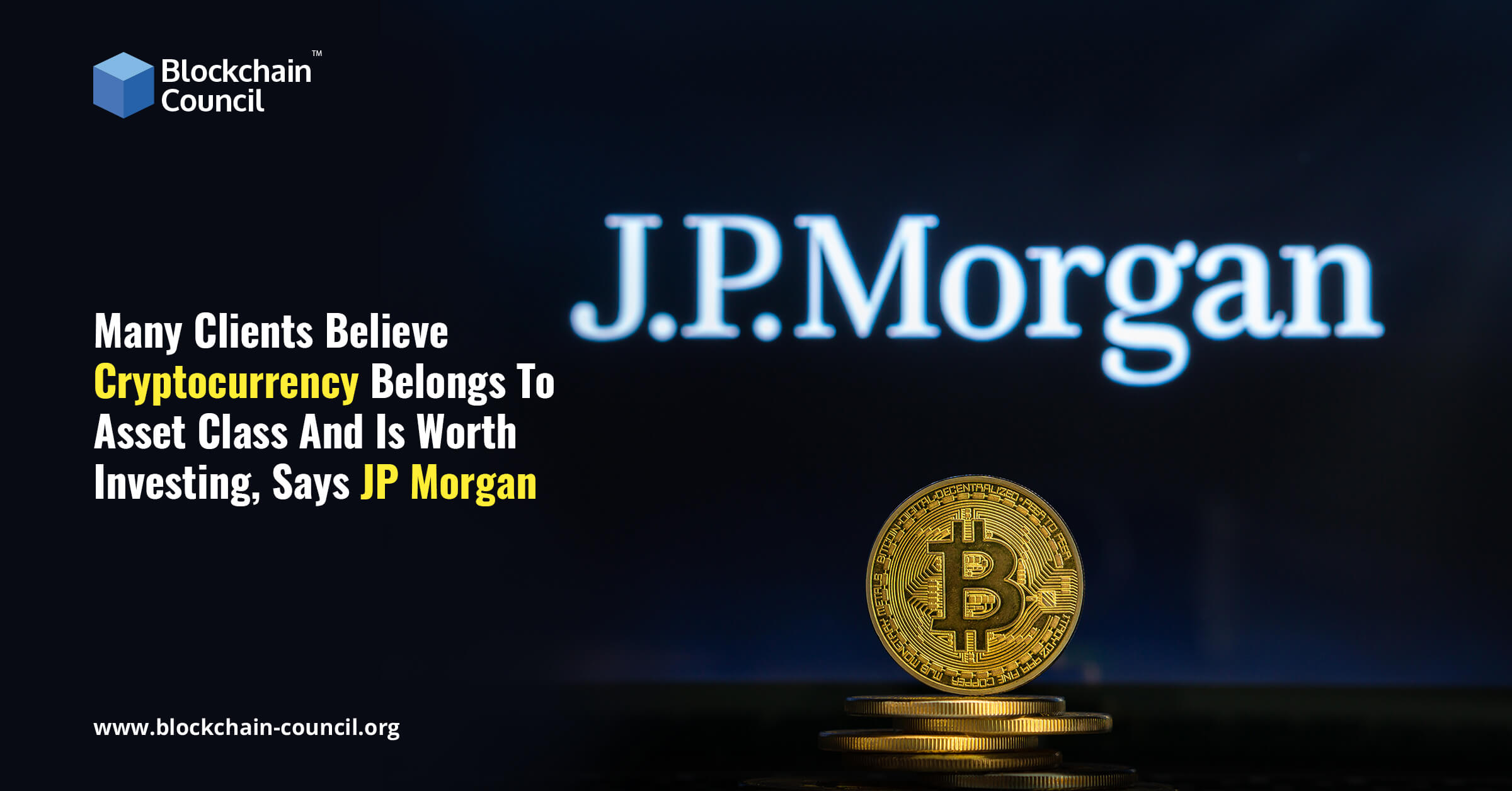 According to a statement made by the world's leading financial solutions provider JP Morgan,

A considerable number of their wealth and asset management clients are of the opinion that cryptocurrencies belong to an asset class and based on this belief, they are intending to make investments in cryptocurrencies. The CEO of JP Morgan, Asset and Wealth Management clearly pointed out that their job is to help their clients invest their money wherever they want to but in the most optimum of ways obviously, by ensuring safety and considerable returns in the future.
In an interview with Bloomberg Wealth, the CEO of JP Morgan Asset and Wealth Management, Mary Callahan Erdoes, had a discussion about how the firm tries to approach the matter of cryptocurrencies. The interview has been published on Tuesday. Needless to say, the Asset and Wealth Management business line of JP Morgan Chase is home to one of the largest investment banking managers and private banks in the world. They are in charge of a staggering $3.4 trillion in client assets.
Mary Callahan Erdoes had joined the firm twenty years ago and since then she has seen how the trends in the financial market have been changing and now with the advent of technologies like Blockchain and Cryptocurrencies, the entire financial, banking, and accounting scenario is about to undergo a revolutionary change. During the interview, she was asked about how she reacts and responds when a particular client or clients come to her in order to seek counsel on matters of investing in cryptocurrencies. The interviewer specifically asked her whether she likes to discourage them from doing so or on the contrary, whether she wants to encourage them. She was also asked if she is actually evolving with her conceptions regarding the entire blockchain and cryptocurrency revolution that is taking place globally at present.
The chief executive of the firm started replying by giving a brief outlook about her opinion and understanding of blockchain technology and the changes entailed by it in her area of work.
She firstly opined by saying that Blockchain although was just a concept only a few years ago, is now very much a real thing. She went on to say that ever since blockchain technology has been gaining ground globally, it is changing the way people interact with others through digital mediums. Blockchain technology assures safety and security in transactions and in conducting businesses in such a way that it cannot be breached, duplicated, or manipulated. According to her, this is really something game-changing and one of the most important reasons why business organisations, financial institutions, investors and so many others are attracted to blockchain and cryptocurrencies. 
While talking about cryptocurrencies, Erdoes stated that cryptocurrencies are relatively a new thing to appear in the market when compared to traditional forms of currencies and assets that have been in the market for years. The fact that they have not been tried and tested over a lengthy period of time in the market, there is a general sense of dilemma on whether cryptocurrencies can fall under the category of an asset class or not. She mentioned that even though it is her personal opinion, it is her job to make sure that the firm helps clients invest the money wherever it is they are willing to, and a lot of them are willing to invest in cryptocurrencies because they believe cryptocurrencies to be an asset class.
She also added that many experts do not view Bitcoin as an asset class and that only time will tell whether it can in the future, indeed become a store of value. But she believes that the volatility through which the cryptocurrency is traversing should be left to play itself out.
However, she made it clear that regardless of how she feels about cryptocurrencies and their future, there is a growing inclination among the general public to invest in cryptocurrencies. People really feel that they are worthy of being called an asset.
Just a few months back, in the month of May, the rival bank of JP Morgan, Goldman Sachs boldly declared that according to them, Bitcoin is indeed an asset that is ideally capable and worth investing in. They had mentioned something similar to JP Morgan, that the clients are willing to invest more in Bitcoin and other cryptocurrencies because they really feel it is worth it. 
Even the CEO of the world's largest asset manager, Blackrock, stated in April that he is actually fascinated with Bitcoin and cryptocurrencies in general and he truly believes that they are an asset class that will become even bigger and better as time passes.