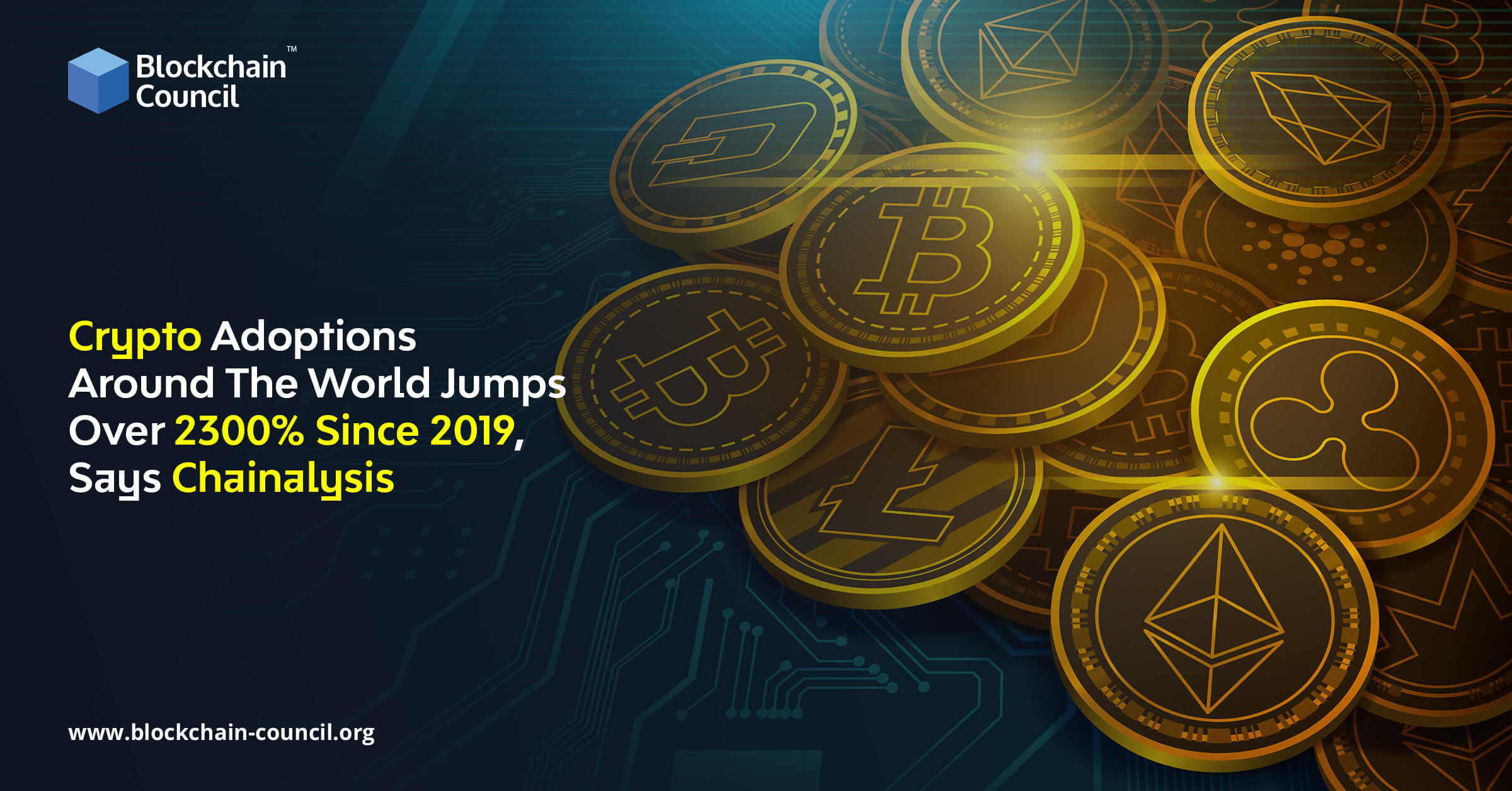 Chainalysis, which is based in the United States and is one of the most prominent platforms in the world specializing in blockchain data analytics, revealed a startling analysis on Wednesday. According to their reports, they have found that the global rate of adoption of cryptocurrencies has skyrocketed in recent times. Reports are suggesting that more and more residents from all over the world are opening up to cryptocurrencies, adopting them and integrating their day to day lives with an increasing number and types of digital assets.

The Global Crypto Adoption Index as owned by Chainalysis, is an initiative through which the company maintains a platform as an effort to observe and measure the adoption rates of cryptocurrencies around the world right from its grassroots level. As per the analysis done by the company, reports point out that there has been a surge of nothing less than 880% since the previous year and their observations indicate to the fact that the P2P or peer to peer platforms operating in countries which can be labelled as having economies which are still emerging, are the speculated to be the main driving force behind this mammoth level of surge for crypto adoption rates.
Crypto Adoption Keeps Surging as U.S. and China Continue to Dip in Global Adoption Rankings
Adoption of cryptocurrencies has seen massive surges over the course of the past few years. According to observations and analytical data, it can be concluded that a considerable number of economies which are mostly emerging economies have come forward and started adopting digital assets in many different forms. This is a reflection of the real truth that cryptocurrencies have gradually risen to become a global phenomenon. 
Reports from Chainalysis highlight some really exciting and unbelievable facts. Their reports suggest that the adoption rates of crypto all around the world has grown by 2300% since the third quarter of the year 2019 and more than 881% since the previous year of 2020. It was during the end of the second quarter of the previous year, that the adoption rates were resting at 2.5% post surge which further underwent a surging phase and went on to rise at a staggering level of 24% by the end of the second quarter of 2021. 
According to the experts at Chainalysis, the primary reason for this massive surge in crypto adoption rate can be credited to the fact that people all over the world are starting to perceive and treat crypto as a real storage of value. Businesses and individuals across the globe are sending, receiving and also carrying out their business transactions by making use of cryptocurrencies and various other forms of digital assets, for instance Non Fungible Tokens or NFTs, which has transformed into a billion dollar industry within a very short span of time. Recently, a relief campaign has been designed and carried out in the form of NFTs for the people who are suffering in the crisis of Afghanistan. 
In addition to this, institutional investors are pouring in large sums of investments in regions across North America, Eastern Asia and Western Europe. Reports suggest that these investments from the institutional investors are a key factor that is largely driving the adoption rates of crypto across these regions.
According to the latest data presented by Messari, Asia accounts for the majority of crypto transactions in the world, which is almost half of all the trading done with the help of digital assets and that includes 90% of all the volume of trade which are above the $10,000 mark. A staggering estimate suggests that Asia accounts for a volume of trading activity which is somewhat equivalent to the combined activities of trading in the United States and Europe. The analytics have pointed out that the companies operating in Asia are mostly in favour of derivatives. Their trading data accounts for an estimated 98% of ETH and almost 94% of BTC future volumes.
In a further analysis, Chainalysis has mentioned certain countries which belong to the emerging economies such as Nigeria, Kenya and Venezuela as these countries retain excessively large transaction volumes on the peer to peer platforms. Reports entail that most of the residents residing in these countries have no access to exchanges that are centrally controlled. As a result these P2P platforms become their gateway to cryptocurrencies. 
Finishing thoughts: How to build your own Blockchain and Cryptocurrency-based projects?
Learning Blockchain and Cryptocurrencies are easy now, all thanks to reputed online courses and training sessions. Blockchain Council is one such organization that offers online training and certification programs to aspiring trainees to render them desired competencies so that they have a successful career in the Blockchain space. Keeping the rising demands of blockchain professionals in mind, Blockchain Council certifications are diversified to meet each aspirant's discrete needs. They have a host of training and courses on Blockchain and Cryptocurrency that provide world class knowledge and support.
To get instant updates about Blockchain Technology and to learn more about online Blockchain Certifications, check out Blockchain Council.