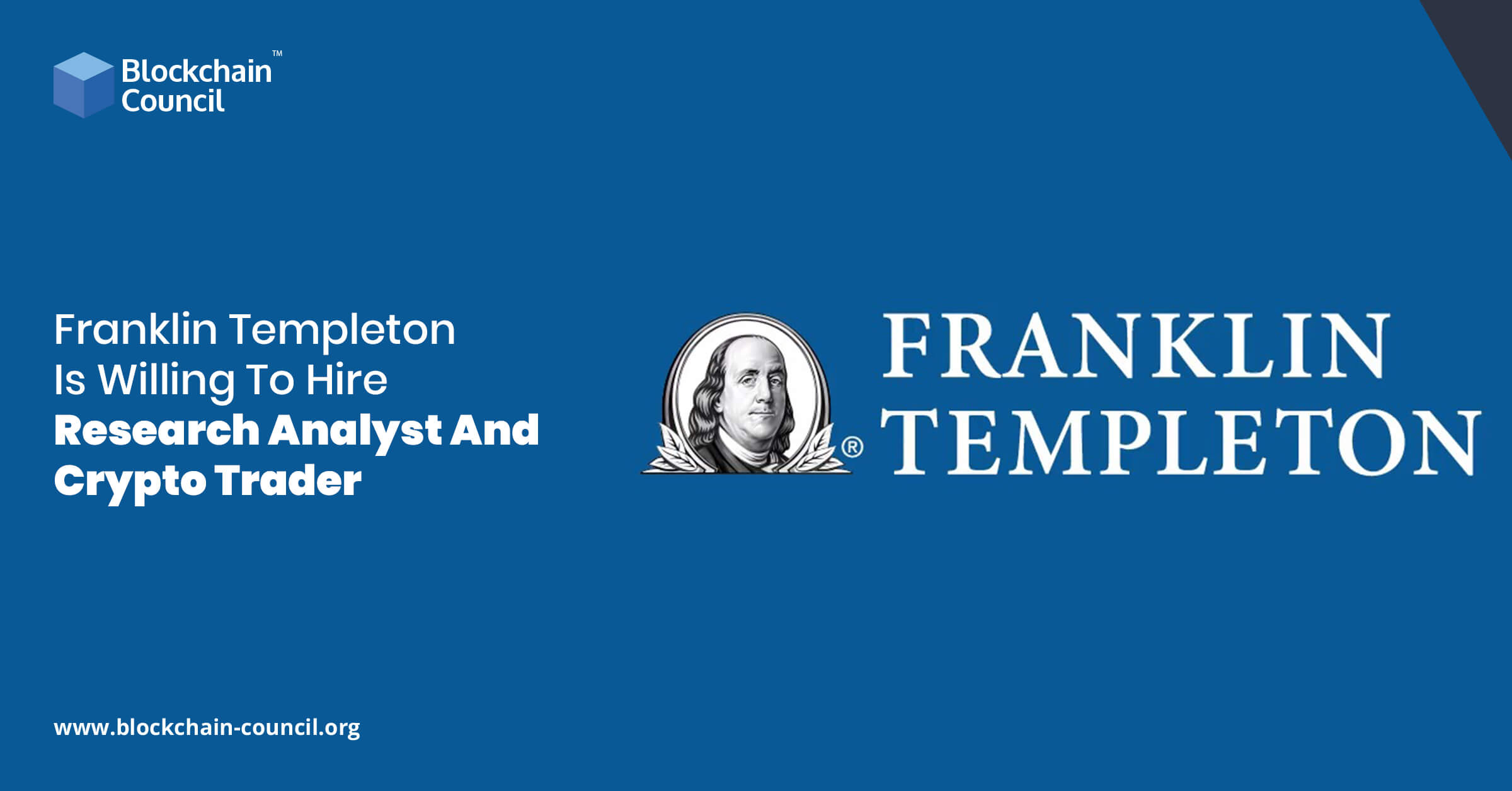 The famous company Franklin Templeton is a specialized unit with the aim of investing in the cryptocurrency space and for this reason, the company is looking to hire research analysts and experts on crypto trading. 

The California, San Mateo-based fund group during the end of July was seen managing assets worth a staggering sum of $1.56 trillion. Only during the course of the last year, the company had acquired their competitor Legg Mason, which was another giant of an asset management company. Franklin Mason, which is another titan of a financial services company, is the latest in line to express their interest in gaining access to the world of blockchain and cryptocurrencies.
The company is searching for a specialized cryptocurrency trader who will be able to execute trades for strategies by making use of such crypto assets that have the largest and the most amount of liquid on the list and are also conveniently tradable for instance, Bitcoin or Ethereum. 
The job listing which was released on the 1st of September, clearly states that the aforementioned trader who will need to possess a quantitative perspective will also need to bear in mind a perspective that is focused on process automation and need to work in close collaboration with the team of developers in order to create tools that will be advantageous for the platform in terms of growth and productivity. As per their requirement, the trader will need to provide his or her insight on the platform and develop trading strategies as per the required quantitative aspects.
On the same day, the company gave out a separate listing in which they mentioned that they require a crypto research analyst as well. The listing states that the role of the analyst will be to maintain and develop valuation models and also the analyst is required to keep the senior executives and portfolio managers abreast of the changes and updates regarding staking, protocol regulatory and business opportunities. It will be the responsibility of the analyst to help in developing new products in this new crypto asset space and also manage them accordingly. 
The appointed research analyst will be joining the management unit dealing with cryptocurrencies while the trader will be joining the management team that works on the digital assets management unit. However, it is still ambiguous if these two units are from two separate divisions or not. 
Anton Hardy, who is a research analyst working in the equity group of Franklin Templeton,  stated that there are certain factors that are currently driving the runup of the world's biggest cryptocurrency, Bitcoin. Among them, he mentioned that a search for returns that can be procured in an environment of lower rates of interest and hedge funds are quite influential factors. He further added that the phenomenal rise in the adoption rates of decentralized finance applications and institutional adoptions are also potent contributors to the rise of Bitcoin and other cryptocurrencies.
Hardy also mentioned that we are on the precipice of an era where the emergence of a completely new form of financial systems and the internet are about to coexist with the one that is already in use. He states that it is extremely likely that the advent of these new technologies will eventually change the way we perceive some of the sectors of our society in their traditional sense and therefore these technologies are here for a longer run.
The company has come out with these job postings at a time when their fellow companies which are also financial giants can be seen dipping their toes into the crypto space. For instance, in the month of May, the finance giant Goldman Sachs had declared that they would be offering derivatives to their clients in the form of Bitcoins and also open dedicated trading accounts for trading cryptocurrencies. Even Bank of America announced that they are planning to open a research division focused on cryptocurrencies and digital assets.
Finishing thoughts: Are you interested in developing your own DeFi based applications and Cryptocurrency projects?
Learning Blockchain, Cryptocurrencies and Decentralized Finance (DeFi) applications are easy now, all thanks to highly esteemed online courses and training sessions from Blockchain Council, which is one such organization that offers amazing and effective online training and certification programs to aspiring trainees while rendering them desired competencies so that they have a successful career in the Blockchain space. Keeping the rising demands of blockchain professionals in mind, Blockchain Council certifications are diversified to meet each aspirant's discrete needs. They have a host of training and courses on DeFi and Cryptocurrencies that provide world-class knowledge and support.
To get instant updates about Blockchain Technology and to learn more about online Blockchain Certifications, check out Blockchain Council.