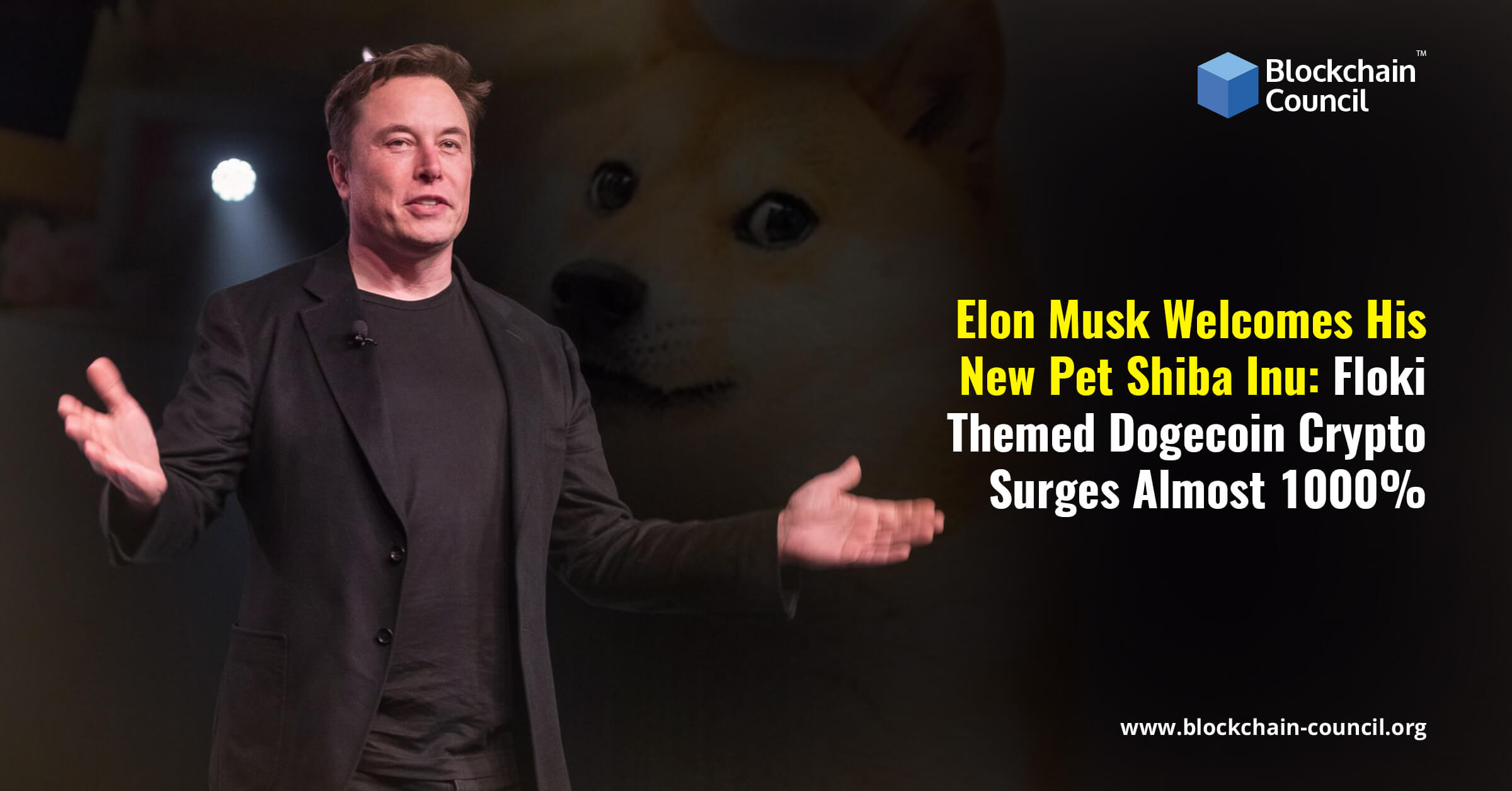 It has been weeks ever since the owner of the two most coveted companies in the world, SpaceX and Tesla, the eccentric billionaire Elon Musk, had made some interesting comments about the world of cryptocurrencies and the future it upholds, but it appears that the so-called 'Musk Effect' is still holding up pretty strong, and that is especially with Dogecoin, which appears to be his new favorite cryptocurrency.

However, this time, the craze is about his recent tweet, where the billionaire and crypto enthusiast has posted a picture of his new pet, who goes by the name of Shiba Inu. This time again, Musk has taken thighs to Twitter, where he posted a picture of Shiba Inu with a captain who says, 'Floki has arrived.'
Floki has arrived pic.twitter.com/2MiUKb91FT

— Elon Musk (@elonmusk) September 12, 2021
Elon had put out the tweet on the internet during the early hours of Friday, and ever since then, it is beyond a doubt that the prices for his favorite cryptocurrency, Dogecoin, have shot up on a steady basis. Following the days after Elon has posted on Twitter, several other altcoins related to Dogecoin have also gone up in price, for instance, the Baby Doge, which has witnessed a notable spark in the price hike since Friday.
However, from the tweet posted by Elon Musk, the biggest and the most prominent gainer in the market has been the Shiba Floki, which has witnessed a staggering growth rate of 958.09 percent and that too, only in the last twenty-four hours, as per the records of the Coin Market cap. 
The sharp rate of rising in the price has coincided with the posting of that tweet by Musk, which took place at around 3.52 am IST. The Shiba Floki, as of now, is the highest and the biggest gainer from this incident, and right at this moment, the cryptocurrency is trading at an estimated valuation of $0.000000005961. Another cryptocurrency that goes by the name of Floki Inu has recorded a surge of 59.08 percent, and on the other hand, Floki Shiba, which is another crypto-related to Dogecoin, has recorded a spike of 23.46 percent since then. 
Even the famous Dogecoin itself has gained a rise in its valuation by .36% percent, which also coincided with the timing of the Twitter post by Elon Musk of his new pet.
According to the data gathered by CoinMarket cap, Baby Doge has also witnessed a jump of 1.80 percent right after the billionaire crypto supporter Elon Musk had posted on Twitter. This cryptocurrency, by the name of Baby Doge, has been founded by a group of loyal fans of Dogecoin, who firmly believe that this new meme cryptocurrency indeed has a really bright future ahead. According to the information found on the official website of Baby Doge, it is stated that the company wishes to pay tribute and honor to its father, the Dogecoin, by showcasing the improved capabilities of handling transactions at a better speed and by being adorable. The crypto has been defined as Hyper Deflationary, which already has an integrated smart staking system that is built inside the system and which eventually helps to add more Baby Doge to the wallet.
This is not the first case when we get to see prices of crypto and digital assets spiking because of the eccentric billionaire Elon Musk. Even in the past, there have been several occasions when a statement or a tweet from Elon has resulted in massive surges in the crypto world. Also, this is not the first instance when we have seen that his statements have impacted the Floki tokens. 
Finishing thoughts: Are you interested in developing your own DeFi based applications and Cryptocurrency projects?
Learning Blockchain, Cryptocurrencies and Decentralized Finance (DeFi) applications are easy now, all thanks to highly esteemed online courses and training sessions from Blockchain Council, which is one such organization that offers amazing and effective online training and certification programs to aspiring trainees while rendering them desired competencies so that they have a successful career in the Blockchain space. Keeping the rising demands of blockchain professionals in mind, Blockchain Council certifications are diversified to meet each aspirant's discrete needs. They have a host of training and courses on DeFi and Cryptocurrencies that provide world class knowledge and support.
To get instant updates about Blockchain Technology and to learn more about online Blockchain Certifications, check out Blockchain Council.