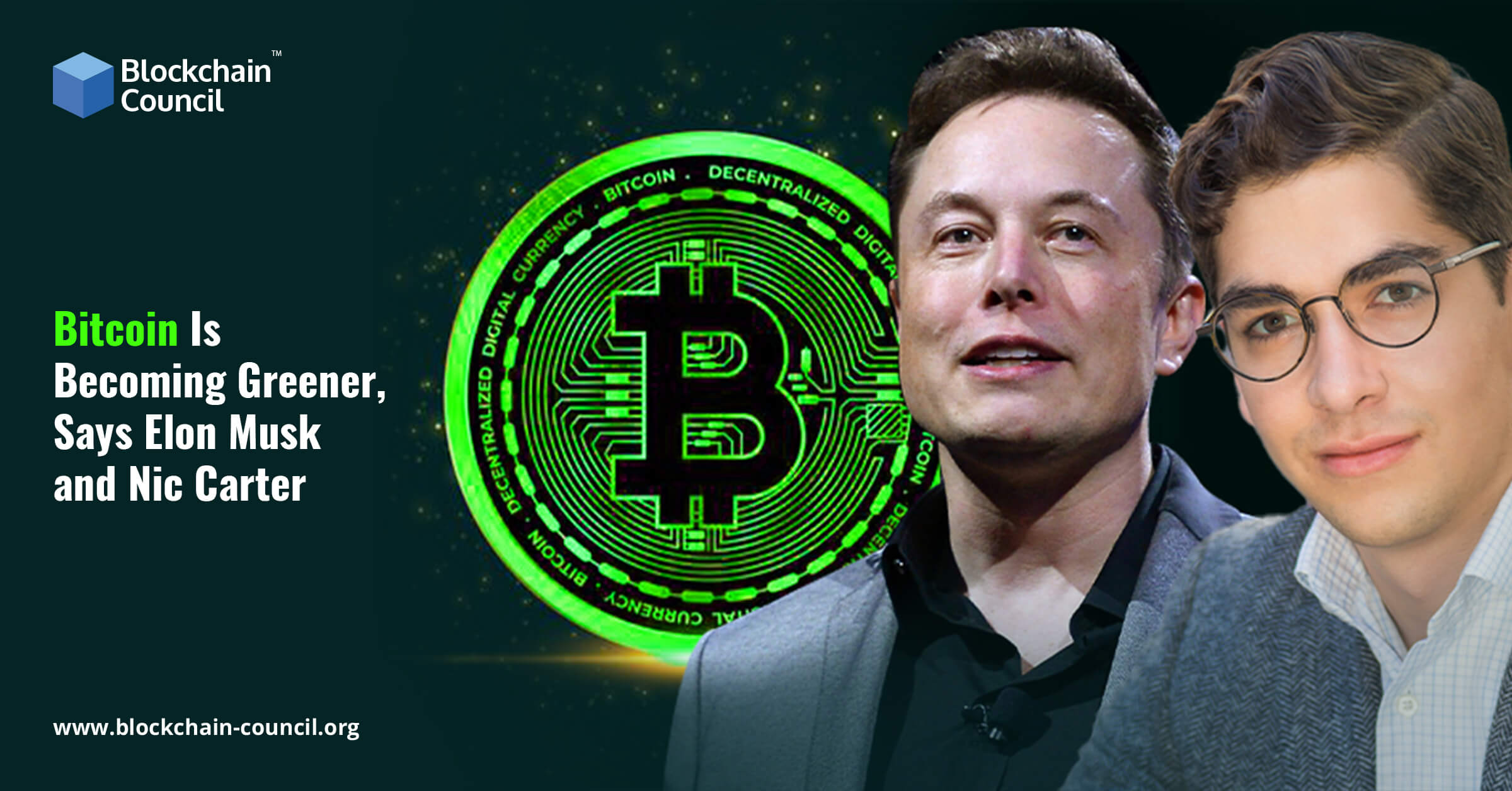 For the first time, the CEO of Tesla, Elon Musk has revealed that his famous aerospace company SpaceX is in possession of a certain amount of Bitcoin, even though he did not reveal the amount of Bitcoins that the company is in possession of. Earlier this year, his other company Tesla had purchased Bitcoins worth $1.5 billion. The event had sparked off a serious price rally for Bitcoin.

The Bitcoin price rally gradually came to a halt when Tesla suddenly stopped accepting payments made in Bitcoin. This happened because of the major environmental concerns generated by the mining methods of the cryptocurrency. However recently at a virtual BTC event called "The ₿ Word", the unpredictable tech billionaire mentioned that Tesla is on the precipice of accepting Bitcoins once again, since Bitcoin has been increasing the percentage of renewable energy during the mining process. He believes this shows a lot of promise for future possibilities.
Nic Carter, who is the co-founder of Coin Metrics reportedly told CNBC just sometime back that the fundamentals of Bitcoin are getting much better in the context of sustainability. The entire narrative of Bitcoin is changing into something that can be labelled as 'Bitcoin going green' and this is actually good news for the cryptocurrency. This eco-friendly image of Bitcoin just might help trigger another rally.
At the virtual event, Elon Musk appeared alongside the CEO of Twitter, Jack Dorsey and Cathy Wood, who is the CEO of Ark Invest along with Steve Lee, the moderator from Square Crypto, but he did not reveal too much about SpaceX's BTC purchase. He did in fact say that he owns bitcoins and so does Tesla and SpaceX. Aside from that he personally owns a certain amount of Ethereum and Dogecoin as well. He also added that neither he himself nor SpaceX or even Tesla are selling any amount of bitcoins at the moment.
Elon's statement has confirmed a long-standing conjecture that SpaceX has been adding Bitcoin to their reserves. During mid-March, the famous American financier Anthony Scaramucci wrote on twitter that he believed Elon did not just stop with the purchase he had made through Tesla. He stated that Tesla owns around $5 Billion worth of Bitcoin through Tesla, SpaceX and his personal reserves put together and he also added that no man has done more for the protection of Earth against climate change. 
Elon Musk didn't stop with Tesla. I understand that SpaceX owns #bitcoin on its balance sheet. @elonmusk owns over $5 billion in #bitcoin via Tesla, SpaceX, and personally. No living person has done more to protect the planet against climate change. (1/2)

— Anthony Scaramucci (@Scaramucci) March 19, 2021
At the event, Musk was wearing a t-shirt with a BTC theme on it and he appeared to be quite sanguine on his position regarding the digital gold. He even mentioned that his Bitcoin reserves surpass that of his Ether or DOGE collection. He stated that the use of renewable energy sources for mining points to a positive direction in the future. He also mentioned that the closure of mining plants in China that were powered using coal, is a big step that helped Bitcoin become more sustainable. 
In case you were wondering, this is the shirt that @elonmusk is wearing. pic.twitter.com/SNd0a8LLjj

— The Wolf Of All Streets (@scottmelker) July 21, 2021
He further added that the percentage of renewable energy resources used for mining bitcoin stands at around 50 percent or higher, and there is an ongoing trend to use more renewable energy resources in future. He said that if that happens, Tesla will begin accepting Bitcoins at that very moment.
Nic Carter on Bitcoin mining
While speaking about Musk's latest comments, Nic Carter told CNBC that he was glad to find out that Musk has been evaluating the real facts regarding Bitcoin and its mining, and those facts are pretty favorable at this moment.
Carter seemed to be on the same page as Musk himself on the issue of Chinese Bitcoin mining, stating that the hash rate in China was produced mostly by using energy that was mostly produced from coal. Not only that, there have been issues regarding transparency from a few of the miners in that region who worked anonymously. 
He seemed pretty hopeful about the fact that the fundamentals are turning out to be better for Bitcoin in terms of sustainability. He also said that the miners operating in the US and Canada are more incumbent on using sustainable mining methods and are more likely to disclose information and maintain clarity and transparency.
He went on to add that since the closure of mining operations took place in China, a lot of the mining operations in China have been replaced by mining in the United States and Canada. The positive thing about this replacement is that the miners in the US and Canada are more sustainably focused. Moreover the miners are encouraging disclosure on a bigger scale. 32 percent of the hash rate have decided to join the Bitcoin Mining Council, where they are producing disclosures on a quarterly basis now.
According to a recent poll undertaken by the Bitcoin Mining Council, it has been discovered that the miners are using almost 62 percent of renewable energy in the second quarter. Carter has pointed out this fact while mentioning that he is extremely hopeful for the future of Bitcoin and is confident that more and more people will be using the cryptocurrency in the future owing to the level of security and sustainability it is providing.