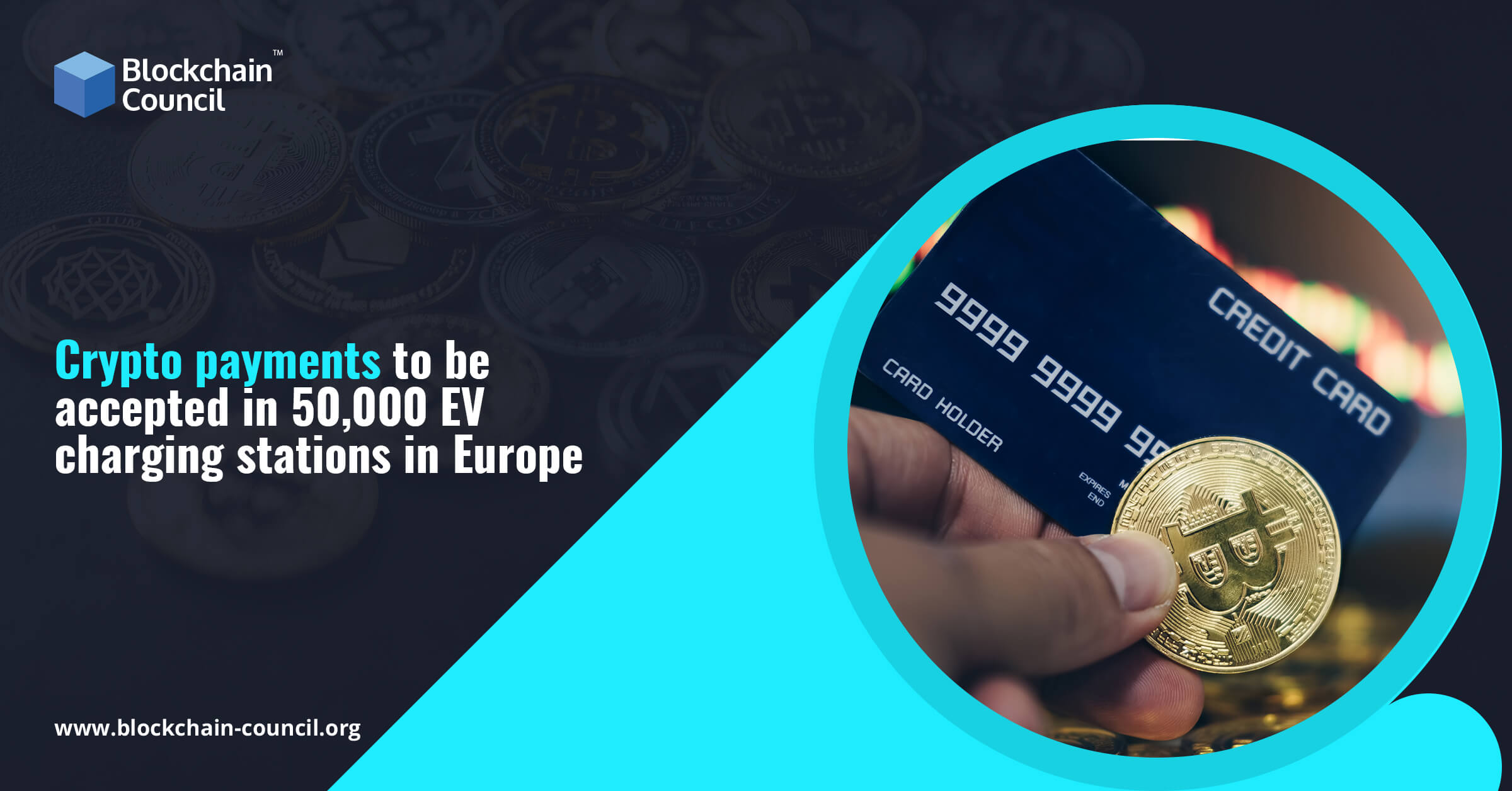 The recent news outbreak regarding approval of crypto payments in EV charging stations across Europe has been gaining much attention.

Two payments firms, HIPS payment group Ltd (An Irish ecommerce and mobile payment solutions group) and Vourity (A Swedish payment firm that takes care of unescorted payment facilities, i.e., Electric vehicle charging stations), have joined into a partnership to encourage crypto payments across nearly 50,000 EV charging stations in the European nations.
The incorporation of crypto installments with charging stations will happen over the course of the coming three years, beginning from November 2021.
The organizations haven't uncovered which cryptocurrencies will be upheld yet.
The CEO of Vourity, Hans Nottehed, stated that the firm is currently in discussion about which cryptocurrencies it will support. He added, chosen cryptocurrency will be turned to Fiat.
However, Vourity has dropped quite an obvious clue that Ethereum is probably going to be among the first few cryptocurrencies as the firm published a picture of a payment terminal having an ETH logo. Ethereum is coming out to be considered a more energy proficient Proof-of-Stake consensus instrument in the following year, which could ease any outrage among ecologically cognizant EV drivers.
Payment arrangements proposed by Vourity and HIPS:
Crypto payments will be coordinated with Vourity's Electric Vehicle charging stations by linking with the blockchain technology through HIPS "Merchant Protocol," native protocol of merchant protocol. 
In May 2021, HIPS Payment Group introduced the "HIPS Merchant Protocol," the "HIPS Merchant Protocol Gateway," and "Merchant Token." 
Back in May 2021, The protocol was initially based on Solana and Ethereum, the firm is planning to incorporate Cardano too in the near future.
HIPS remarked that in addition to offering real-time exchange speeds, HIPS merchant blockchain is formulated for merchant exchanges regardless of whether the exchanges are in-store/ecommerce or mobile. The payment card industry has inspired the concept of the HIPS blockchain.
Ups and downs of EV production in 2021
The famous U-turn on receiving Bitcoin payments for automobiles and other products by Tesla surged the awareness across the bitcoin community regarding the environmental violation. Elon Musk announced that Tesla would not be accepting the BTC and resume crypto payments till the crypto mining sectors at the least generate 50% of energy without violating natural resources. 
This move by Tesla was well appreciated by environmentalists across the world and affected bitcoin prices. Taking inspiration from Musk, other EV-focused firms have pursued techniques to find ways to perform "clean" crypto mining.
Conclusion
The installation of crypto payments in EV charging stations offers EV drivers and owners a choice between different currencies to deal with their taxes. Availability of payment alternatives across 50,000 EV charging stations would be beneficial for crypto users