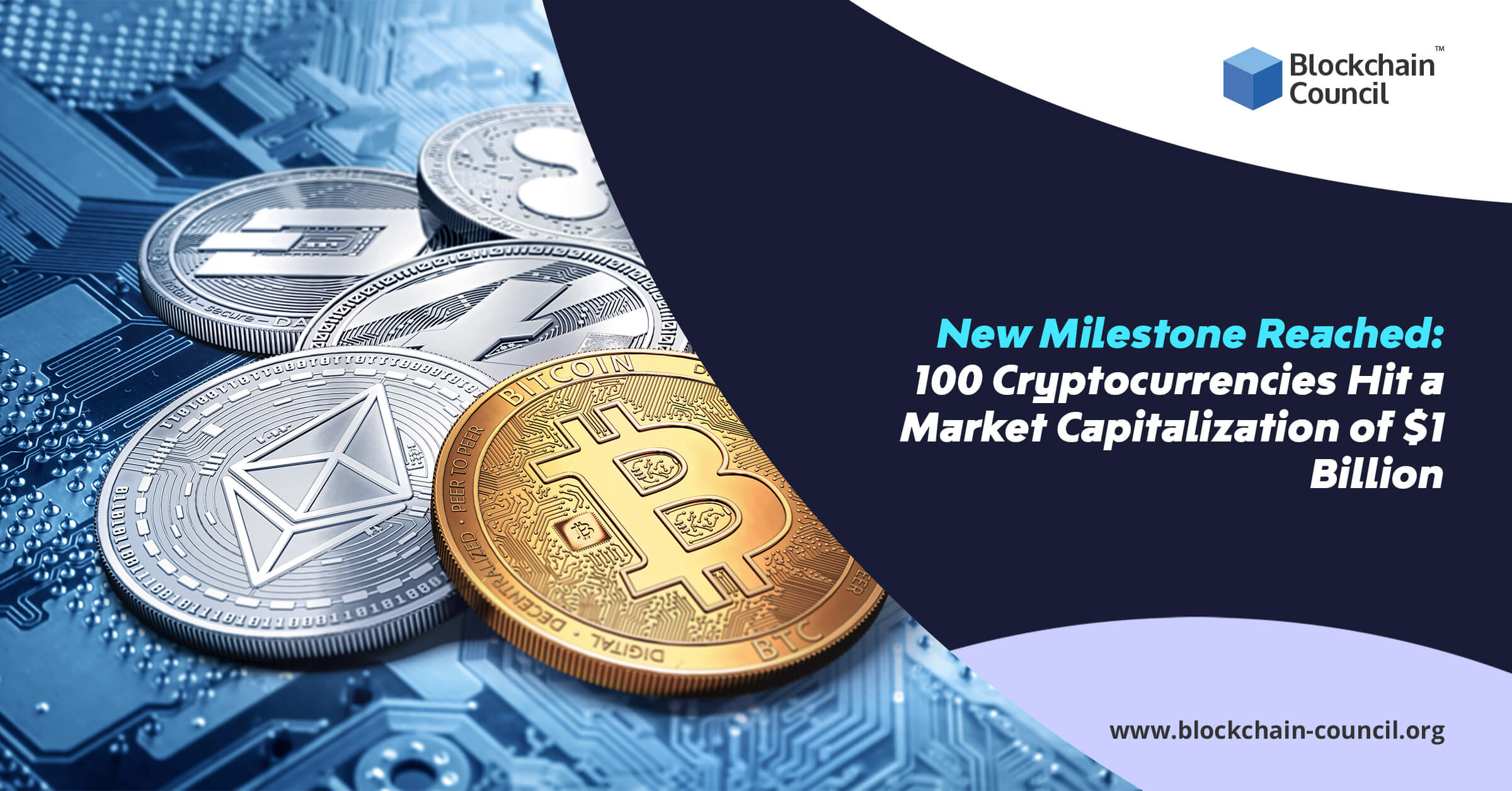 Are you a crypto enthusiast? Want to get updated and stay tuned regarding the crypto sector? This article has got you covered. 

Table of Contents 
What's This New Milestone All About?

Driving Forces for the Growth of Crypto Ecosystem

Concluding Lines 
What's This New Milestone All About?
As cryptocurrencies continue to gain traction among investors and traders, the crypto sector has risen to a total valuation of more than $1.2 trillion. In Feb 2021, it was seen that there were more than 55 unicorn status projects that had a market capitalization of over $1 billion at that time. 
Now, according to Cointelegraph, there has been a surge in the number of crypto projects. It reports that a new milestone has been reached as 100 cryptocurrencies reach a $1B market capitalization.
Want to get started with cryptocurrencies? Become a Certified Cryptocurrency Expert now!
Driving Forces for the Growth of Crypto Ecosystem
Now comes the question, what are the significant factors that are responsible for the growth of the crypto ecosystem. Let's explore all these factors in detail.
Multi-Billion Dollar Companies Investing in Cryptocurrencies 
One of the driving forces that contribute to multi-billion dollar companies such as Tesla, MicroStrategy, and others.
MicroStrategy, which is a prominent business analytics platform, has adopted Bitcoin as its primary reserve asset. Unlike other CEOs who generally hide their personal investments, he announced in October 2020 that he holds around 17,732 BTC. In December 2020, the company announced that it had raised $650 million worth of convertible bonds to finance more Bitcoin purchases. 
Also, in February 2021, it was announced that electric vehicle manufacturer Tesla has invested $1.5 billion in Bitcoin and is expected to begin accepting the digital token for its cars and other products. After the announcement, it was seen that the BTC price soared. Square bought $170 million worth of bitcoin with the belief that BTC has the potential to become the native cryptocurrency of the internet. 
DeFi Takes Center Stage 
For the past year, Decentralized Finance, also commonly known as DeFi, has been one of the most contributing factors in the growth and development of the cryptocurrency sector. 
For instance, Uniswap, a decentralized exchange (DEX), has evolved from a basic exchange framework dApp to a sprawling trading network with an average trading volume of $6.72 billion. Similarly, SushiSwap, a competitor to Uniswap, has also attained unicorn status with a current value of over $1.8 billion. Moreover, PancakeSwap (CAKE), a BSC-based DEX that promotes the trading of BEP-20 tokens and implements AMM, is recently gaining attraction, rapidly climbing up the charts, ranking as the fifth-largest DeFi platform by total value locked, with $6.18 billion currently locked in the protocol.
At the time of writing, the total DeFi crypto market cap is $95.83B. 
Stablecoins and their Associated Protocols Received a Boost 
After the Office of the Comptroller of the Currency of the United States of America provided the clear run for national banks to run independent nodes for distributed ledger networks, stablecoins gained momentum. 
One protocol with a stablecoin component that is helping in establishing a stable store of wealth in nations undergoing hyperinflation like Venezuela is Reserve, whose Reserve Rights (RSR) token has increased by around 400% this year. Another emerging entrant to the field of stablecoin is TerraUSD (UST), whose market cap skyrocketed from $182 million on January 1 to $1.66 billion on April 2. 
Interest in Non-Fungible Tokens is Surging
Non-Fungible Tokens (NFTs) have been around for a while, but their value has skyrocketed in the last few months. As interest in NFTs is surging by celebrities and influencers, it is bringing more sales and distribution worldwide. It was announced that Christie's auction house sold its first NFT-linked digital art for $69 million.
As NFTs are becoming popular, Enjin Coin (ENJ) has been one of the biggest beneficiaries. On March 15, ENJ witnessed an all-time high of $3.08 and raised the project to Unicorn status with a $2.6 billion market capitalization.
Decentraland (MANA), a virtual reality network that allows the acquisition of digital plots of land that can be created and monetized, and Flow (FLOW), a blockchain intended to be the framework for "the next generation of games, applications, and the digital assets that fuel them, are two other prominent NFT-related additions to the Unicorn club.
Concluding Lines 
This has brought us to the end of our discussion. From the above discussion, we can infer that crypto space is going to bring revolutionary changes that none of us ever imagined.
As this space is continuously growing and showing no sign of slowing down, scope for Crypto Experts is booming. 
If you want to gain all the ins and outs of cryptocurrencies and become a Certified Crypto Expert, get started today with Blockchain Council. 
To get instant updates about Blockchain Technology and to learn more about online Blockchain Certifications, check out Blockchain Council.