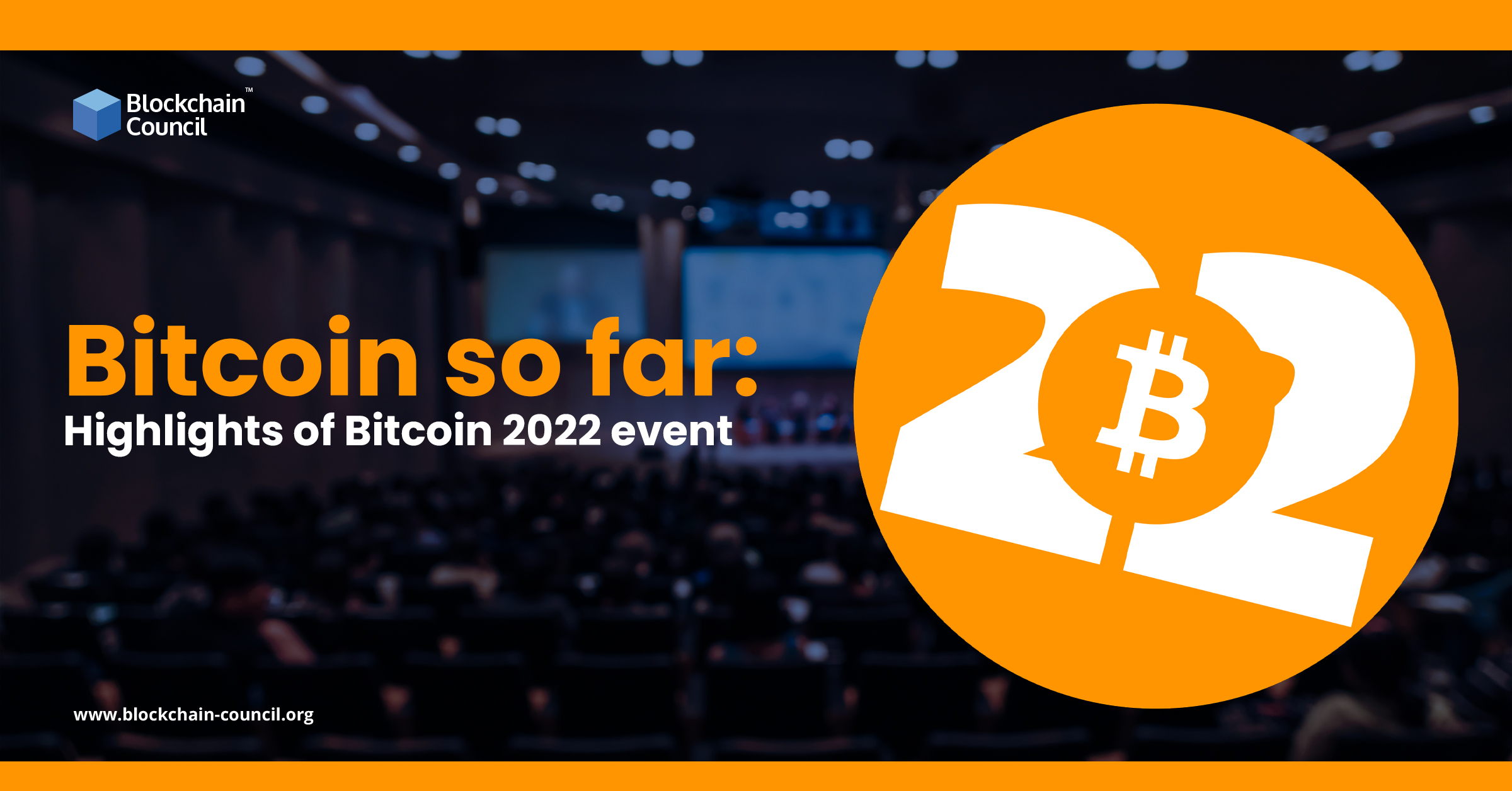 As the world prepares to consume the last 2.1 million bitcoin, an event on Bitcoin so far has been held in Miami from 6th April to 9th April 2022. Bitcoin 2022 was the largest Bitcoin event in history, focusing on the open-source technology's technological achievements, financial emancipation, and countercultural influence.

Let us take a look at some of the highlights from the Bitcoin 2022 event. 
Importance of regulatory clarity and policy in the bitcoin space: Kevin O' Leary
Kevin O'Leary is a renowned businessman and entrepreneur, best known for his position on the reality show "Shark Tank." In a 2019 interview with CNBC, he was cited as claiming that Bitcoin is "worthless" and "trash." In a recent interview on "Squawk Box," O'Leary has altered his tune, claiming to have invested 20% of his wealth in bitcoin and other cryptocurrencies.
Because of his celebrity status and overall interest in Bitcoin, O'Leary has become a somewhat well-known figure in the Bitcoin community.
O'Leary began his speech by emphasizing the importance of regulatory clarity and policy in the bitcoin space, stating that "the spigots of capital will flood open" when it arrives. "In ten years, crypto, blockchain, and all of these forms of assets will constitute the S&P's 12th sector," he projected.
O'Leary discussed five policy vectors and where the United States is in each of them. 
The first was Cynthia Lummis' bill, which O'Leary said signals "regulation is coming, which is a good thing."

The second was Biden's recent executive order on cryptocurrency. O'Leary cited, "The president has stated that cryptography would not be made illegal."

The third vector was Bill Hagerty's two-page bill, which would legalize stablecoins."If stablecoins are backed by the dollar, the dollar will become the world reserve currency," O'Leary said.

Fourth, O'Leary explained how bitcoin mining will save the earth because "the next generation of bitcoin miners is beginning to operate with energy that does not require carbon: hydroelectricity, nuclear, wind, and solar." Bitcoin mining is headed in this direction. We will ethically build power for all communities so that we can power communities."
"The amazing thing about all of this is that when we get regulation, we make bitcoin for institutions," O'Leary concluded his keynote.
A fintech solution to empower North Koreans and Palestinians: Yeonmi Park and other activists
Park has committed her life to being a passionate human-rights campaigner, having fled North Korea at the age of 13 and supposedly falling into the clutches of human traffickers shortly after. She has repeatedly expressed her belief that digital currencies like bitcoin can help empower North Koreans and allow them to "take power back from the government" in her push for human rights in North Korea, posting YouTube videos titled "Can Bitcoin Free North Koreans?" and "Bitcoin and North Korea."
According to Park, North Korea has no private property, and its financial system is in chaos. She stated that she does not trust governments because they have the power to take away people's money on a whim. She sees Bitcoin as a potential answer to such problems.
"There's no way you can hide something in your body in North Korea or China," Park added, "but you can hide it in your head with bitcoin."
Fadi Elsalameen, a Palestinian democratic activist, shared Park's sentiments. He believes that by using Bitcoin, Palestinians may fight back quietly in a country where governmental and financial institutions are plagued by corruption and inefficiency.
Elsalameen is also working in collaboration with SeedSigner, an open-source Bitcoin initiative, to deliver hardware wallets to Palestinians.
Reasons to trust Bitcoin: Aaron Rodgers, Serena Williams, and Odell Beckham Jr. 
Serena Williams has invested in several Bitcoin-related businesses, including bitcoin rewards site Lolli and cryptocurrency exchange Coinbase, and she announced on stage that she has teamed up with Cash App to help promote Bitcoin adoption.
Through his relationship with Cash App, Beckham Jr. accepted Bitcoin on a high-profile stage last year, opting to take his full NFL paycheck in BTC in November 2021. 
Rodgers, meanwhile, teamed with Cash App last year to convert a portion of his NFL income into bitcoin. 
The panel consisting of prominent figures addressed the significance of continued education. They also emphasized that investors should be aware that they can buy fractions of bitcoin rather than complete coins. They all believe that this financial revolution is now unavoidable.
According to Aaron Rogers, "The Fed continues to print trillions of dollars, and I believe Bitcoin is the strongest defense against inflation."
Bitcoin's velocity and probable rivals: Peter Thiel
Peter Thiel appears to be one of the only people in the Bitcoin world who elicits polarised reactions. He is a prominent figure in the current fintech world.
Thiel began his address at Bitcoin 2022 with his past video in which he discussed the future of digital infrastructure. His forecasts about mobile phone usage, which seemed weird at the time, turned out to be spot on.
He also cited the dollar's dominance and the possibility of digitization, all of which the world is witnessing today. 
He continued by explaining bitcoin's position in terms of velocity and about Bitcoin's rivals.
"The question is, if bitcoin is going to replace gold, why is it so undervalued?" he asked. "Bitcoin has always been the most honest and efficient market in the world, and it was the canary in the coal mine."
"One of the best things about Bitcoin is that it's not a company," he explained. "It appears to be prophetic for the world of the 2020s."
Overall, Theil's message was that ESG is currently the most powerful weapon being used against Bitcoin.
According to Thiel, ESG (Environmental, Social, and Governance) acts like a machine for naming rivals. He wonders what aspects differentiate ESG from CCP.
Overcoming Idea Inertia: Andrew Yang and others
Dr. Jo Jorgensen, the Libertarian Party's presidential nominee in the 2020 election; Andrew Yang, a presidential candidate in the Democratic primary for the 2020 presidential election; writer Allen Farrington; and journalist Gleen Greenwald were among the participants to discuss their perceptions on "Overcoming idea inertia."
Yang campaigned on the promise of a universal basic income (UBI). His super PAC, Humanity Forward Fund (Humanity FWD), takes Bitcoin Lightning donations via OpenNode.
The panelists agreed that a different path ahead than the current duopoly is required.
According to Yang, who projected that "in the next six months, there will be a whole new set of regulations where bitcoin and other cryptocurrency is concerned, and we need to maintain those laws on the side of sanity," sensible regulation is expected.
Bitcoin is another means for the general populace to break free from the left-right duopoly.
Bitcoin is the way to go forward. "Bitcoin offers the opportunity to fix so many of those problems," Greenwald concluded, "that both the left and right should be incredibly enthusiastic about."
Greenwald says: "There is a massive incentive system in place to co-opt you. You only have two options: be supportive and complicit, or devote yourself to subverting it."
You get motivated when you spend money on it: Jordan Peterson
Jordan Peterson is a Canadian psychologist and author, and a Bitcoin investor. He is also a fierce capitalism believer. 
"Rather than being defensive about your capitalistic enterprise's ethics, go on the offensive, proudly asserting that people should… make free choices about what they value."
"One of the fundamental principles of a free market system is that the only way to compute the future horizon properly is to sample and potentially sum the free choice of a plurality of free actors," he continued.
"First and foremost, I believed I would be motivated to study bitcoin if I actually spent some money on it," Peterson said when questioned about his interest in Bitcoin. "I do accept the idea that you don't make meaningful decisions unless you have 'skin in the game.'"
According to him, concepts like capitalism and free markets restrict people with a warlike mindset from doing something destructive and against humanity.
Bitcoin's self-defense and permissionless aspect: Nick Szabo
Nick Szabo, a computer scientist, and cryptographer, shared the chronicles of Bitcoin invention at the Bitcoin 2022 event. He says that people know Bitcoin for what it is today, but only a few know about the decades of research on cryptography, security, and freedom it took to mold Bitcoin like today. 
According to Szabo, " Bitcoin is capable of operating flawlessly….. as well as bank the unbanked ….because Bitcoin is designed in such way that it can secure itself and is permissionless."
To achieve such levels of security, imbibing cryptography with Bitcoin was necessary. It also eliminated the need for approval from the monetary institutes, thus handing power into investors' hands following the ideals of privacy, freedom, free- markets, and even Austrian economics.
Conclusion
If we try to understand the perception of the prominent speakers, it wouldn't be wrong to say that Bitcoin is the next financial revolution, and this revolution is inevitable. However, it is not possible to highlight the thoughts of all the speakers present at the Miami Bitcoin 2022 conference, yet the thoughts of some of the prominent speakers shared above are enough to conclude that Bitcoin is going to be more advantageous than expected.
If you want to keep up with the trends of blockchain industry, join our communities on Discord, Reddit and Telegram.