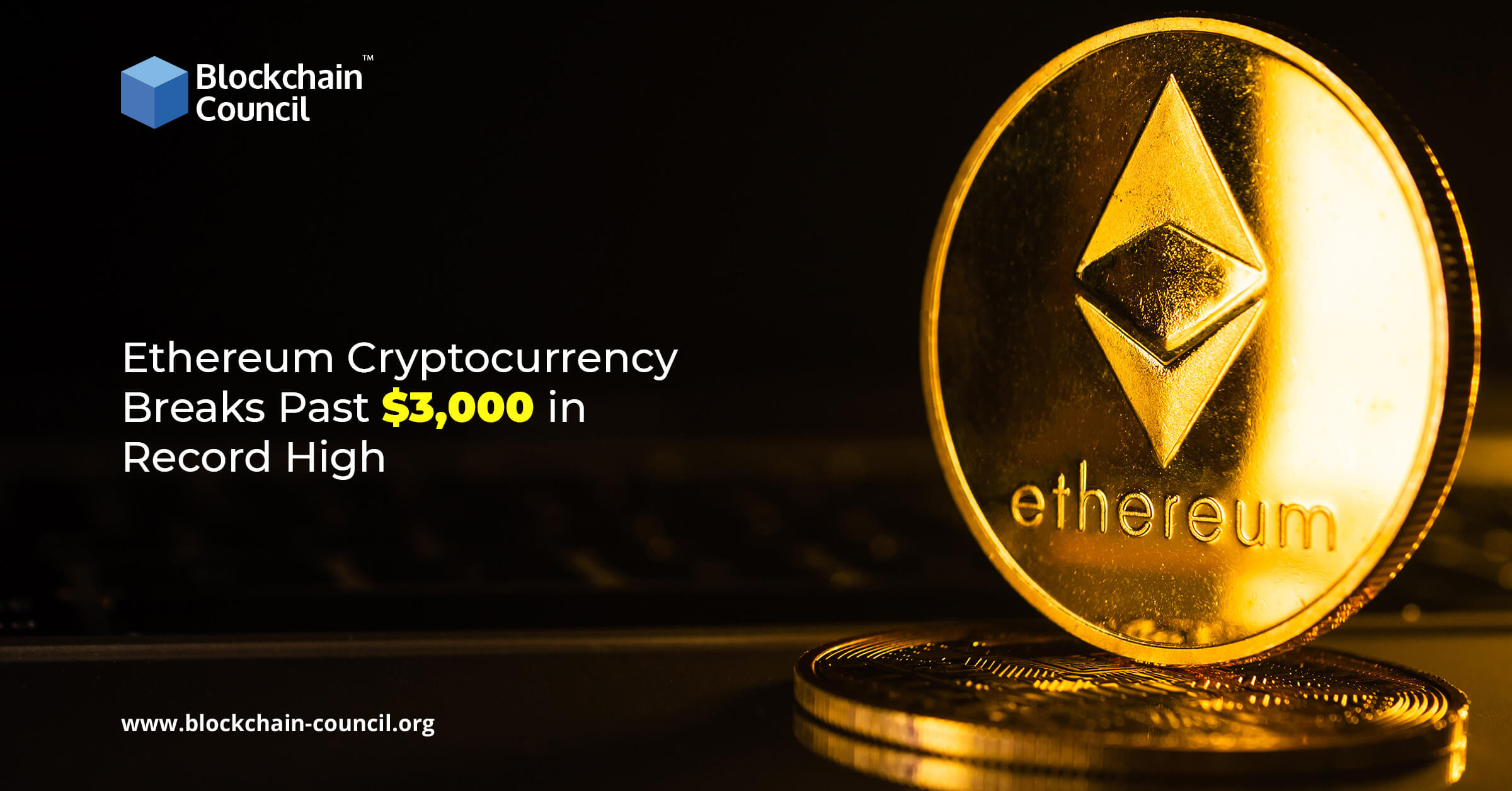 On Monday, May 3, 2021, the cryptocurrency ether surpassed $3,000 for the first time, setting a fresh record high in a spectacular surge that has outperformed the larger bitcoin, as investors bet that ether would be increasingly useful in a decentralized future financial framework.

By lunchtime in Asia, Ether, the ethereum blockchain's token, had risen 3% to $3,051.99 on the Bitstamp market. It has risen more than 300 percent this year, comfortably outpacing the more successful bitcoin, which has risen 95 percent.
Ether is the second-largest cryptocurrency by market value after Bitcoin, and it is a digital currency or token that allows transactions on the Ethereum blockchain.
According to the reports published by Reuters, James Quinn, managing director at Q9 Capital said, "Half of the big rebound is a catch-up to bitcoin's late-2020 gains."
It also represents advancements in the ethereum blockchain, as well as an increasing trend toward "DeFi," or decentralized finance, which applies to transactions not involving conventional banking and for which the ethereum blockchain is a critical forum, conforming to him.
Bitcoin, according to Quinn, was initially leading the rally because it was their normal first port of call when a large number of retail investors entered the market.
The expiration of $4.2 billion in options contracts may be one of the main reasons behind Bitcoin's rally. After contract expiration, the crypto asset has historically rebounded.
However, Quinn also said that as the rally matured over the last six months, the market saw DeFi, and a lot of DeFi is based on ethereum.
The introduction of ether exchange-traded funds in Canada, as well as increased demand for ether wallets to transact non-fungible tokens like digital art, also moved the price up.
The ether/bitcoin cross rate has increased by more than 100% this year and reached a 2.5-year peak on Sunday, indicating a rotation into the second-largest cryptocurrency as investors diversify their holdings.
"DeFi volumes continue to push ethereum prices higher as investors grow confidence in crypto and see ethereum as a stable second-place commodity," said Jehan Chu, managing partner at Hong Kong blockchain venture capital firm Kenetic Capital.
Bloomberg reported last week that the European Investment Bank wants to issue a crypto bond based on the Ethereum blockchain, while JP Morgan is considering launching a controlled bitcoin fund.
Bitcoin, the world's most valuable crypto commodity with a market capitalization of more than $1 trillion, reclaimed $50,000 last week and hovered about $58,000 on Monday, up around 3% but still well below its all-time peak of $64,895.22.
The US dollar's value remained largely stable.