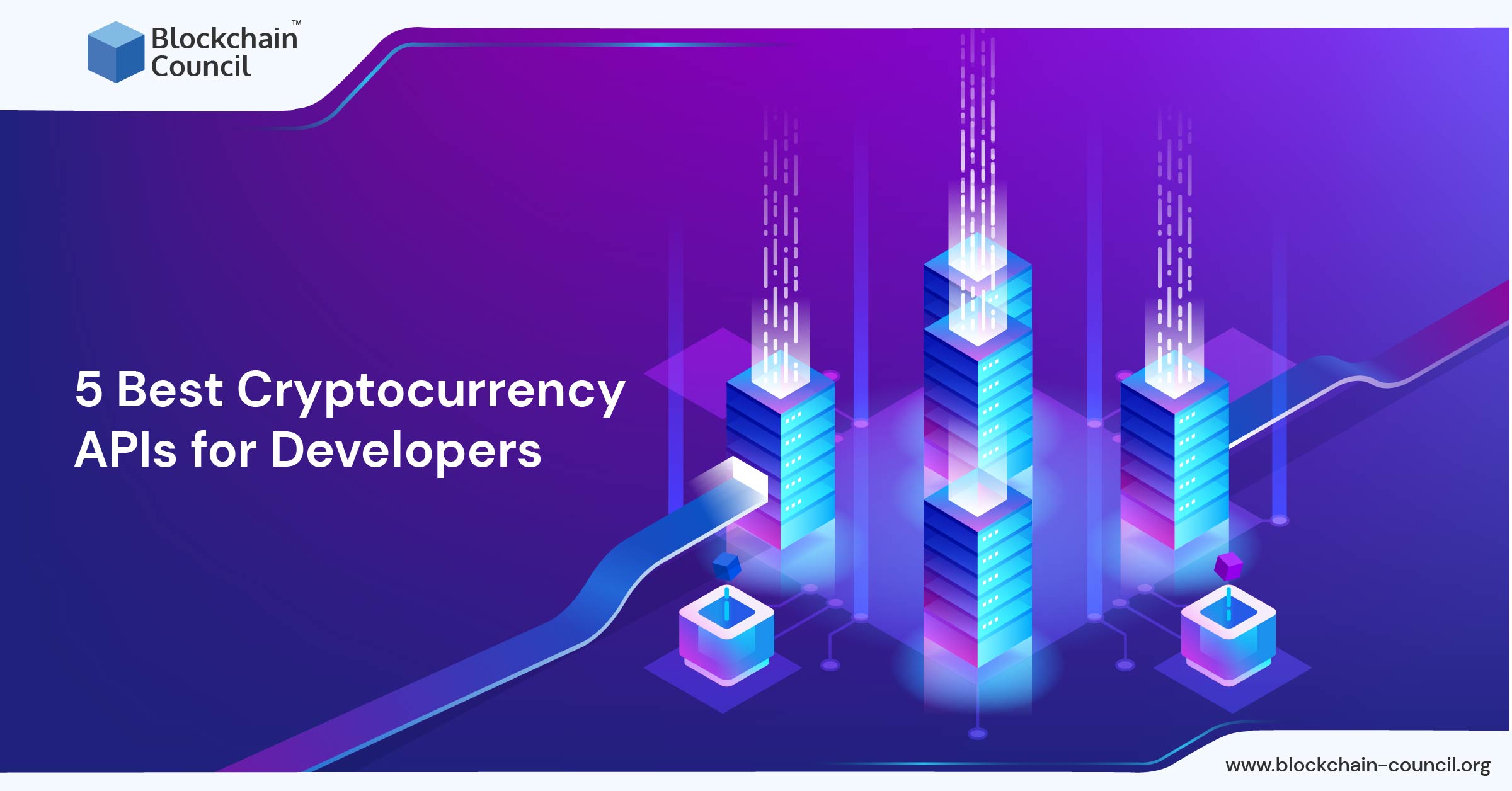 Leveraging support for a global, decentralized, and liberal economy at the upfront, cryptocurrencies have come a long way from the mere idea of a paperless currency. While offering access to a new class of assets for individuals and business firms, the interest in virtual currencies has piqued to the skies over the past few years.

The industry is characterized by juicy returns that are often shadowed by equally exaggerated risks. The constantly changing dynamics of the crypto market have made the sector gain insane popularity amongst investors who are readily filling their portfolios with virtual currencies, NFTs, etc. Where many elements have contributed to this success, the role of APIs in this regard can never be neglected by the sector.
Sensing the changing trends in technology and innovation one can easily predict that the future holds a lot of potential for cryptocurrencies. The expansion will include significant efforts from creators, developers, and participants. In the crypto space, APIs play a very significant role as they help to push the capabilities of the blockchain network, ease accessibility of market information for users, and support tracking of wallet resources. They are omnipresent in the present financial cluster and are highly beneficial for projects involving crypto and blockchain technology.
This article will help you understand the concept of crypto APIs in a simple way so as to provide cryptocurrency education on APIs existing in the field. We will talk about the 5 best cryptocurrency APIs for developers in 2022. So, let's start:
What are Crypto APIs?
Standing for Application Programming Interface, API is a well-structured interface that facilitates seamless interaction between two unrelated crypto platforms and software applications. APIs have become an inevitable part of the global crypto industry supporting a cryptography-secured asset trading environment. A trading API, as in the case of crypto, helps investors to interact directly with a trading channel like an exchange. These trading programs strive to explore arbitrage opportunities so as to make the market expand multidimensionally. Today, top-tier exchanges like Bittrex, Bitfinex, Coinbase, etc. give trading APIs to their users. The APIs provide access to live price feeds and support direct transactions on the exchange portals. One can learn more about API working by joining a cryptocurrency trading course program available on various website portals.
Top 5 Crypto APIs for Developers 
Binance API
Taking pride as one of the most trusted and popular crypto exchanges, Binance owns a powerful hold in the sector. The high-end efficiency of its native BNB API is a potent reason for its global success. Serving as one of the biggest APIs in the field, it serves as a free and open-source portal that employs third-party services for real-time fluctuations in the marketplace. The API is swift to integrate and supports easy working as well without any issues.
With its API, Binance strives to streamline the trading process for users. The software successfully manages over 1200 trade requests every minute. The API allows users to:
Initiate or cancel the transactions any time they want.
Sell or buy directly via the API software
On the occurrence of bugs or errors, users can seek help from the customer support forum to troubleshoot the issue.
CoinGecko API 
CoinGecko is an open-source portal used for exchanging bulks of data in real-time. The interface does not take any fee for listing the tokens which makes it a handy choice for all sorts of investors. The API focuses on user-friendliness and developer ease and so is designed to support multiple language systems. You can find languages such as English, French, Italian, Spanish, etc. A good cryptocurrency course will always help you learn the concept of crypto API in a language easily understandable to you.
Distinct features of CoinGecko API are:
The API tracks over 3000 coins of 25+ cryptocurrencies across the globe.
Easy to use interface makes it suitable for beginners too.
Availability of a friendly mobile app accessible on iOS and Android.
Users get the advantage of live data tracking services including parameters like trading volume. They can also access historical data related to coins.
The API provides Chrome Extension too.
NOWNodes
It works as a Blockchain-as-a-Service solution. The API offers seamless access to block book explorers and full nodes. NOWNodes API supports easy connection with over 47 top-tier blockchain networks such as BTC, ETH, BSC, etc. Investors can find more than 1000 tokens here. The platform allows investors to:
Include new blockchain channels and tokens easily.
Focus on their project development with a sharp reduction in infrastructure costs.
Connect multiple nodes in one place.
Access an efficient backup tool for maintaining the channel's work and service quality.
Get the personal API Key and access all nodes and explorers without spending a penny.
Coinmarket Cap API
Coinmarket Cap has a renowned API that goes by the name of CMC API and has a strong presence amongst developers in the crypto space. Now, acquired by Binance, CMC allows investors to track the asset portfolio at the time of trading of past historical asset information. It's free of cost with handy features allowing users to check up to nine endpoints of the marketspace in real-time. The API comes with four distinct plans namely BASIC, HOBBYIST, STARTUP, and STANDARD. Each option has different features and costs. Some potential features of the CMC API are:
The software is informative and easy to work with.
It has a mobile version too.
Users can easily integrate it with the help of Java, Python, C#, etc.
Kucoin API
The API helps investors to trade swiftly on a crypto exchange where they can trade around 180-210 virtual currencies like BTC, ETH, etc. It comes with easy integration and operability on a desktop or mobile phone. Kucoin allows users to track the market trends and historical data of cryptocurrencies before investing funds. They can slot their favorites in the watchlist section and pay special attention to their dynamics. Developers enjoy the following features on Kucoin API:
User-friendly interface.
Complete transparency in working components and trading processes.
The API does not accept payments through credit cards.
It employs REST API and WebSockets which are easy to connect to.
Supports more than 200 cryptocurrencies
Conclusion
With the growing popularity of cryptocurrencies, we can easily predict that the asset class is likely to redefine the financial space. The sector is seen as a potential investment tool for investors and this puts a responsibility on developers to come out with the best resources. The developer community needs the best API services to build and create powerful projects. While the market has plenty of APIs, we have listed the best 6 for your reference. It is always advised by a cryptocurrency expert to choose a crypto API that adds value to the work and provides unprecedented support with limited latency. The investors need to understand their requirements and then choose the best API option for their project. If you are willing to learn crypto trading, blockchain technology working, and APIs execution then you can enroll in one of the courses offered by the Blockchain Council. The certifications are simple to learn from and offer subjective as well as practical knowledge to the candidates.
If you want to keep up with the trends of blockchain industry, join our communities on Discord, Reddit and Telegram.