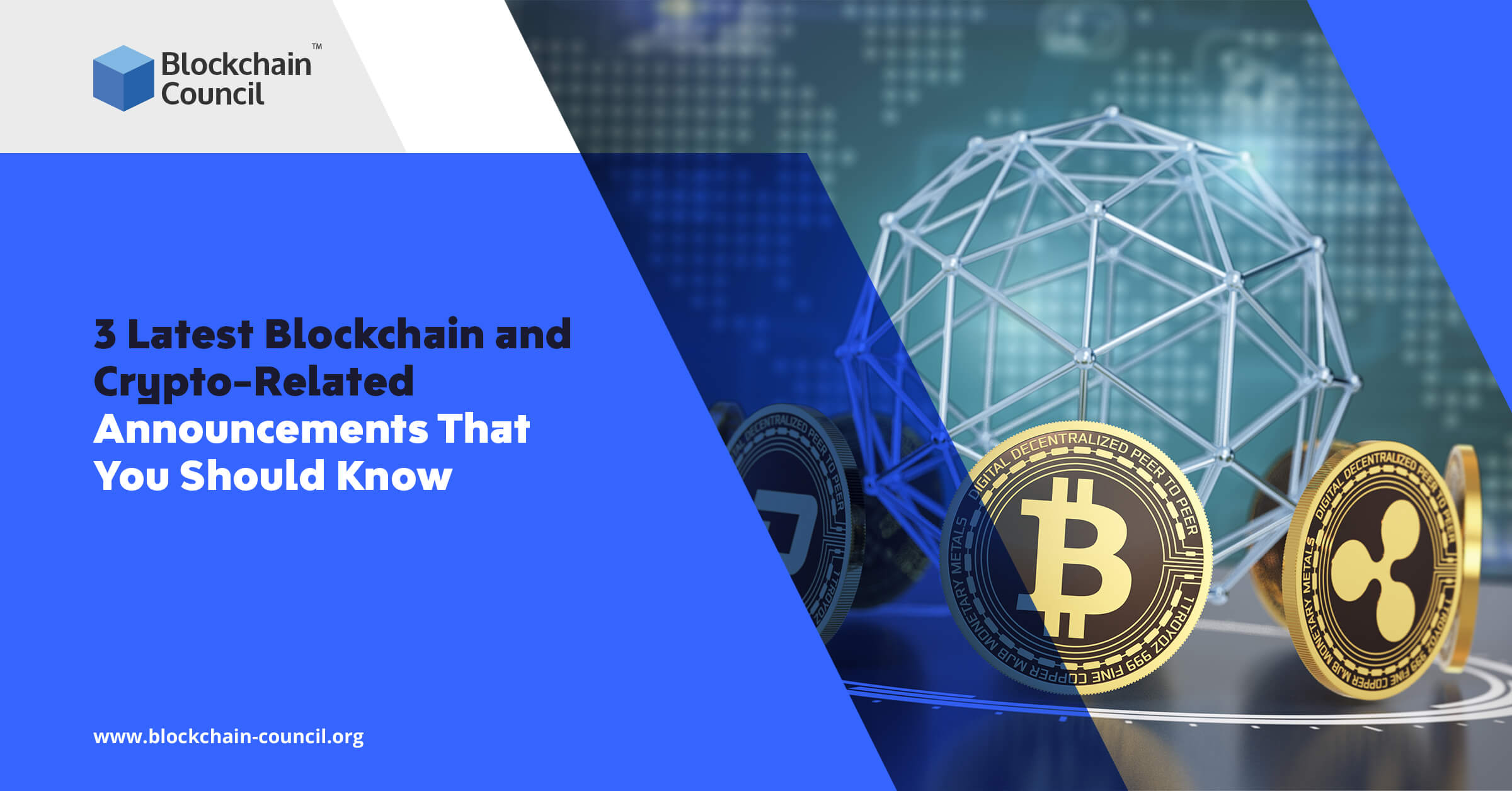 This article talks about the 3 latest announcements related to Blockchain and crypto space that every Blockchain enthusiast must know. 

Table of Contents 
Overview




Latest News and Announcements This Week

New Kind of Network(NKN) Price Rallied to a New All-Time High 

Indian Tech Giant' Tech Mahindra' to Launch Stablecoin Tool for Banks

India's Largest Cryptocurrency Exchange, WazirX Launches NFT Marketplace

Concluding Lines 
Overview
The uncertainties in 2020 have resulted in a cryptocurrency boom. Blockchain technology has proven to be distributed, transparent, safe, and reliable. Right from its use-cases in finance to supply chain and healthcare, Blockchain has its use-cases in every domain. 
As this sector is booming and shows no sign of slowing down, Blockchain and crypto always remain in the limelight. Let's talk about top announcements related to this domain.
Latest News and Announcements This Week
In this section, let's talk about the latest news and accomplishments in the crypto and blockchain domain.
New Kind of Network(NKN) Price Rallied to a New All-Time High 
Backed by Blockchain Technology, a New Kind of Network, also known as NKN, is a new type of peer-to-peer(P2P) network connectivity protocol that uses economic incentives to promote users on the internet to share and distribute their network connections and employ unused bandwidth.   
This network has risen 1,400 percent from a low of $0.052 on March 8 to a new all-time peak of $0.779 within two days on April 6, making it one of the month's unexpected risers.
According to its official website, since its launch in starting in 2018, the project has steadily expanded its active population to become the "world's largest blockchain network in terms of full consensus nodes," with 67,266 nodes already running on the network with the capacity to host millions of full consensus nodes. Following Binance's announcement on March 11 that NKN holders could gain 20% APY on their assets if they deposited them into their Binance savings account, the NKN price began to rise.
Indian Tech Giant' Tech Mahindra' to Launch Stablecoin Tool for Banks
Indian tech firm Tech Mahindra is revealing and developing a new stablecoin service targeting financial institutions and banks. The tech giant has collaborated with Dutch blockchain application incubator Quantoz to launch a "stablecoin-as-a-service" tool to lessen transaction fees and processing rates.
As a part of the announcement, Rajesh Dhuddu, Blockchain and cybersecurity leader at Tech Mahindra, expressed his views and stated that the recent OCC statement promoting the use of stablecoins for the settlement of financial transactions by banks would drive demand and accelerate innovation in global payments."
Tech Mahindra's collaboration will help users integrate Quantoz's Nexus transaction processing platform into their legacy infrastructure. 
India's Largest Cryptocurrency Exchange, WazirX Launches NFT Marketplace
Another big announcement related to Blockchain and crypto space came from one of the leading largest crypto exchanges, WazirX. Recently, the Indian-based crypto exchange platform announced that it is launching the NFT marketplace for the exchange of digital art, assets, intellectual property, and more. This announcement comes after a strong month for the exchange's in-house WRX token.
WazirX founder Nischal Shetty believes that it is the first of its kind in India. He further expressed his views regarding the launch and stated that his entire team is delighted to launch India's first Non-Fungible Token marketplace. As a part of the launch, he explained that creating and listing NFTs will be free on the platform, and work is apparently underway to repeal the bedrock gas fees that increase when minting NFTs on multiple Blockchains. He further stated that, at present, his team is working around certain basics to make NFTs more profitable for their customers.
Concluding Lines 
Apart from these announcements, the XRP price surges 55%, as it has renewed its aim on the creation of a cross-border payment network. The number of crypto projects has also risen, according to Cointelegraph. It says that a new benchmark has been achieved, with the market capitalization of 100 cryptocurrencies reaching $1 billion.
If the domain of crypto and Blockchain interests you, you can get enrolled in Blockchain Council and become a Certified Blockchain Expert. 
To get instant updates about Blockchain Technology and to learn more about online Blockchain Certifications, check out Blockchain Council.