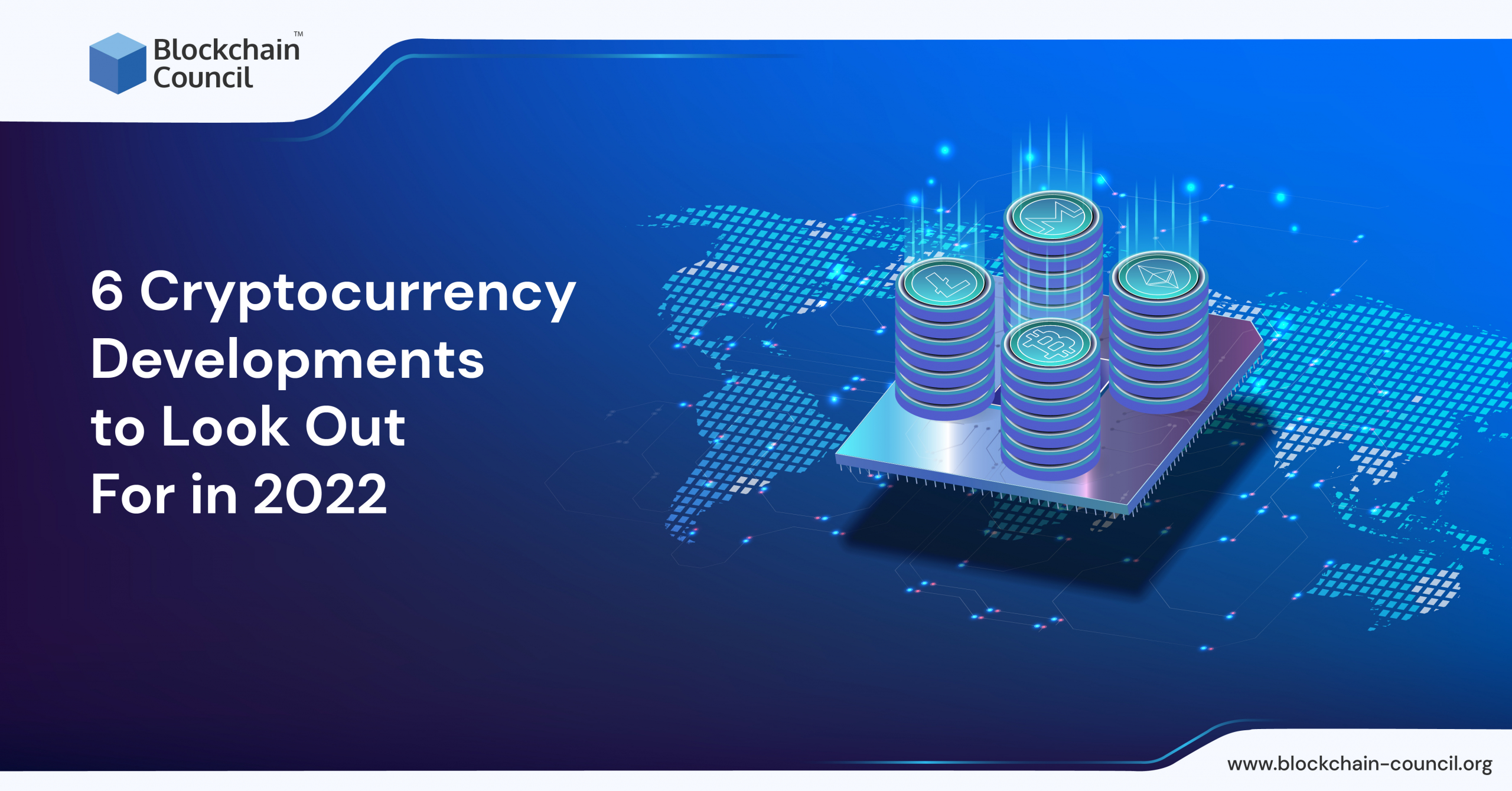 The year 2021 witnessed both the bearish and bullish crypto markets, but to sum up, it was a "lucky" one for the investors. The market swooned to over $3 trillion, which was unexpected. Bitcoin witnessed a 70% surge in its value which also caused an impact on other dominant currencies like Ethereum and budding altcoins.

It's been half a year, and the cryptocurrency market witnessed the most turbulence, from Bitcoin losing its worth to Terra crashing. However, according to a recent survey conducted by the renowned Bank of America, 90% of the surveyed still believe crypto to be a good investment option.
Undoubtedly, cryptocurrencies will continue to deeply impact the financial and monetary policies around the globe, with some major announcements expected from investors and some other renowned business figures like Elon Musk.
There are a number of developments that IT experts and investors should be on the lookout for in the upcoming months, from supply-chain issues to potential regulations on cryptocurrencies and NFTs.
Bitcoin comeback
After peaking at over $67,000 in November 2021, Bitcoin fell below $35,000 in mid-January but has since begun to recover. In a statement to investors, FSInsight predicted that Bitcoin might increase by more than 460 percent to $200,000 in the second half of 2022. Based on what is believed to be a lack of fundamental value, some analysts predict that Bitcoin will crash in 2022, falling as low as $10,000, but others are of the opinion that Bitcoin will rally, continuing its overall upward trajectory, soaring back to its former high and surpassing it to exceed the $100,000 mark at the very least.
The rise of NFTs
The potential of non-fungible tokens is enormous since they can be used to transfer rights pertaining to both physical and digital property. The NFT market's ongoing expansion will be one of the top cryptocurrency developments in 2022. Non-fungible tokens make it possible for artists to get decentralized funding and provide a highly secure method of confirming the ownership of digital assets through the use of smart contracts.
Therefore, established institutions like museums and galleries are likely to treat and hold NFTs as their interest grows. In reality, some big businesses and famous people have already begun to embrace NFTs as the future foundation of the virtual economy. The elegance of the NFT industry is that it is comparable to the early days of the internet when several new tech businesses rushed to enter the market with their distinct enthusiasm and flare.
As a consequence, the NFT market is becoming more well-liked and is being valued at higher and higher levels as more artists try to take ownership of their creations.
Web 3.0 adoption and expansion
The third generation of web technology is known as Web 3.0 (Web3). The World Wide Web, commonly referred to as the web, serves as the basic building block of the internet by offering website and application services.
One of the main emerging cryptocurrency trends of 2022 is web 3.0, which is more intelligent, connected, and open. There isn't a single, recognized definition of Web 3.0 since it is continually changing and being defined. However, it is certain that Web 3.0 will heavily emphasize decentralized apps and utilize blockchain-based technology. As a result, linked cryptocurrencies will prosper in 2022 as Web 3.0 takes off. In order to enable more intelligent and adaptable apps, Web 3.0 will also make use of machine learning and artificial intelligence (AI).
A Customized Regulatory Ecosystem
Many governmental organizations and financial institutions studied the financial effects of cryptocurrencies on the world's economy in 2021, and many central banks assessed the dangers that digital assets posed to their financial stability. As a result, China outlawed Bitcoin, while India started the process of enacting legislation that forbade any private crypto assets. However, El Salvador has decided to accept BTC as legal tender.
Although the majority of nations have not yet decided whether to regulate or not, this issue is still crucial. The lack of a framework can stifle continued innovation, which could have a negative effect on the industry. Without a doubt, governmental involvement and regulatory activities will increase in 2022. For example, central banks may introduce digital currencies (CBDCs). The CBDC Tracker indicates that 79 nations are doing various research and development phases for their own digital currencies.
Fortunately, new ideas like DeFi, NFTs, or even the metaverse will make the sector harder for governments to control. In reality, legislators will probably need to concentrate on establishing legal foundations for initiatives like the metaverse. Clear rules on what can and cannot be done in virtual reality would assist in legitimate efforts because the technology has received global media attention from both fans and critics.
Spot Bitcoin Exchange-Traded Funds (ETF's)
An exchange-traded fund (ETF) containing bitcoin or assets linked to the price of bitcoin is known as a bitcoin ETF. Instead of a cryptocurrency exchange, they are exchanged on a conventional exchange. Theoretically, the business would buy bitcoin, securitize it, and then sell it or trade it on the market. There is currently no cryptocurrency ETF directly representing an underlying coin; nonetheless, the Security and Exchange Commission keeps rejecting these ideas.
The first spot bitcoin ETF is anticipated to be launched very soon, and if cryptocurrency-curious investors have direct access to Bitcoin, this should cause retail investment to significantly increase in 2022.
ProShares Bitcoin Strategy ETF (BITO) was introduced in October 2021. It is the first U.S. bitcoin-linked ETF and is transparent and liquid. It provides capital appreciation through controlled exposure to bitcoin futures contracts. But it's vital to remember that when you purchase BITO, you're not actually purchasing Bitcoin. Additionally, the extraordinarily high cost of contract rollovers makes it unpopular with individual investors.
The Chicago Mercantile Exchange's (CME) Bitcoin futures contracts serve as the current basis for Bitcoin ETFs' underlying holdings.
A surge in the crypto investment and job opportunities
Venture capitalists invested $30 billion in the cryptocurrency business in 2021, a significant amount of money coming from powerful financial institutions and corporations. The demand for blockchain and crypto abilities increases as the crypto industry develops. An increase in demand for blockchain industry professionals is a result of the growing popularity of cryptocurrencies and the technology that underpins them.
For instance, blockchain technology has reached a point where businesses and even governments are starting to see its potential to enhance people's lives and build stronger organizations. The field of decentralized finance is also projected to grow (DeFi).
Additionally, banks are becoming more interested and are launching credit packages backed by crypto assets. The same is true of public relations agencies; some devoted companies employ specialists in the field to serve customers and aid in boosting media and commercial publicity.
In 2022, the momentum is probably going to pick up. Leading international companies like Nike have already joined the metaverse with virtual items, with others likely to follow their path for a piece of the pie. Companies like Meta and Microsoft are jumping deeply into the metaverse. With this, it wouldn't be wrong to say that companies require professionals in every crypto-related industry to achieve their objectives.
Conclusion
Although the environment around cryptocurrency is changing and will continue to change, the technologies and ideas presented here should undoubtedly impact how we live for decades to come. DeFi, NFTs, ETFs, and universal adaptability are just a few areas where real-world use cases are already being made possible. Web 3.0 and Metaverse are also progressing slowly but steadily.
However, in the upcoming months, only it will be revealed what these developments hold for the human race. Till then, we can only wait and stay updated.
If you aspire to become a cryptocurrency expert but don't know where to start, then Blockchain Council is available at your service. Blockchain Council offers some of the best cryptocurrency courses designed according to industry standards. You can also visit Blockchain Council's website for more certification courses.