The word "blockchain" in the technological jobs market is still in trend — as it was fashionable at the starting of the 21st century to attribute the word "cloud" to job descriptions. The rise in the demand for blockchain talent is exponential irrespective of the bearish market and industry layoffs. The job postings related to the blockchain technology, and especially the roles involving Bitcoin, Ethereum, Corda, blockchain, and cryptocurrency, is growing very fast.
The firms are offering excellent compensation packages due to the limited supply of blockchain talents and growing demand for Blockchain Experts. The full-time job postings have exceeded more than 16600, with an annual growth rate of around 400%. Also, big established companies like Amazon, Facebook, and IBM, have launched new teams to work on blockchain technology and explore blockchain use cases.

Blockchain Developer has topped the list of salaries offered in the industry.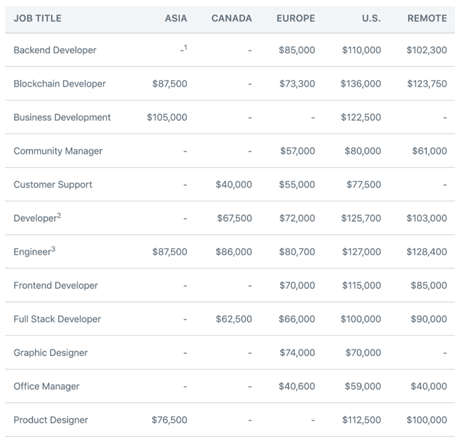 Blockchain job listing on Cryptocurrency Jobs shows that the highest-paid salaries are found in New York and San Francisco, where, notably, blockchain developer salary is the highest. This goes for organizations in other hi-tech regions as well in the U.S., like Boston and Seattle.
At the start of 2019, the average base salary for a blockchain developer in the U.S. was $136,000 per year, with a low base salary of $70,000 and a high base salary of $200,000.
These salaries have now skyrocketed to anywhere between $150,000 and $175,000 on average, with experienced individuals commanding more than $200,000 per annum. The jobs are, now, in par with specialist roles of Artificial Intelligence developer. In the future, these numbers are going to increase as well as the demand would rise. Companies striving to be fashionable and trendy publish more and more vacancies, and there are still not enough specialists in this field. The number of U.S. companies that employ blockchain specialists has grown even more in 2019.
According to Glassdoor, disclosed salaries related to blockchain jobs range from $17,000 to $271,000 per year.
According to Hired, the area paid blockchain developers an average of $133k annually in 2015. This figure increased to $135k in 2016 and later jumped to $142k in 2017. In 2019, the number has risen dramatically to around $ 170k.
Blockchain Engineers are the highest-paid roles in Software Development. Demand for blockchain engineers has soared by 400 percent since late 2017 on Hired, a firm that helps clients recruit tech candidates.
Blockchain Training helps gain the required knowledge about the technology and the industry use cases. The certifications in "Blockchain Expert" and "Blockchain Developer" have helped many candidates land these lucrative salaried jobs.
According to a study by San Francisco based hired.com, global demand for blockchain engineers is hitting the roof, at a 517% increase year over year with the average annual salary of a blockchain engineer in New York stands at $157,000. The average wage for blockchain engineers is also significantly higher than the average salary of a software engineer in other roles.
2018 U.S. Emerging Jobs Report from LinkedIn had earlier analyzed that the demand for blockchain engineers and developers has grown by about 33 folds. San Francisco, New York City, and Atlanta were reported as the favored job locations of blockchain engineers. Every job survey that has been published recently has unanimously acceded with these findings — affirming that demand for blockchain engineers is on the rise and will continue to grow.
Not only this, but the freelance community has also reported that the average and median hourly rate of a blockchain developer in United States is around $90, which is quite high compared to software development roles.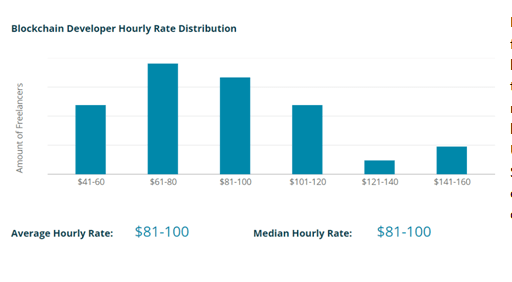 People with professional experience of using specific blockchain platforms such as Solidity and Hyperledger Composer are in even more demand, and that demand is increasing gradually, said Eric Piscini, who is CEO of Citizens Reserve along with a principal in the technology and banking practices at Deloitte Consulting LLP, formerly.
The high salaries and meteoric rise of job postings are not going to reduce soon as new use cases are coming up by each day, and legacy firms are takin gup this technology to transform their processes and business models. According to an estimate by International Data Corporation (IDC), global expenditure on blockchain solutions would clock $11.7 billion in 2022. Further, IDC had expected the four years between 2018 and 2022 to witness the quickest growth in the implementation of blockchain as a fundamental enabler for business operations. To be sure, IDC anticipates the compound annual growth rate (CAGR) for the period to be in the region of 73.2%.
Interestingly, the firms are not only interested in blockchain as a means to streamline their operations. They went ahead and launched intensive Research & Development activities to engage in ways through which blockchain can increase the value of the enterprise sector. To be sure, IBM developed Hyperledger Fabric to provide a platform for the implementation of enterprise blockchain solutions.
Further, IBM registered a record of 9,100 patents last year. Excitingly, a good number of the patents contain blockchain and its applications. Other topics of interest include quantum computing, AI and cloud computing, and few more. No wonder the company is the leading employer of blockchain developers in the US.
The most popular websites for blockchain developer jobs are Indeed.com, AngelList, Linkedin, Crypto Jobs List, Blocktribe, Blockchainjobz, Joblift, and Upwork.
Blockchain Council has been at the forefront to educate and train people about emerging technology. The industrial application, along with blockchain online training sessions have helped numerous candidates to transform their career. Get enrolled in Blockchain Certifications and be at the forefront of the cutting edge technology.