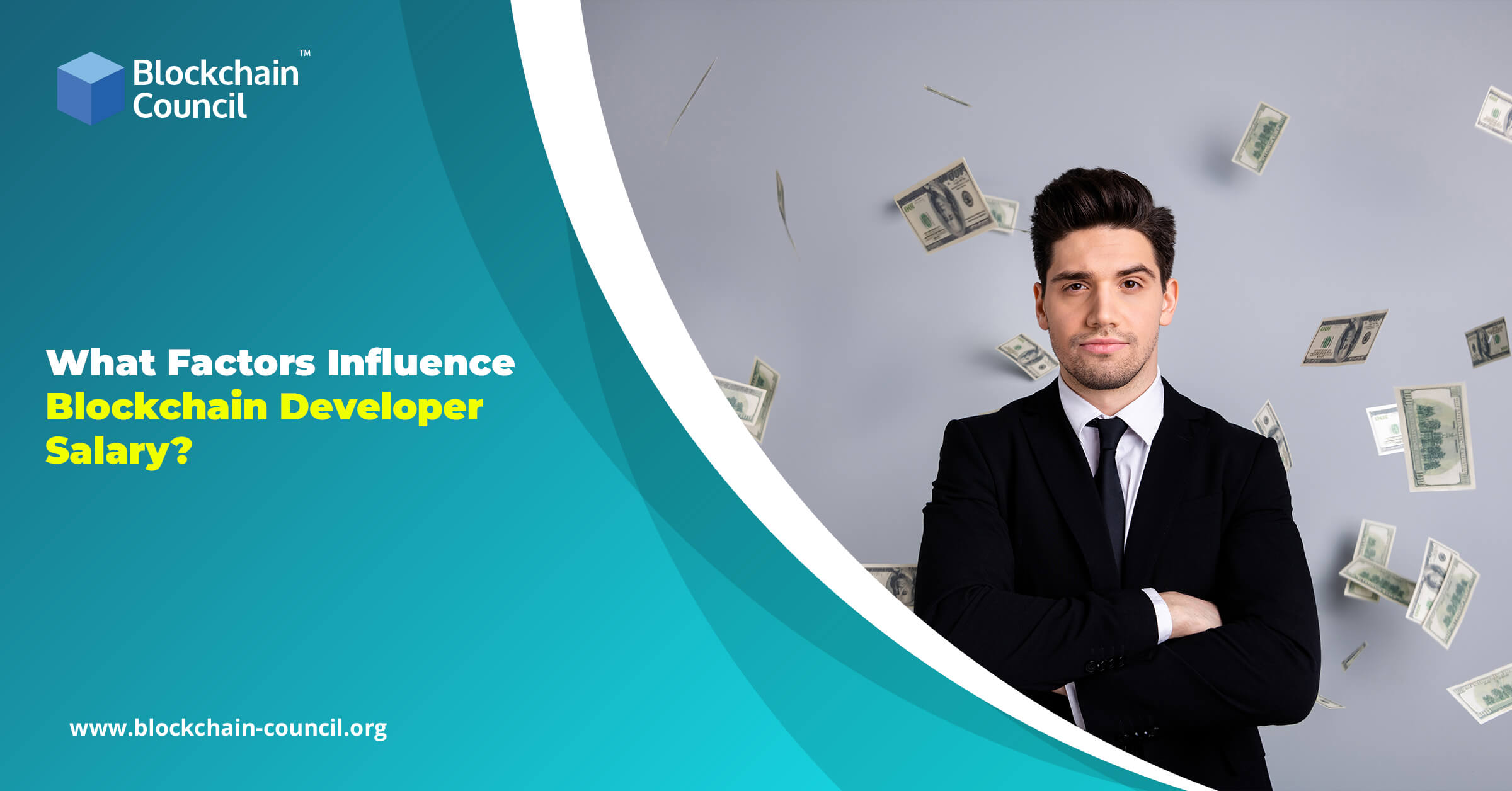 Are you already a Blockchain Developer or want to get started as a one? Wondering how to earn high package salaries? Which factors influence the salary of a developer? You have landed on the right page. This article will answer all your questions.

So let's get started.
Table of Contents 
Salary Range of a Blockchain Developer

What are the Governing Factors for a Blockchain Developer Salary?

How to Learn Blockchain Development for Futuristic Career

The Verdict  
Salary Range of a Blockchain Developer
A Blockchain Developer understands Blockchain technology profoundly and can build Blockchain-based applications depending upon businesses' needs. A professional understands its architecture design patterns and supporting infrastructure and holds strong proficiency in cryptography and cryptographic protocols. Moreover, he is responsible for its evaluation, smart contract development, along with a deep understanding of EVM.
At present, their salary is rising continuously and becoming one of the highest paying salaries of all time. Tech giants and enterprises are looking for skilled professionals and are willing to pay a hefty amount of salary as well.
If we look at the salary patterns of a Blockchain Developer, the average salary stands between $150K to $175k every year, and an experienced one can earn up to $200k in the United States every year. If we talk about India, according to Glassdoor, the national average salary for a developer is ₹4,36,423, and according to Payscale, the average salary of developers is ₹801,938. 
These salaries are quite high compared to other technocrats and professionals. For instance, the national average salary for an AI Specialist is $73,598, whereas the national average salary for a Cybersecurity Specialist is $69,123 in the United States.
What are the Governing Factors for a Blockchain Developer Salary?
The salaries of these developers are going off the charts, and there are various factors responsible for it. Here we are enlisting some of the major factors that will help you in strategizing your future.
The first and foremost factor responsible for a high developer salary is experience. Like other jobs, experience counts the most. If you hold hands-on experience in this technology and have worked on various projects in the past, your chances of earning will be brighter. Always remember that the more you gain experience, the more senior positions you can go for, and the more you can earn.
This is another contributing factor that influences the salary of a developer in the Blockchain space. The more techie the city is, the better the chances to earn more. If you are flexible enough to switch to a new job location, which is more advanced, you will definitely have better options to showcase your qualifications.
For instance, if we look at the salary patterns of the various nations, the average salary in the US is around $136k, while in Europe, it is around $87.5k, which suggests that developer salaries vary significantly based on the location.
There are various Blockchain-based technologies that are in high demand these days, for instance, especially Ethereum and Hyperledger, and such specific blockchain platform specialists may even earn more salary. Having expertise means having an in-depth understanding of platform functionalities, its model, components, and everything related to it. 
So, if you have decided to become an Ethereum Expert or a Hyperledger Developer, favourable chances are on your way. 
Certifications and Specialization
Apart from all the points mentioned above, holding a certification is another factor responsible for high package salaries. Such courses help in showcasing your true skills, prove you to stand out from the rest, and bring with it industry recognition, improved job opportunities, and of course, improved pay scale. Since certifications and specialization courses are carried by instructor-led classes, they provide an in-depth understanding of Blockchain space.
There is a misconception that certifications are generally meant for beginners; however, this is not true. Even experienced professionals can also get certified.
How to Learn Blockchain Development for Futuristic Career
Boosting your skills may seem like a difficult task at the beginning, but once you find the right platform to learn and upskill, nothing can stop you from achieving high salary packages. There are a number of organizations that are offering Blockchain certifications. But before you decide to get enrolled, don't forget to perform your research in finding the right platform for yourself.
Blockchain Council is a globally renowned online training and certification organization that aims to render the desired competence to have a successful career in Blockchain development. Getting certified from the Blockchain Council will enrich your resume and will prove to be your competitive advantage giving enterprises confidence in the quick hire.
The Blockchain development certificate will focus on its fundamentals, provide extensive knowledge of data structures and programming languages, cover the architecture basics, tools required, a thorough understanding of Merkle Tree, cryptographic hashing, private key, and public-key cryptography, along with focussing on various Blockchain platforms.
The Verdict 
At present, Blockchain Developers are enjoying an awesome career. So if you have already decided to choose this as your career, start changing your experiences and knowledge base and get ready to have futuristic career opportunities.
We hope the points mentioned above will help you to upgrade yourself and decide how to become a successful Blockchain developer.
To get instant updates about Blockchain Technology and to learn more about online Blockchain Certifications, check out Blockchain Council.