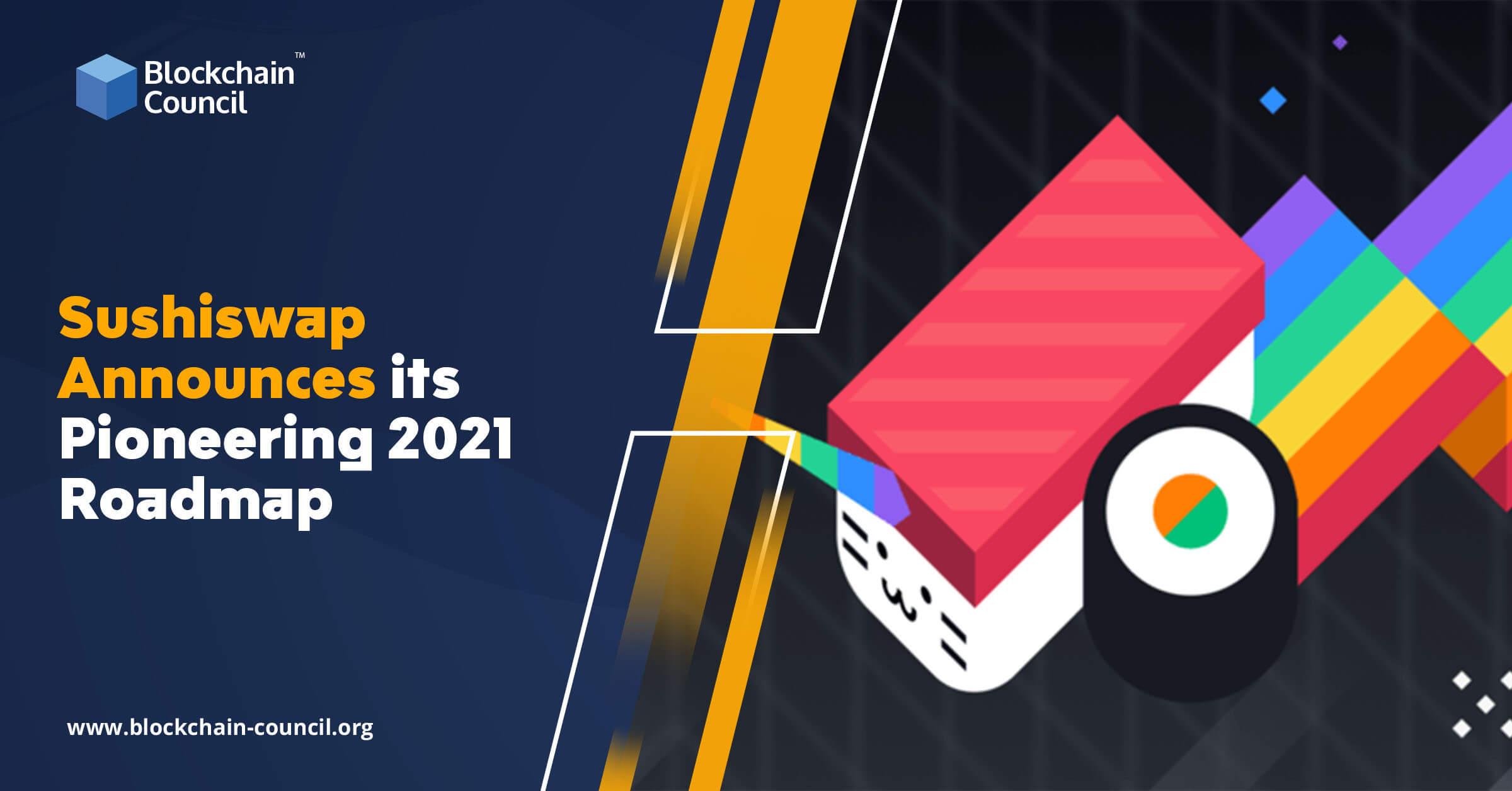 According to the latest announcement, SushiSwap, a decentralized cryptocurrency exchange built on the Ethereum blockchain, released its ambitious project roadmap for the year 2021.
In the roadmap from 2020, the decentralized exchange platform, Sushiswap, has already introduced and worked on several features. There is no lockup, so you can integrate inside Aave-Maker, wrapped-SLP to be used in the various money markets and keep3r auto-serving of rewards.

SushiSwap is one of the popular DeFi liquidity pool platforms that allow individuals to add their tokens into the liquidity pools. In return, people get rewarded with tokens and SUSHI tokens. The total value locked on the protocol was around $700 million just three days after its release.
What Includes in the Roadmap for 2021?
As Sushiswap has already worked on the roadmap for 2020, the platform is set with its ambitious 2021 roadmap.
The DEX platform confirmed that key forthcoming developments will include complex and advanced functionalities in the DeFi space, including a cross-chain DEX enabled by Rune and Moonbeam, an implementation on the Polkadot chain, and a completely decentralized governance structure.
It was also highlighted that the platform would introduce the launch of BentoBox, which is a forthcoming lending product. Also updates were provided on previously-announced projects, including a v2 launch named 'Mirin.' 
Apart from this, the platform stated about a proposed integration with ArcherDAO. Other integrations include forthcoming support for algorithmic stablecoins FRAX and DSD, and BAO.
Sushiswap contributor 0xMaki spoke about the ever-growing, well-incentivized Sushiswap's vision. He stated that he wants to incentivize individuals to productize assets and make them join a DAO. He aims at introducing wider audiences to the DeFi space and showcase prominently new decentralized applications on the Sushi platform. 
The report mentioned that "Sushiswap will be moving to a new area in the next year to reflect how we aren't an AMM anymore." 
Undoubtedly, decentralized exchange platforms such as Sushiswap, Uniswap (UNI), and Aave hold a promising future in the DeFi space. The current SushiSwap SUSHI rate is $3.98 USD with a 24-hour trading volume of $432,021,743 USD with a market cap of $506,377,781 USD. Every year has its own hype, but it's undeniable that DeFi protocols will always be in trend.
To get instant updates about Blockchain Technology and to learn more about online Blockchain Certifications, check out Blockchain Council.