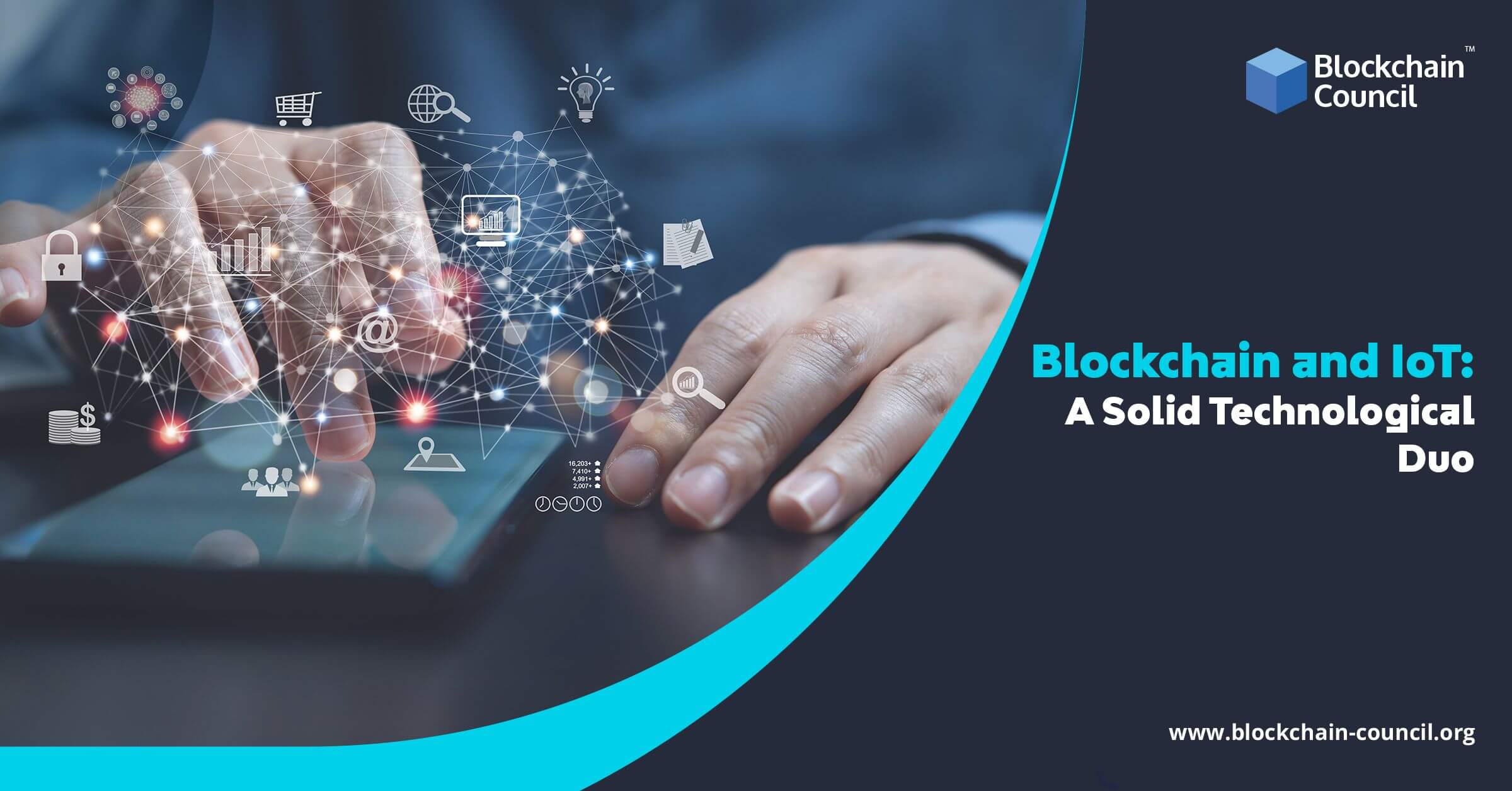 Wondering what can be the benefits of combining Blockchain with IoT? Well, we have got you covered. This article talks about how Blockchain can help IoT and talks about some of the popular use-cases of Blockchain and IoT. 

Table of Contents 
Overview of Blockchain and IoT 

How Blockchain can Help IoT

Applications of IoT and Blockchain

Concluding Lines 
Overview of Blockchain and IoT 
Blockchain is a peer-to-peer(P2P) decentralized distributed ledger technology that enables data to be exchanged among multiple parties without involving any third-party intermediary. It has the potential to offer transparency, immutability, security, and privacy and is expected to bring radical changes in a broad range of industries, including business models and operating processes such as payment, accounting, and auditing.
IoT, on the other hand, is a mechanism or interconnection between ordinary computing devices and objects that allow them to receive and transmit data over the internet. IoT devices are known to open up infinite opportunities for businesses to run smart operations. 
Now comes the question of why does the IoT ecosystem need a Blockchain? The answer to this is straightforward. IoT devices suffer from various shortcomings such as lack of compliance in the manufacturing stage, security holes in the device updates, vulnerability to DDoS attacks, etc. Thus, for transforming their operations in terms of accountability and security, enterprises and organizations can send their IoT data to an immutable blockchain ledger for added accountability and security. 
Are you looking for Blockchain Certifications? Your search ends here!
How Blockchain can Help IoT
Before discussing how Blockchain can help the IoT ecosystem, it is crucial to note that IoT devices are powered by centralized servers, which won't be enough for long-term solutions. 
 Thus, if IoT devices want to reach their full potential, they must move away from the centralized servers and switch to the concept of decentralization. Unlike the internet alone, Blockchain is decentralized, distributed, open, inclusive, immutable, and secure, giving unprecedented capabilities to create and trade value worldwide.
Let's delve deeper and explore how Blockchain can help IoT.
As we know, with Blockchain, there is no centralized server in control of your data; thus, technology maintains a complete level of trust. Thus, with the help of Blockchain in IoT, any party can get the true form of trustless connectivity.
Additional safety is one of the prime reasons for high costs. Since IoT devices are prone to vulnerabilities and DDOS attacks, they require additional security mechanisms, which of course, comes with high costs. But Blockchain and IoT can manage everything on their own without any issues, reducing the additional cost associated with security. 
Blockchain in IoT can streamline the entire process without involving any third-party intermediaries. Moreover, Blockchain's smart contract functionalities help smart devices to monitor themselves and work independently.
Applications of IoT and Blockchain
Now, as we have understood how Blockchain can help the ecosystem of IoT, let's explore some of the applications of IoT and Blockchain.
Blockchain in Agriculture
The combination of Blockchain and IoT has the ability to completely transform the food processing market, from farm to grocery store to home. By installing IoT sensors in the farming area and sending data directly to Blockchain can bring transparency and security and can overall transform the food supply chain. 
Tracking Components and Maintaining Compliance
The ability to track components that go into an aircraft or automobile is critical in terms of safety and regulatory compliance. IoT data stored in Blockchain enables all the involved parties to see component provenance throughout a product's life. 
Maintaining privacy is crucial, especially in the healthcare sector, as there are possibilities of counterfeit medicines. Thus transparency and traceable nature of Blockchain, along with the embedded IoT sensors, can help monitor and trace the shipment of drugs right from their origin to the supply chain destination.
Apart from these, the Department of Homeland Security is leveraging Blockchain and IoT to prove that the broader surveillances' information is legit. Also, Maersk is working with IBM and utilizing Blockchain and IoT to change how the global supply chain works.
Want to know more about Blockchain and its use-cases in various domains? Get started today as a Certified Blockchain Expert!
Concluding Lines
:
Are there any Prerequisites?
From the above discussion, it is clear that undoubtedly Blockchain and IoT are good technological combos, but some of the prerequisites must be met. Like for instance, the willingness of companies to collaborate, despite their different interests, the integration of the Blockchain platform in business operations, the right choice of platform protocol, the technical re-alignment towards use cases, and, most important legal regulations that allow the facilitation of Blockchain platforms in the Internet of Things industry.
To get instant updates about Blockchain Technology and to learn more about online Blockchain Certifications, check out Blockchain Council.