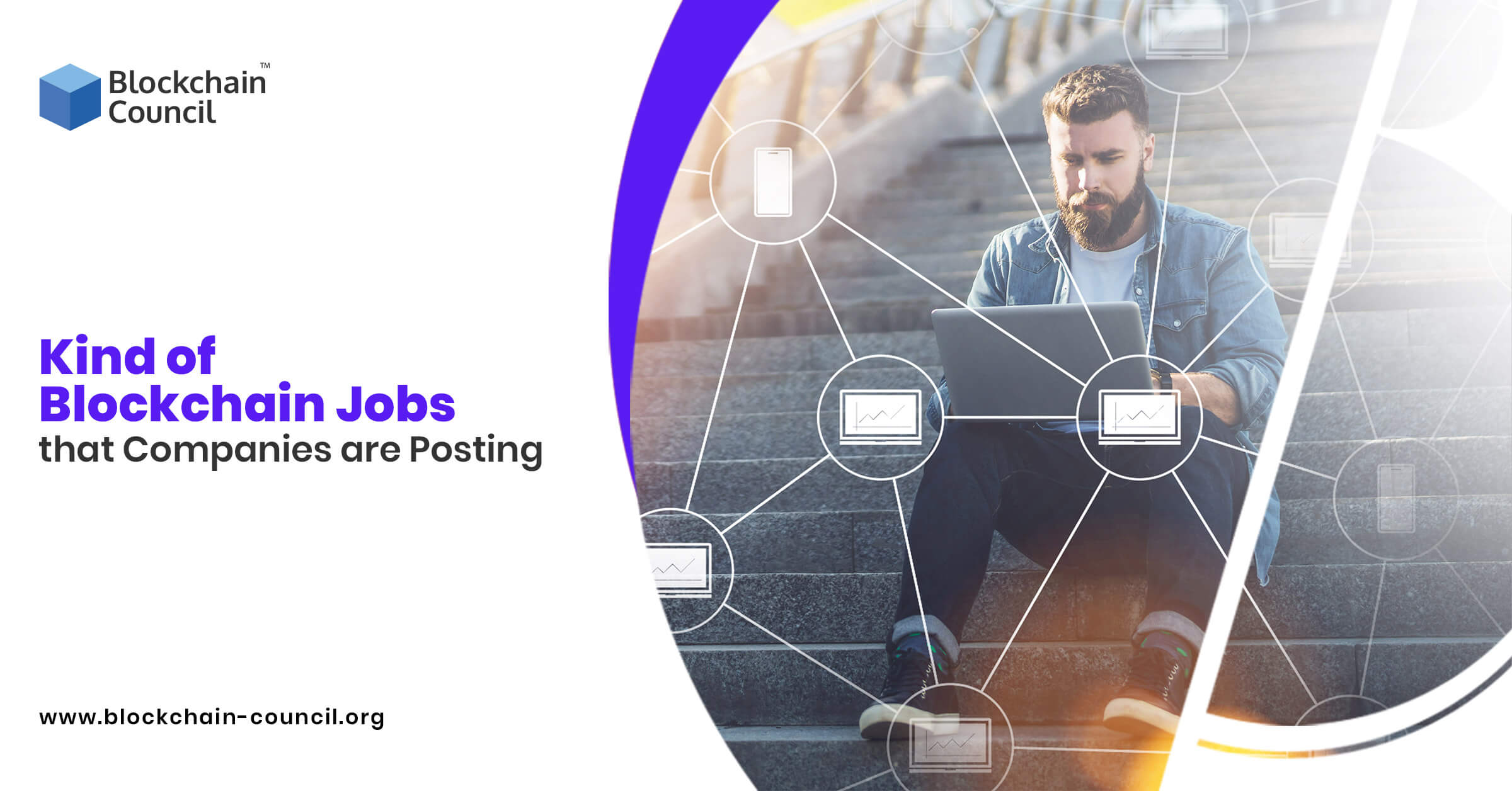 Are you a Blockchain enthusiast? Wondering from where to start? Want to know which are the kinds of jobs that companies are posting? In this article, let's explore some of the top Blockchain jobs that are in great demand. 

Table of Contents 
Why Blockchain Technology is Exploding 

Look at the Top Blockchain Jobs

Concluding Lines: How to Learn Blockchain and Become a Professional
Why Blockchain Technology is Exploding 
At present, Blockchain is one of the most favorite topics in the trends. People who haven't indulged in cryptocurrency or know how the technology works behind the scenes are considering it. If we look at the Global Blockchain Market, we will realize that technology has witnessed constant growth in the past years and is projected to grow even further in the years to come. Blockchain's versatility is driving its widespread acceptance in different application areas, including finance, manufacturing, supply chain, logistics, healthcare, and many others. 
Want to become a Certified Blockchain Expert? Get started today with Blockchain Council. 
Look at the Top Blockchain Jobs
Let's explore the top Blockchain jobs that companies are looking for.
Entry Level/Internship Positions
As tech giants and even startups are looking for skilled professionals, there has been a high demand for interns in the Blockchain space. Job responsibilities of entry-level job aspirants include designing and developing distributed ledger technology (DLT) solutions based on enterprise needs. Private Blockchains are a key focus as organizations and businesses are attempting to centrally manage DLT.
Entry-level positions include identifying, assessing, and solving complex business problems for areas of responsibility, developing blockchain pilots and POCs, exploring the potential of a decentralized transaction ledger database, and managing the transformation journey. One should develop in-depth working knowledge on key concepts and support innovation use-case elaborations and prototyping.
Neuvoo reports that entry-level positions for Blockchain Architects start at approximately $18,525 per year.
Blockchain Developers have the greatest career opportunities as tech giants, and even government institutions are seeking to find ways Blockchain can better serve their clients. 
Developers are responsible for building Blockchain-based applications for businesses. Technology skills needed as a developer include in-depth fundamentals of Blockchain, extensive knowledge of data structures and programming languages, a thorough understanding of Blockchain security such as Merkle Tree, cryptographic hashing, private key, and public-key cryptography, and much more. Also, one should hold in-depth knowledge of various Blockchain platforms such as Ethereum, Hyperledger, R3, Ripple, Quorum, EOS that are used widely by enterprises, startups, and SMEs. 
The salaries of Blockchain developers are going off the charts because of the fact that they are high in demand and short in availability. According to job recruitment firm Hired.com, the average blockchain developer salary ranges from $150,000 to $175,000 per year, while Glassdoor reports that the average base salary of a blockchain developer is $ 91,715/yr. 
There is a myth that Blockchain is meant for technocrats. But the truth is that technology is not just for techies. Right from Blockchain Developers who code and build dApps to Blockchain Experts(non-tech) who understand the functional aspects of technology, there are ample career opportunities for each of them. In fact, Blockchain Experts are more likely to get higher salaries.
Blockchain experts completely understand the Blockchain ecosystem and work closely with product teams to design and project Blockchain-based solutions best suited for enterprises.
If you want to get started with Blockchain without getting your hands dirty on coding, we are here to assist you.
As one of the highest paying blockchain jobs, you should generally possess a specialized technical ability to introduce blockchain products.
Blockchain Architects hold expertise in making important decisions related to the blockchain project and craft the guidelines and structure of the whole blockchain system, considering the system's requirements.
An architect progressively makes critical decisions in terms of implementation, operations, and maintenance that define a specific direction for a system and act as a technical liaison between customers, service engineering teams, and support.
Due to high demand for architects by tech giants, salaries are expectedly high. According to Glassdoor, the average blockchain architect salary of skilled and experienced employees ranges from $146,258 to $157,987.
This is also a non-tech profession that is gaining a lot of attention. Startups and even established companies are looking forward to hiring skilled consultants.
Blockchain Consultant analyzes client needs to develop blockchain-based use cases, organize, design, and participate in workshops for teaching cryptographic, blockchain-related concepts, and curiously expand his/her knowledge about smart contracts and DLT. He works closely with the development team to ensure that they deliver great products to their clients and efficiently communicate with clients to drive the development of blockchain-focussed products. 
According to Glassdoor, the average base salary for a Blockchain Consultant is $ 83,436 / yr, which is much higher compared to other tech consultants.
Concluding Lines: How to Learn Blockchain and Become a Professional
Apart from the jobs mentioned above, Blockchain Project Managers, Operation Manager, and Risk Analyst, Content Writer are also in great demand.
If you want to have a futuristic career in the Blockchain space, we are here to assist.
Blockchain Council, a globally renowned online training and certification organization in the blockchain space, is believed to be a one-stop solution for aspiring trainees to render the desired competence to have a successful career in this domain. It offers the most in-demand certifications, especially in the cryptocurrency and blockchain domain. Such training and certifications focus on making the concepts accessible to those who have little prior knowledge of blockchain technology. 
So why wait? Get started with Blockchain Council today!
To get instant updates about Blockchain Technology and to learn more about online Blockchain Certifications, check out Blockchain Council.