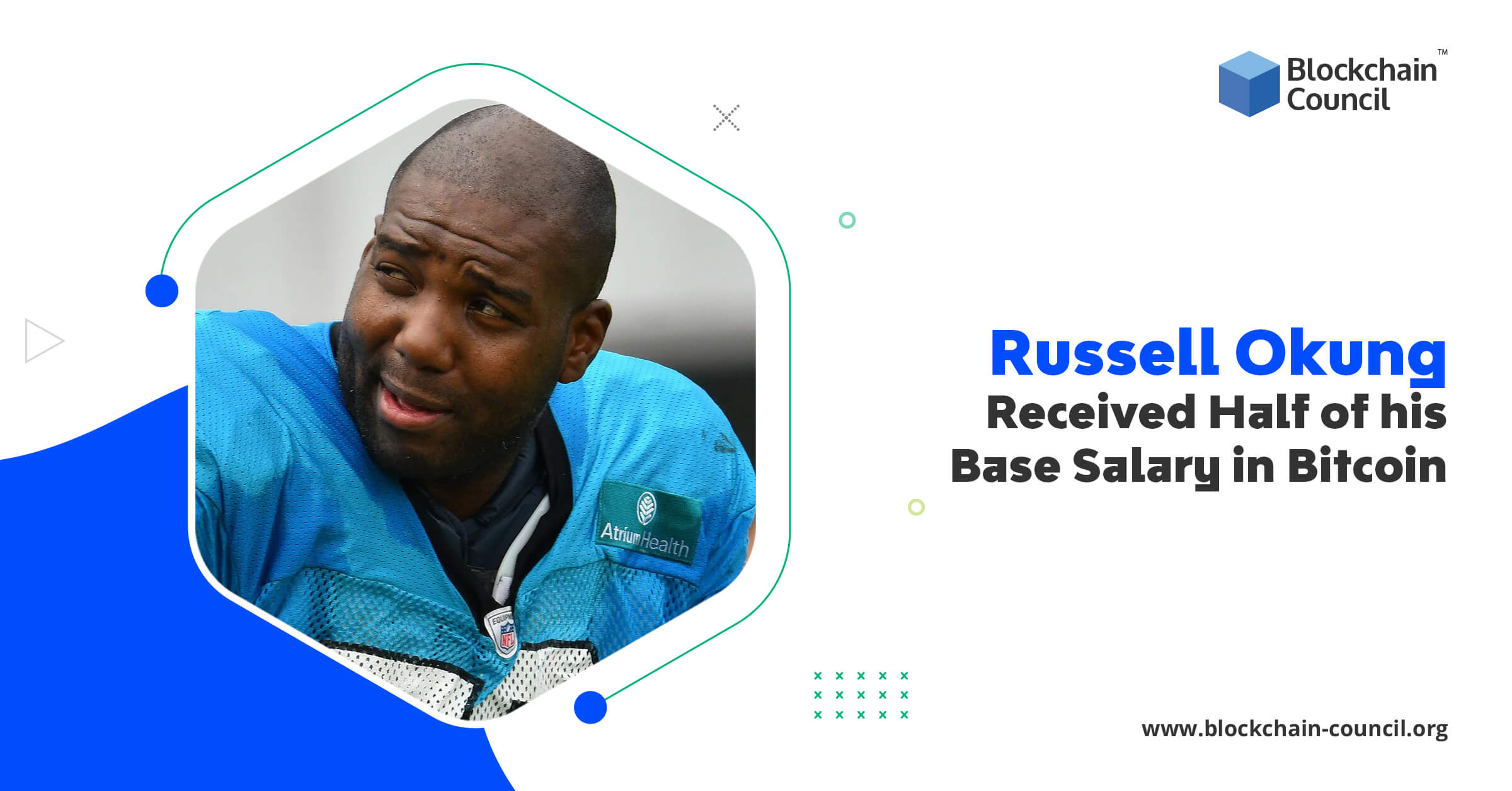 According to the latest announcement, Russell Okung becomes the first NFL player to receive his salary in the form of Bitcoin. Back in 2019, Okung tweeted, saying, 'Pay me in Bitcoin,' and since that tweet, the price has risen over 270%.

Pay me in Bitcoin.

— russ (@RussellOkung) May 14, 2019
Finally, on December 29, in his tweet,he confirmed that he had been paid in the form of a digital currency. Payment received shows that his wish has finally been granted.
Paid in Bitcoin. https://t.co/Ey6oOcmLjA

— russ (@RussellOkung) December 29, 2020
On December 29, Strike company announced that Okung is receiving half of his $13 million base salaries in Bitcoin. This indicates that the $13-million annual salary will be split into 50% cash and 50% Bitcoin. It was also mentioned that Okung, who is now with the Carolina Panthers, becomes the first-ever player in history to receive part of his salary as a digital currency.
Previously, Okung influenced both the Panthers and his former team, the Los Angeles Chargers, to pay him in the form of Bitcoin, and ultimately, the Panthers paid him initially in the form of traditional currency but then transferred it through Strike company, which converted it into Bitcoin.
Okung: A Blockchain Enthusiast, Prominent Sports Figure Pushing Crypto
From NFL Superstar to Bitcoin famous athletes, Okung is recognized as one of the sports figures and celebrities endorsing cryptocurrency.
Unlike former NFL player, Joe Theismann who believes that Bitcoin has taken a back seat in the financial world, Okung even has hosted a Bitcoin conference in September 2019 to promote the mainstream adoption of cryptocurrencies.
In a 2019 op-ed for Coindesk, Russell Okung mentioned his views regarding Bitcoin and likened Bitcoin to "digital gold." Being a passionate advocate of Bitcoin and blockchain technology, he stated that he is playing his role in raising awareness and encouraging professional athletes to embrace Bitcoin as a digital currency.
In April 2020, it was announced that Okung is supporting BTC loyalty outfit Fold to help crypto holders earn BTC and spend at major retailers such as Amazon, Uber, and others. With the investment in Fold, Okung adds himself to a list of leading sports figures who are supporting cryptocurrencies.
To get instant updates about Blockchain Technology and to learn more about online Blockchain Certifications, check out Blockchain Council.