In a historic verdict passed by the Supreme Court of India, the ban imposed in cryptocurrency trading by the Reserve Bank of India (RBI) has been reversed to the joy of cryptocurrency traders and struck down as unconstitutional.
The case has been ongoing in the Supreme Court for the last two months. The affidavit was submitted in January 2020 as a court case between RBI and the Internet and Mobile Association of India (IAMAI)

RBI Ban on Cryptocurrency Trading
In April 2018, the RBI had imposed a ban on cryptocurrency trading prohibiting all banks and financial institutions in encouraging any services with relation to virtual currencies.
The argument presented by RBI for barring cryptocurrency trading was that it might lead to 'ring-fencing' of India's financial system leading to private virtual currencies, undue asset protection or evading taxation. Another primary argument put up by the RBI was that since cryptocurrencies do not exist in physical form as metal or paper, they cannot be treated as currencies. Moreover, they are not stamped by any government body.
The notice by RBI had sent a wave of panic in start-ups offering trade services in cryptocurrency because RBI gave all entities only three months time to cut-off all banking relationships with those dealing in virtual currencies. The notice was meant for individuals and businesses alike.
Supreme Court Ruling
The ruling by the Supreme Court of India today is being considered revolutionary for cryptocurrency development in India. The Supreme Court bench was headed by Justice Rohinton F. Nariman, who overruled RBI's notice on the grounds of being disproportionate.
In the past, many regulators around the world had felt the need to issue warning against trading in bitcoins or other popular cryptocurrencies like Ethereum, Litecoin, Rippel, Dogecoin etc. But since then have gone back on the regulations due to the technological advantages of cryptocurrencies as we move towards a cashless future. In 2017, Japan was one of the first countries to accept Bitcoin as a legal currency and officially acknowledged Bitcoin exchanges.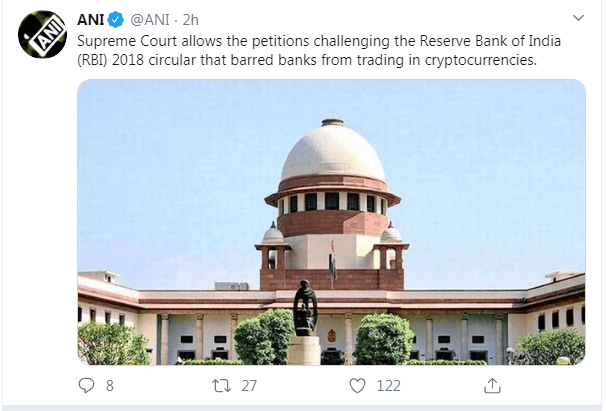 What are Cryptocurrencies?
This might fascinate many people as cryptocurrencies are a new-age concept that has revolutionised global digital currency.
Cryptocurrencies are digital assets that are used as a medium of exchange. Cryptocurrencies run on cryptographic encryption to secure financial transactions. It also offers verifiability of any transactions that happen, for example, the transfer of assets. Cryptocurrencies are independent of any central bank.
Primarily it was Bitcoin that had dominated as the most popular cryptocurrency. It has currently reached the $10,000 mark against the U.S. dollar. Other cryptocurrencies which are growing rapidly include Ethereum which has doubled since it's inception and the Ripple XRP which is up by over 75%.
The Way Forward for India
India is considered to have a lot of potential in the cryptocurrency market for buying, selling and trading. Now would be a very good time to get a certification in cryptocurrency trading, if you want to become a cryptocurrency trader. The Supreme Court's ruling in favour of cryptocurrency trading will bring a boom in the Indian digital currency market.
The Supreme Court ruling also opens doors for future regulations by the Indian Government in case of cryptocurrencies, giving it the much-needed backing. The growth might be slow, but in stages, it will bring a positive outcome for Bitcoin benefits and usage. It will also help in aiding blockchain innovation and development in the country, which is the technology behind these cryptocurrencies.