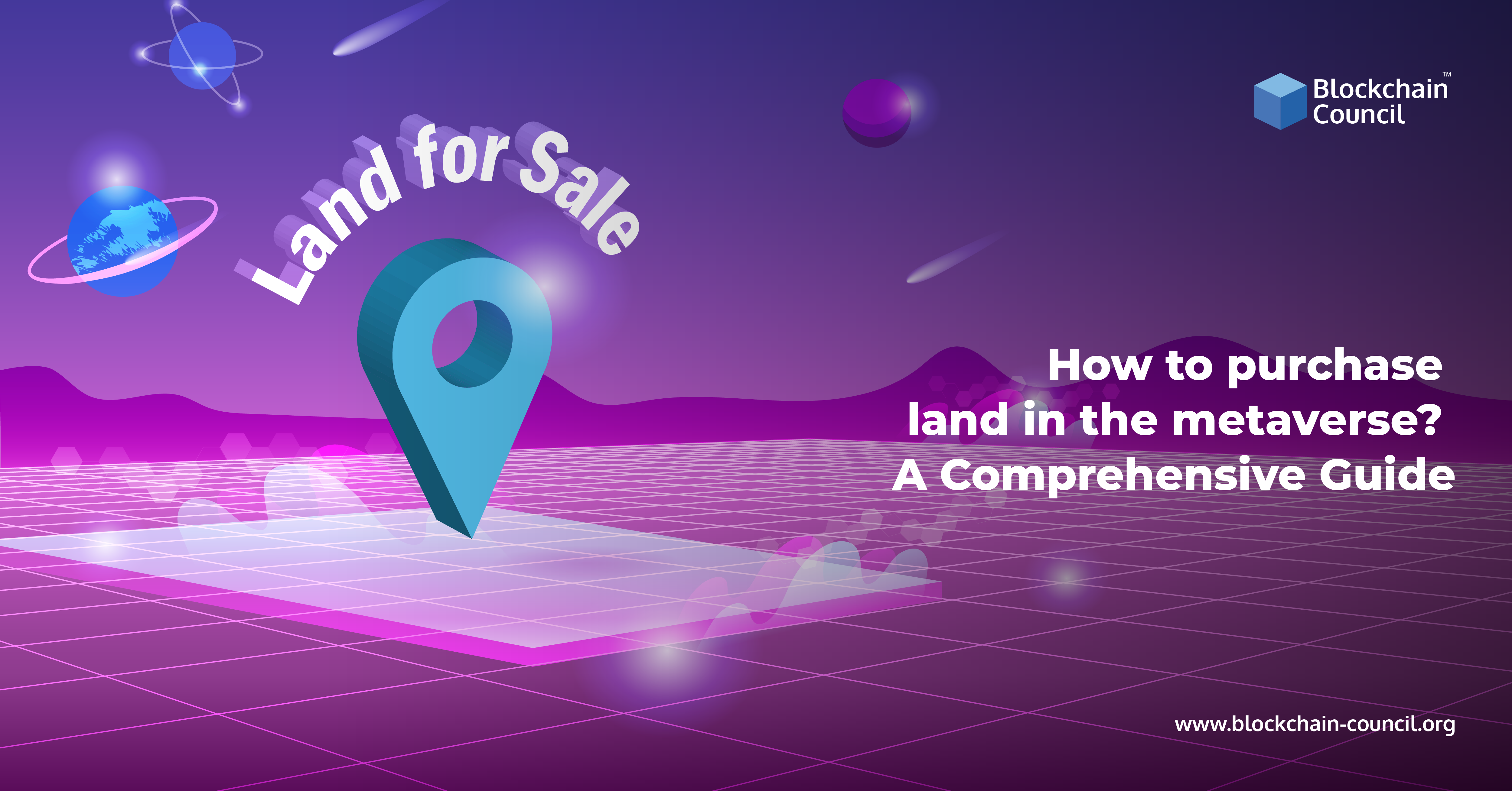 The Metaverse is a step towards digitalizing the actual world by combining Virtual Reality (VR), Augmented Reality (AR), and videos. Users can work, play, and stay connected with pals in the virtual world through their digital avatars. There are lots to do in the Metaverse, from having a meeting to travelling across the virtual globe.

Metaverse Real Estate, on the other hand, appears to be garnering investors' attention. As a result, the frequency of real estate transactions in the Metaverse has made headlines, with million-dollar deals breaking records every other week.
Let us dive into the Metaverse realm and try to understand what it's all about.
The Metaverse Land
Regardless of how the Metaverse is as yet in its beginning stages, organizations like The Sandbox and Decentraland have effectively begun selling advanced land as Non-fungible Tokens (NFTs), which are blockchain-based computerized tokens that can address an assortment of remarkable wares.
When someone buys a piece of metaverse land, the metaverse platform's blockchain network certifies the transaction and ownership transfer.
After obtaining the metaverse land NFT, the owner can rent, sell, or develop on it. For example, Atari, a Japanese video game corporation, has invested in Decentraland by purchasing 20 digital domains and launching its own crypto casino.
Purchasing Metaverse Land Guide
Several metaverse systems have built marketplaces where users can purchase and trade NFT-based digital land and other valuables. Here's how to get started. 
A user who wants to purchase metaverse real estate must first determine which platform he wishes to purchase digital land on. Decentraland and The Sandbox are two popular possibilities, although there are many others too. However, before purchasing any territory in the Metaverse, conduct your own study.
The user must develop a digital cryptocurrency wallet having compatibility with the metaverse blockchain. A digital cryptocurrency wallet is a computer software that helps to connect with a blockchain network and store cryptocurrency. 

The purchaser must then access the marketplace of his preferred metaverse platform and link his digital wallet to it. Marketplaces are often available on the websites of metaverse platform providers.

At this point, purchasing digital land appears to be similar to purchasing actual land. However, if a buyer is planning to purchase a digital land then it is crucial to examine details like the location, price, and future value of the digital land.

The buyer must obtain the tokens or coins required to purchase and put them in his digital wallet once he decides the land. The token or coin required to complete the transaction differs depending on the metaverse platform. For example, to buy digital land in Decentraland, a user would need to buy MANA tokens. SAND tokens will be required if the user purchases land in The Sandbox.

All the buyer has to do now is place a bid on the land or buy it outright if he has already connected and funded his digital wallet with the metaverse marketplace. The land's cost is deducted from the digital wallet and transferred to the user's wallet via the NFT.

Buying additional metaverse NFT things, such as clothing and accessories for avatars, follows the same procedure.
Cryptocurrency in the Metaverse
Fungible tokens – divisible tokens that can be swapped – are used to power Metaverse initiatives on blockchain networks. These tokens can be used to purchase digital commodities like virtual land and avatar clothing. Exchanging these tokens for other cryptocurrencies or fiat money is also possible. Certain metaverse crypto coins also allow its owners to vote on metaverse platform decisions, such as where to invest money and which new features to deploy first.
In principle, assuming the worth of digital assets rises, so would the worth of the tokens that go with them. Besides, some metaverse platforms, for example, Decentraland, consume all MANA tokens used to purchase computerized resources, accordingly eliminating them from dissemination and raising the worth of the leftover tokens.
The metaverse tokens mentioned below are sorted by market capitalization in descending order (market cap). These decisions are innately risky and ought to be considered as a bet. As an overall rule, consistently invest something like you're willing to lose.
Decentraland (MANA)
–
Mana (MAN with a market cap of generally $6 billion at the hour of issuing), Decentraland's MANA token runs the Decentraland metaverse and goes about as a mode of trade on the platform's commercial center.
Axie Infinity (AXS)
–
Axie Infinity (AXS) is a governance token unlike Decentraland's MANA, which is used to acquire digital goods and services. Owners of Axie Infinity are able to vote on proposed actions that would impact the ecosystem, such as how currency in the community treasury is spent. In the future, the AXS token will be updated to allow it to be used to purchase digital products and services on Axie Infinity.
The Sandbox (SAND)
–
The Sandbox, like Roblox, is centred on a user-generated content metaverse. Participants in The Sandbox's alpha user testing receive the SAND token. SAND tokens are also available for purchase in digital marketplaces. SAND is a utility coin with governance, staking, and utility applications SAND owners can use their SAND to purchase digital goods and services, cast votes on proposed initiatives within The Sandbox, and stake their SAND to receive further incentives. 
ENJ (Enjin Coin)
–
Enjin is a game platform built on the blockchain. Unlike The Sandbox and Axie Infinity, which only have a single metaverse product, Enjin provides its customers with a variety of interconnected play-to-earn gaming experiences. 
Conclusion
Companies with significant stakes in the Metaverse are spending millions of dollars to persuade customers that the Metaverse exists. On the other hand, will it usher in a new era of general acceptance and barrier-free digital communication, or will it remain a niche product for future tech enthusiasts and gamers? People are wondering if this is true. For the time being, retail investors fascinated by Metaverse should look into these platforms and assess Metaverse's future value.
If you are fascinated by the cryptoworld but don't know much about it then you can learn crypto trading courses. You should check out for the options that provide certification along with the course. Blockchain Council is such a place!!