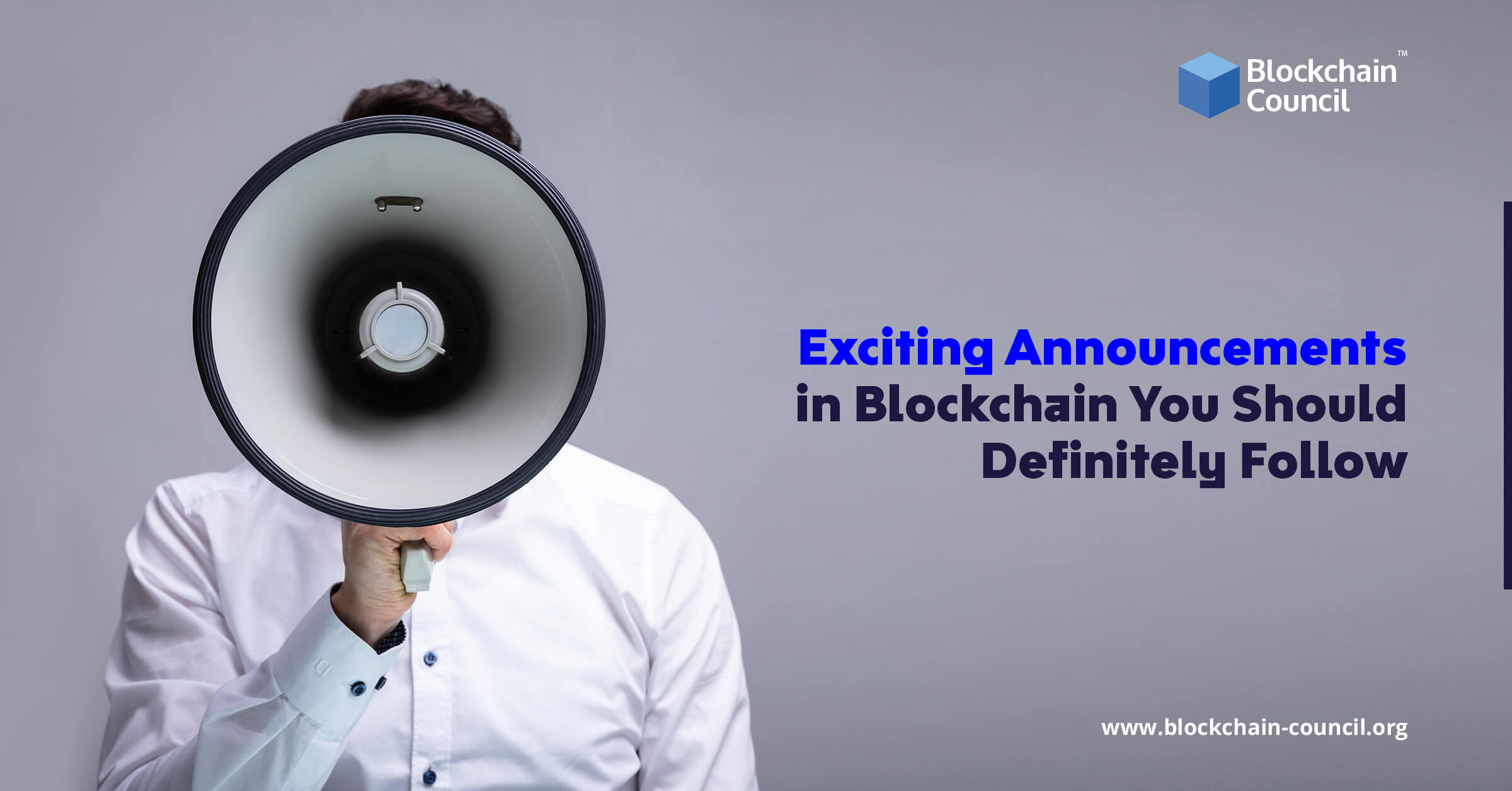 If you are a Blockchain enthusiast, you must keep yourself updated about the latest developments, partnerships, among others. This article provides an overview of Blockchain technology, enlisting the top three announcements that have been made recently.

Table of Contents 
Overview of Blockchain Technology 

Top 3 Announcements So Far

Wrapping Up 
Overview of Blockchain Technology 
Blockchain is a decentralized peer-to-peer technology that has the ability to offer complete transparency, immutability, security, and privacy. Due to its high potential, tech giants, enterprises, and even government institutions at all levels have started adopting Blockchain for various purposes. The best part about this advanced technology is that it allows people to coordinate around a neutral source of information without trusting or relying on the central administrator.
Let's focus on a few top announcements that revolve around Blockchain development.
Want to gain an in-depth understanding of Blockchain and become a Certified Blockchain Expert? Wait no more. We are here to assist you!
Top 3 Announcements So Far
Enviva Collaborates With GoChain to Pilot Blockchain for Sustainable Biomass
Enviva, specializing in sustainable wood bioenergy, and GoChain, a blockchain-based company committed to implementing sustainable and innovative green technologies, announced the initial outcomes of a pilot program designed to improve sustainable biomass traceability.
Unlike other Blockchain platforms, GoChain provides a scalable and secure blockchain solution and uses a 'Proof of Reputation' (as a consensus mechanism) for processing transactions.
Enviva reported that by using GoChain, it was able to monitor wood fiber's movement from select forest regions at the time of harvest to Enviva's wood pellet production plants with a unique QR code easily and spontaneously. Furthermore, it was mentioned that the pilot program offered real-time geofencing, data analytics, and notification abilities. As a part of this partnership, Enviva was able to deliver a thousand loads of biomass from the forest to the production plant and recorded 'on-chain.' On achieving such success, Enviva is aiming to await further exploration of distributed ledger technologies like Blockchain.
Portion.io, Announces Version 2.0 Along with Several Partnerships
Portion.io, whose underlying technology is Blockchain, is an online marketplace that aims to connect artists and collectors to sell, invest, and own art and collectibles while ensuring transparency. 
On December 18, 2020, Portion.io announced that its new platform would go live once the development phase is over and will enable users to create and list Non-fungible tokens, which can be traded by the artist for 100% of the gains. 
Ownership can be tracked on the Ethereum network and can be transferred seamlessly in a frictionless way.
Apart from this, the platform also announced its partnership with Simplex, which is a highly reputable payment processor.
As a part of the collaboration, Portion will maintain its decentralized core while also encouraging adoption by enabling credit card purchases on the platform. Portion intends to allow people to easily purchase Ether & PRT with a credit card to interact on the platform. 
Uttar Pradesh Starts India's First Blockchain-Enabled Rooftop Solar Trading Platform
As Blockchain has been earning popularity globally, the state of Uttar Pradesh in India is no more an exception. Recently the state has launched its first India and South-Asia blockchain-enabled trading platform for rooftop solar power.
ISGF president Reji Kumar Pillai talked about this pilot project and explained that this project will illustrate the usefulness of rooftop solar energy trading through smart contracts between prosumers and their nearby households on the blockchain network. 
The findings and suggestions of the pilot project will be forwarded to UPPCL(Uttar Pradesh Power Corporation) and UPERC(Uttar Pradesh Electricity Regulatory Commission) for the framing of legislation to facilitate peer-to-peer trading of rooftop solar power between prosumers and state customers.
A related pilot project was initiated by Senoko Energy and sponsored by Electrify and Engie Factory in July 2020 in Singapore for peer-to-peer renewable energy trading.
Wrapping Up 
Blockchain technology has the potential to drive greater efficiencies, accountability, and auditability, and this is the reason why it is being put to use across all domains. Despite this, it would not be wrong to say that Blockchain is not a panacea that can solve all the existing problems. Few countries are introducing pilot programs based on Blockchain to discover the technology and performance benefits of switching to a distributed solution and identify technical problems that may slow or prevent wide-scale deployment, whereas few have already implemented and now utilizing it for their efficient functioning.
Seeing the scope of Blockchain, the demand for Blockchain Developers and Experts is surging. If you want to become one, check out Blockchain Council today.
To get instant updates about Blockchain Technology and to learn more about online Blockchain Certifications, check out Blockchain Council.