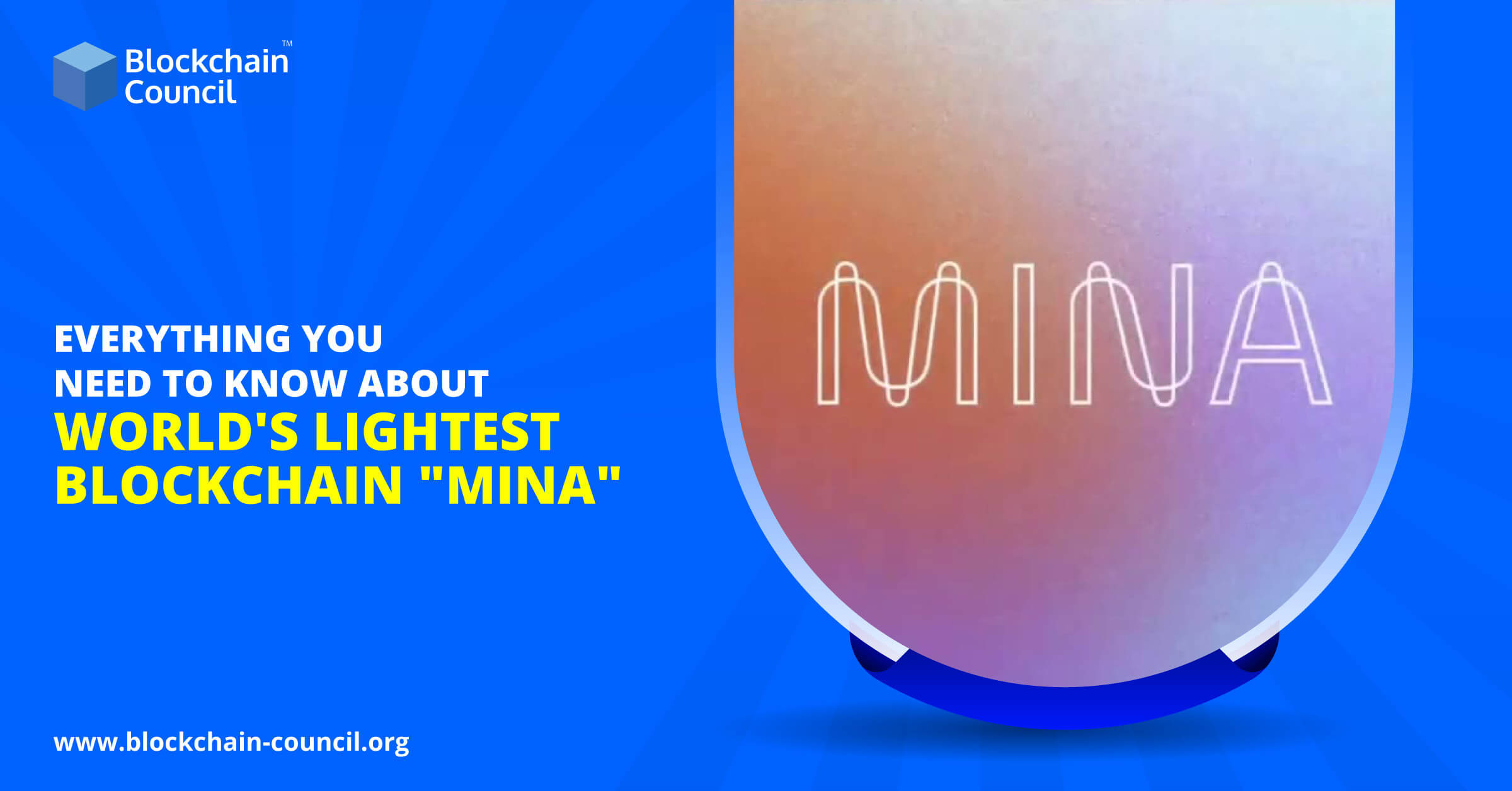 New to Mina Blockchain? Wondering how it differs from other Blockchains? Why is it the lightest Blockchain? Well, we have got you covered. This article will provide a brief explanation of Mina Blockchain. 

Table of Contents 
Understanding Mina Blockchain

Mina Blockchain Vs. Other Blockchains

What is Mina's End Goal: Concluding Lines 
Understanding Mina Blockchain
Blockchain is a P2P, decentralized distributed ledger technology that mitigates the involvement of third-party intermediaries. Technology may be thriving, but there's one major challenge that stands in its way, and that is scalability. A lot of efforts have been made in this direction to satisfy the ever-growing demands. One such protocol is introduced that claims to deal with scalability issues.
Mina is known to be the world's tiniest Blockchain, powered by participants. It is a new cryptocurrency protocol built by O(1)Labs that aims to reduce the size of the Blockchain by maintaining a constant size of 22 kilobytes. Mina Blockchain claims that its protocol can reduce the size from many gigabytes to the size of 22 kilobytes.
Want to gain in-depth knowledge of Blockchain Technology and become a Certified Blockchain Expert? Wait no more. You are just a click away!
Mina Blockchain Vs. Other Blockchains
Mina Blockchain follows a design infrastructure where it will always be 22kb, unlike other Blockchains. Due to this, anyone with an internet connection will be able to synchronize and verify the network within seconds.
Let's check out the differences between Mina and other Blockchains.
Size of Blockchain 
Compared to other Blockchains, Mina claims that its protocol maintains a fixed size of 22 kilobytes. But when it comes to other Blockchains, they have an increasing size of 300 GB. Mina aspires to be the world's tiniest Blockchain due to its fixed size, whereas other Blockchains are considered to be heavy.
Easily Accessible 
Mina is light, allowing anyone to connect P2P and sync and verify the chain within seconds. This protocol is built on a consistent-sized cryptographic proof, allowing it to scale to millions of users, allowing higher accessibility. Unlike Mina, other protocols are comparatively heavy, and they need mediators to run nodes, recreating the same old power dynamics. Because of its higher accessibility, Mina can go places where other currencies might not go.
Truly Decentralized with Full Nodes 
Mina's design ensures that anyone can take part in the proof-of-stake(PoS) consensus mechanism, providing accessibility to strong censorship-resistance and securing the entire Blockchain network. In Mica, anyone who's syncing the chain also validates transactions like a full node. 
High-Speed, Seamless User-Experience
Unlike other Blockchains, Mina offers faster execution and a seamless user-experience because of its 22kb chain. It can execute thousands of transactions per second, and irrespective of how many transactions have occurred in the past, the chain's entire historical data would be little enough to be saved on users' mobile phones.
Powerful Decentralized Applications 
Mina offers a new category of applications, and that is Snapps, which are general-purpose SNARK-enabled smart contracts that bring along the features of privacy and verifiability. Such applications are optimized for efficiency, privacy, and scalability. In Snapps, data and logic are computed off-chain, and verification is performed on-chain on the end user's device. Such powerful apps ensure that information is authorized without disclosing any crucial information. 
Want to build your own DApp? Become a Certified Blockchain Developer with Blockchain Council. 
What is Mina's End Goal: Concluding Lines 
Mina uses the Non-Interactive Argument of Information Zero-Knowledge Concise (zk-SNARK) that enables users to compact the Blockchain into a small snapshot instead of downloading an entire blockchain. With the help of a secret key, anyone can prove ownership of the information without revealing any details and without any communication between the prover and the verifier. This will lead to lower inherent risks and reduced interest rates for borrowers. The end goal of Mina is to allow all internet-connected devices to interact with blockchain-verified information. Mina's other distinction, aside from the characteristics listed above, is that it will be able to consume outside data without the need for oracles safely.
To get instant updates about Blockchain Technology and to learn more about online Blockchain Certifications, check out Blockchain Council.