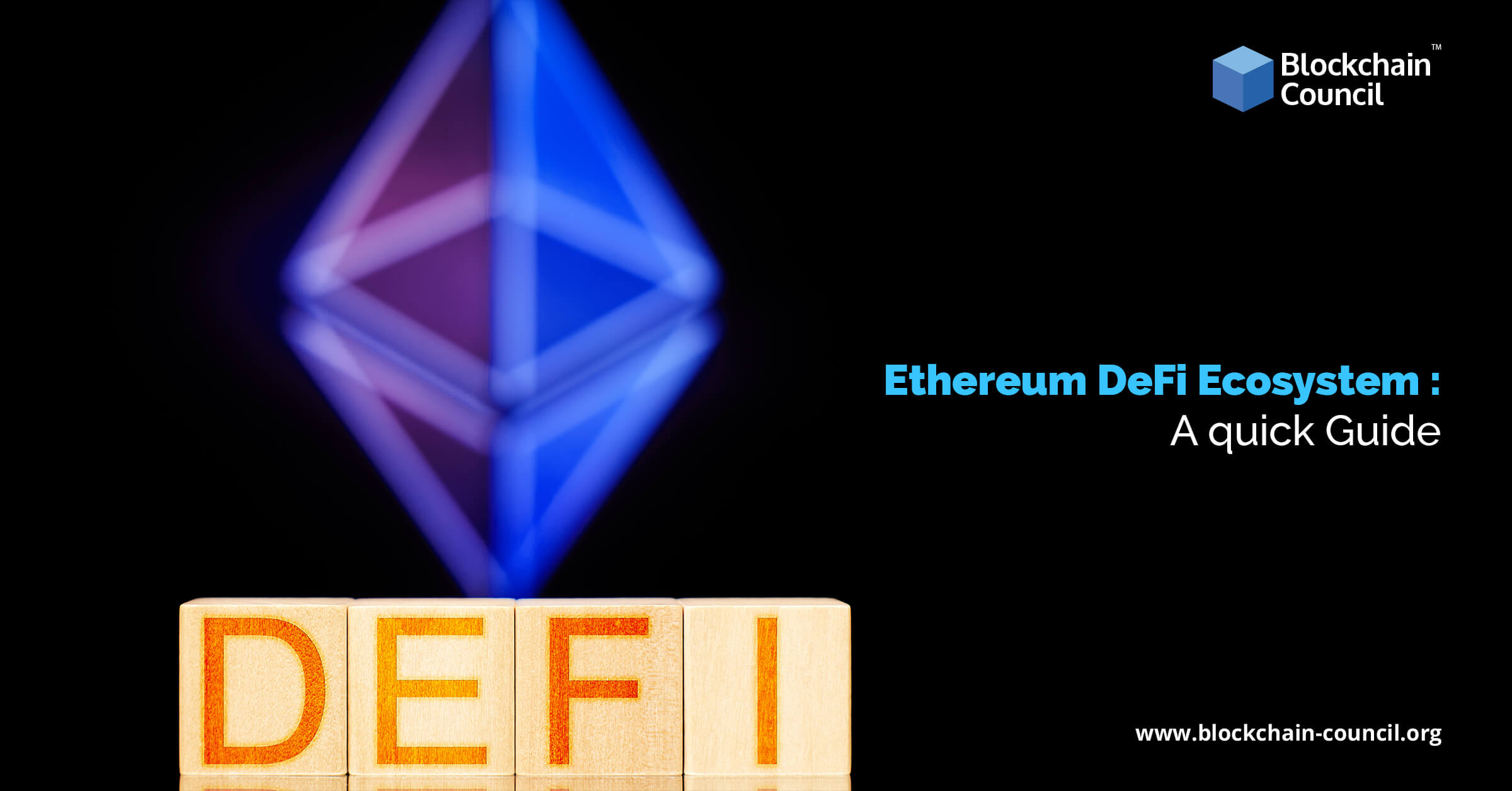 DeFi is an open-source economic framework with a specialization for the internet age on a worldwide scale. It is an excellent alternative to a firmly controlled financial system that is run and managed by years-old concepts of financial processing and infrastructures. On the other hand, Defi enables you to control and oversee your financial accounts. It provides you openness to worldwide business sectors and multiple options regarding your regional currency or other banking alternatives. 

DeFi is a collective term for monetary services and articles that are open to any individual with a good internet connection, and ones who are utilizing Ethereum. The financial records in Defi are generally claimed and maintained by their clients.  A vast number of cryptocurrencies holding the million dollars worth have been exchanged by employing Ethereum DeFi applications, and this methodology is developing with each progressive day. Let us learn about the Ethereum ecosystem in detail.
Table of content
What is the Defi Ecosystem?

Advantages of the Ethereum Defi ecosystem?

Access to stable currencies

Borrowing with security

International fundings

Tax-efficiencies

Flash loans

Development of Defi Ethereum ecosystem

Closing Thoughts
What Is the DeFi Ecosystem?
The Decentralized Financial ecosystem can be described as the way toward building sheer monetary applications on top of the ethereum blockchain. Defi-based solutions are referred to as an open setting as Defi lets users get access to all kinds of financial services and tools in a decentralized way. This ecosystem incorporates every one of the economics programs covering various financial elements like borrowing and loaning, investments, stable coin advancement, payments, staking, security, asset management,  prediction markets, decentralized trades, elective investment funds with revenue acquiring systems and subsidiaries. 
With the Decentralized Finance system, the business sectors are consistently accessible, and there are no centralized organizations that can block installments or deny users admittance to anything. Previous procedures that were sluggish and in danger of human blunder are now programmed and made more secure since they are being taken care of by codes that anybody can examine and investigate. However, the Defi ecosystem has some serious issues such as high fees on transactions, slow exchange rate, low scalability etc. 
Advantages of  Ethereum Defi ecosystem 
Access to stable currencies
Cryptocurrency instability is an issue for many of the economic elements and general spending. The Ethereum DeFi community has tackled this with stable coins as their worth stays fixed to another resource, typically a famous currency like dollars.

Borrowing fundings from decentralized suppliers takes place in two ways:

Peer-to-peer: In this method, the borrower can take a loan directly from a particular moneylender.
Pool-based: In this method,  moneylenders give away monetary help as funds (liquidity) to a specific pool. Using such pools, borrowers can take up money whenever required.  
One gets free access to global funds when he uses a decentralized lender. This gives you the freedom to get fundings not just from your chosen institution or bank but from everywhere around the globe. This makes loans more open and increases the interest rates. 
Borrowing under the Defi system introduces you to the funds you want without making you to sell your ETH. To get a stable coin loan, you can utilize ETH as security credit. This gives you the allowance you need alongside letting you keep your ETH. The immutable nature of Stablecoins tokens is beneficial when you are in need of cash-flow as these tokens do not deviate in value as ETH does.

Flash loans let you borrow money without offering any security or giving any personal data. These loans are more like an experimental form of decentralized lending. However, they aren't broadly available to non-technical people at this moment.

Ethereum DeFi Ecosystem Development 
An astounding number of 197 activities have been created alone on the ethereum DeFi ecosystem. Ethereum has the most substantial everyday exchange volume and application utilization in comparison with several other networks. The assets saved on Ethereum can be utilized as a stock of significant worth/a consumable asset/ a capital asset. Professionals have anticipated that the launch of Ethereum 2.0 in mid-2021 would essentially help the reception of DeFi as there won't be any more delay issues (one of the drawbacks of Ethereum Defi system while performing exchanges), and exchange charges will get cheaper. The projects that have been taken care of under the Defi ethereum ecosystem are as follows:
Crypto wallets

Asset management protocols 

Stablecoins 

Portfolio trackers 

Payment solutions 

Derivatives 

Decentralized exchanges 

Argent, Dharma

Coinbase Wallet 

Huobi Wallet 

InstaDApp 

Uniswap

MetaMask

MyEtherWallet

Trust Wallet
Closing Thoughts
The rapid-growth of the DeFi Ethereum ecosystem is furthermore pushing another inflow of development. Since the mid-year, associations all through the Ethereum ecosystem have gone into trials to attempt to clear out issues related to the scalability that are speculated to cause high expenses. DeFi will, without a doubt, keep on stretching Ethereum's boundaries with the launch of new tokens and dapps. At this time, Ethereum is also expanding, and Layer 2 scalability could open up new possibilities for the Defi Ethereum ecosystem.
Learn blockchain technology and attend various causes and certification programs at the BLOCKCHAIN COUNCIL.