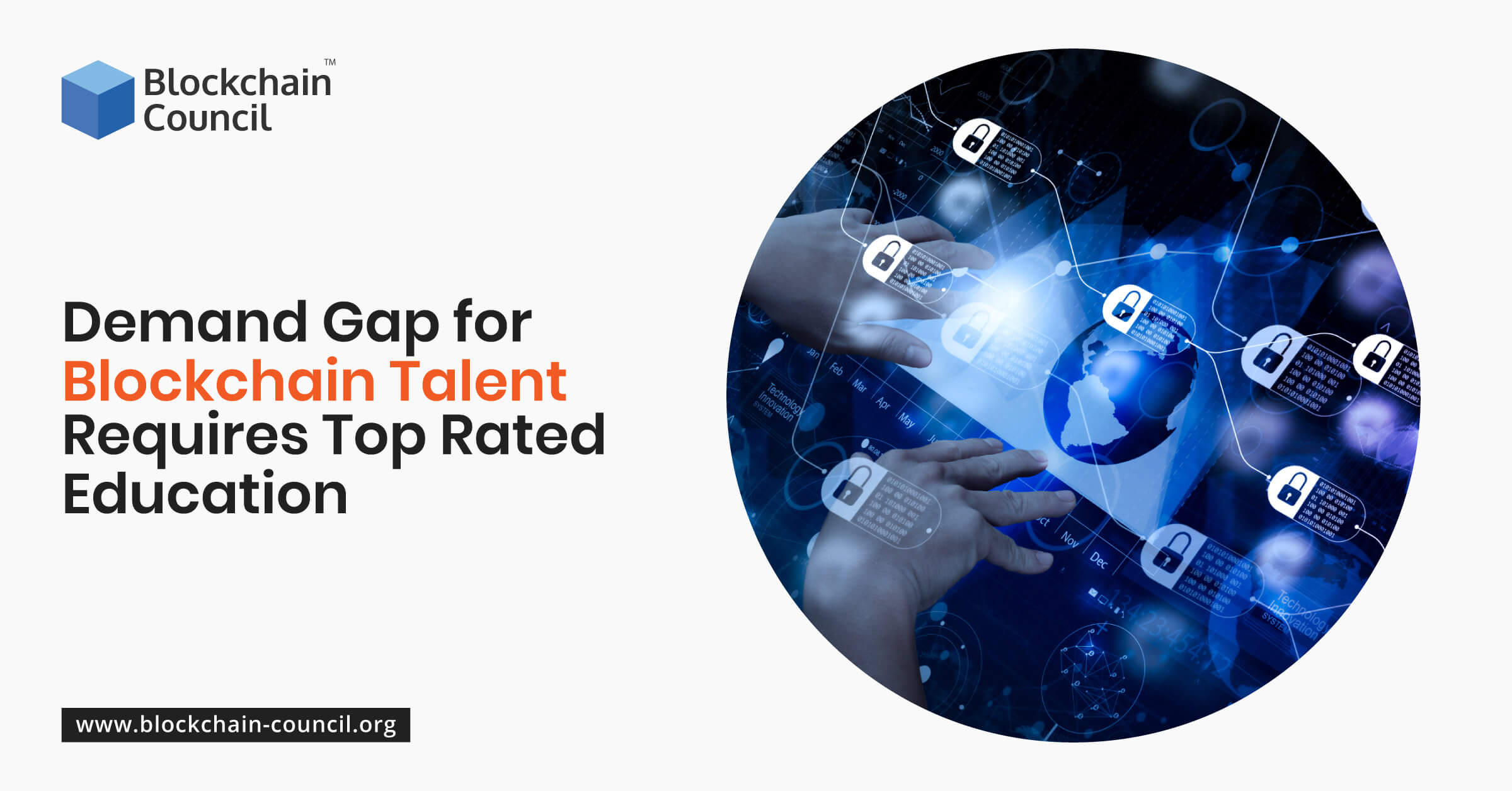 If you are a Blockchain enthusiast, you must be aware about its talent scarcity. In this article, we will explore what are the top-rated educational ways that can help in bridging the gap for Blockchain talent. So let's get started.

Table of Contents 
The Growing Shortage of Blockchain Talent 

Blockchain Job Market is Booming 

Role of Education in Bridging the Gap

Conclusion: Career Building Opportunities with Blockchain Council
The Growing Shortage of Blockchain Talent 
Technology that was once considered to be overhyped is now recognized as a promising innovative technology. Since its introduction into the mainstream with other emerging technologies such as AI, IoT, and others, Blockchain developers and technocrats have found it revolutionary. Although the technology is maturing at a rapid rate, the growing shortage of blockchain professionals is a well-documented concern all around the world.
At present, there has been an unparalleled demand for blockchain developers. Major tech giants, including Google, Microsoft, IBM, and other well-known enterprises and even startups, have started leveraging Blockchain technology, but they are struggling to find sufficient talent. 
Blockchain Job Market is Booming 
The salaries of Blockchain professionals are going off the charts. This is because of the fact that demand is highly outweighing the supply. Currently, Blockchain talents are in demand in the BFSI sector and almost in all sectors of the economy, including government institutions, federal agencies, healthcare, manufacturing, automobile, art and music supply chain, gaming, and much more.
Due to continuous efforts by Blockchain developers and experts, today, Blockchain is a matured technology that offers futuristic career opportunities to all enthusiasts. Compared to other IT professionals such as Machine Learning Experts, AI Developers, Data Scientists, Blockchain Professionals salaries stand out exceptionally well. 
According to job recruitment firm Hired.com, the average blockchain developer salary ranges from $150,000 to $175,000 per year in the US's hi-tech regions, such as Silicon Valley whereas, Glassdoor reports that the average base salary of a blockchain developer in the US is $91,715/yr. 
Role of Education in Bridging the Gap
Initially, the market for blockchain talent was hampered by a lack of knowledge of the technology and limited resources accessible to professionals. However, this aspect has changed over the last couple of years. Companies that were struggling to find adequate talent have started their own educational programs. In order to cope up with the talent scarcity, online programs, university courses, and workshops are popping up at an exciting rate.
Let's explore some of the best educational ways.
Truffle Suite and Hyperledger Fabric Document 
To educate learners about Blockchain technologies, there are online platforms such as Truffle suite and Hyperledger Fabric. Truffle Suite is an open-source framework that provides an in-depth, in-depth understanding of blockchain platforms, libraries, tools, etc. Similarly, Hyperledger Fabric Documentation offers online documentation that provides numerous tutorials at beginner's level, covering architecture reference, operational guide, and much more, enabling learners to learn and progress.

Blockchain Council Certifications 
Backed by the extensive practical-based sessions, Blockchain Council offers Online training and certifications to aspiring students to render the desired competence to have a successful career in the Blockchain/crypto domain. It imparts most in-demand Blockchain certifications in various Blockchain technologies, including Bitcoin, Ethereum, Hyperledger, Quorum, and Corda. 

 In-house and Self-Paced Blockchain Training
Companies are currently looking to integrate blockchain-focused solutions, and for this, they are providing in-house training to build up the skill sets required for their organization. Such training helps employees address specific business needs and provide Blockchain-focused solutions for business growth. 

Self-paced training sessions have also started getting public attention because they are convenient, cost-effective, allow better focus, and of course, enhance the learning experience. There are many organizations that are offering Blockchain self-paced training to help the learner understand all the ins and outs of blockchain technology, including smart contract, Blockchain mining, its security and privacy, use-cases across various domains, and much more. 
To explore more about self-paced Blockchain training, checkout Blockchain Council. 
Blockchain-Based Communities and Webinars 
For a great initial experience, Blockchain communities and webinars can prove to be beneficial. These can help in providing effective platforms for communication and can even open vast opportunities for earning money. Apart from these, such platforms can facilitate communal support and engagement. For instance, the Blockchain Council Community is delivering education all around the world. Similarly, Cointelegraph, Blockchain News can keep you updated about the Blockchain and Crypto domain. 

Conclusion: Career Building Opportunities with Blockchain Council
As Blockchain is maturing, there's an extensive professional network to help you become a successful Blockchain Professional. Enrolling in Blockchain Council, a globally recognized online platform, can help you gain in-depth knowledge of functional and technical aspects of Blockchain technology. Blockchain Council Certifications will not only prove to be your competitive advantage; instead, it will help you gain confidence in the quick hire. 
Blockchain Council has proved to be successful in creating a successful future for millions of people all around the world. If you want to give your career a head start, this is a one-stop solution.
To get instant updates about Blockchain Technology and to learn more about online Blockchain Certifications, check out Blockchain Council.