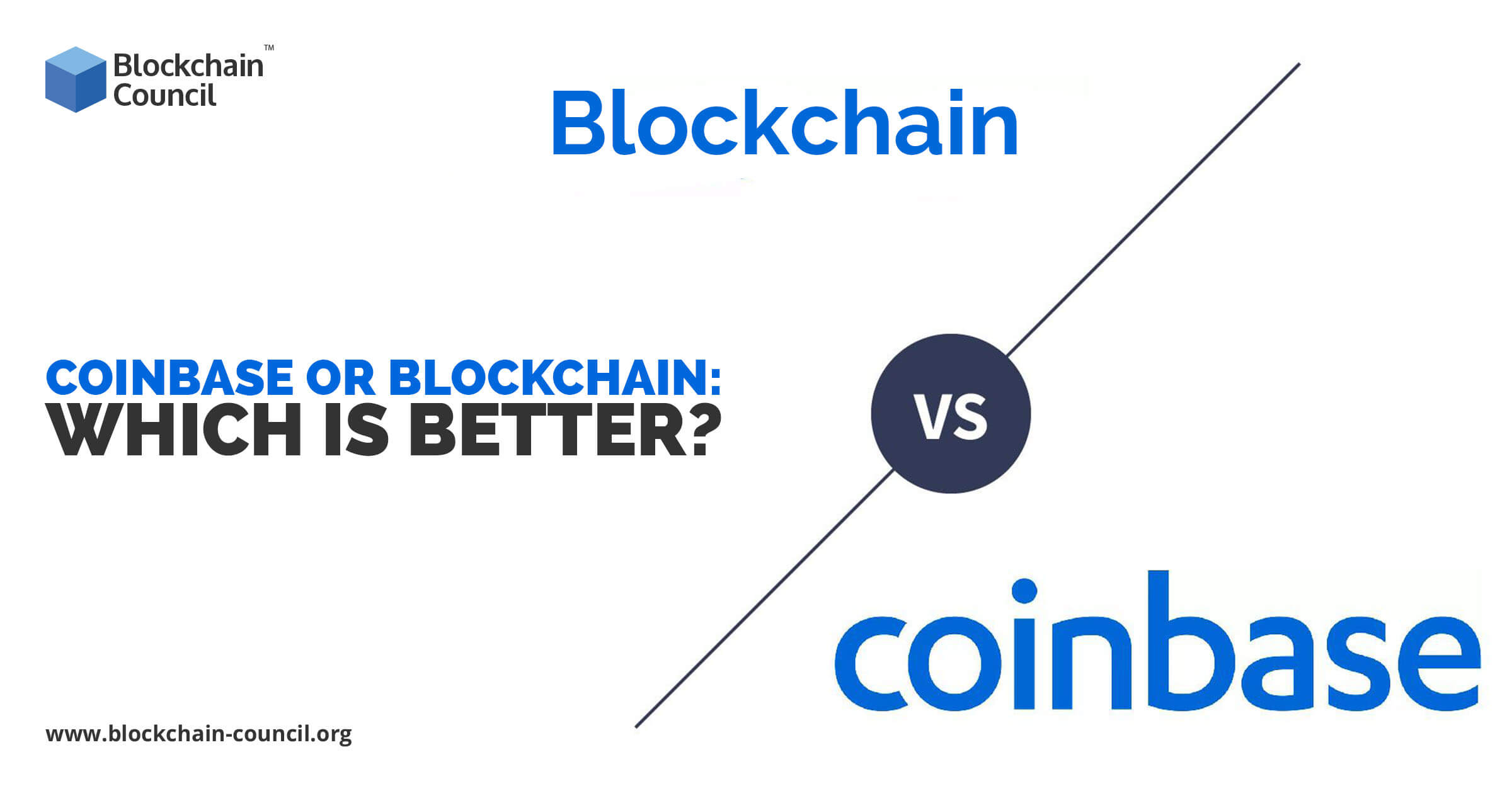 These days, cryptocurrency is a top trending topic; it is fundamental for us to know which crypto wallet would be a suitable choice for safe cryptocurrency exchanges. Both Blockchain and Coinbase provide simplified ways to utilise crypto wallets and secure digital currencies trading.

Both platforms allow users to set up their wallets within a few minutes and start practising crypto exchanges. However, the way both of these platforms work regarding storage and transactions of assets makes them different from one another.
Picking the right wallet is somewhat hard, mainly when investors are not aware of which features are critical requirements in a suitable crypto wallet. However, two things that any good crypto wallet should acquire include being viable with the operating system utilised for exchanges and it should give the necessary measure of protection.
In this article, we will learn about the two most famous cryptocurrency wallets: Blockchain and Coinbase, to help you settle on a choice concerning which wallet is most suitable for storing your cryptocurrencies.
Table of Contents
What is a crypto wallet?

Understanding Blockchain and Blockchain wallet

Understanding Coinbase and Coinbase wallet

Coinbase Vs. Blockchain

Feature

User Interface

Customer Support

Security Measures

Merchant services

Criminal Insurance

Closing Thoughts
What is a crypto wallet?
A crypto wallet is an application that permits the storage and retrieval of digital assets of crypto users. At the point when users obtain cryptocurrencies ( bitcoins, Ether), they can hoard them in their crypto wallet and use them to carry out exchanges on the digital platforms.
Crypto wallets hold your private keys ( the passwords). Every crypto wallet acquires a unique cryptographic address. All kinds of transactions, whether receiving or sending, are done by using this address. Cryptocurrencies in a wallet are arranged in a similar way as documents are stocked in a USB Drive. 
However, wallet data can only indicate the locations of your money stored on the Blockchain networks. Making payments using the crypto wallet is pretty much as basic as QR code scan payments.  
Crypto wallets are available in various forms; they can be hardware wallets, for example, Ledger, which resembles a USB Drive as well as they come in the form of mobile applications too like Blockchain wallet or Coinbase Wallet. This makes using cryptocurrencies so easy, just like doing online shopping with credit cards. 
Understanding Blockchain and Blockchain wallet
Blockchain technology is basically characterised as a decentralised, disseminated record that documents the origin and history of digital assets. Due to its immutable configuration, the information on a blockchain can't be altered, which makes it a game-changer for enterprises like cybersecurity, payments, and medical services. 
Google Docs can be a basic example to explain workings of the blockchain technology. As in Google Docs, when a file is created and delivered to individuals' groups, the file is dispersed rather than replicated or altered. This process generates a decentralised circulation system that gives everybody admittance to the respective file simultaneously. All changes carried out in a doc file are totally transparent as they are documented in real-time. 
Blockchain wallet
E-wallets are designed to let users store their cryptocurrencies safely in one place. 
Users are allowed to store and oversee two cryptocurrencies balances ( Ether and Bitcoin) on their blockchain wallet. 
Users can create a blockchain E-Wallet account online free of cost. They are required to submit an email address and password at the time of account creation. Users will have to verify their accounts through an automated email request sent by the system.
After a blockchain wallet is set up, users will be given a unique identifier in the form of a wallet ID. Using this ID, they can sign up for the blockchain website or mobile application to get access to their blockchain wallet account.
In a blockchain wallet, users can see the status of their accounts, such as both Ether and Bitcoin tokens' real-time balance and recent exchanges made by them.
They can likewise tap on the cryptocurrency balance, and it will show the assets' worth in the users' local currency or fiat currency.
Understanding Coinbase Platform and Coinbase wallet 
Coinbase is an application that allows you to sell and purchase 50+ different cryptocurrencies; some of them are Bitcoin, Litecoin, and ethereum. You can likewise send, receive, or exchange cryptocurrencies among other users using coinbase. It functions just like any other stock exchange application. Coinbase ascertains all the cryptocurrency trends and their real-time prices.
Coinbase wallet
Another well-known crypto wallet where a Decentralised App browser can be monitored only by the wallet owner. You needn't bother with creating a Coinbase.com account in order to utilise Coinbase Wallet. This implies that rather than storing your wallet's private keys on a centralised system, they are stored on your mobile directly. At present, the coinbase wallet supports cryptocurrencies like Ethereum, Bitcoin, Etherem classic, all ERC20 tokens, Bitcoin Cash, Dogecoin, XRP and Stellar Lumens. You can also check which coinbase wallet supports crypto tokens by tapping on "Receive" on the wallet application. 
Now that we have enough essential knowledge about both of the wallets let us find out which one is a better choice.
Coinbase Vs Blockchain
To carry out a fair comparison between coinbase and blockchain wallets, we will look into seven different sections that will take you through the benefits and drawbacks of either platform. So, you can choose the right option for storing and trading your cryptocurrencies.
In the very first section, we will conduct a Feature comparison between both wallets:
Ease of use: Bitcoin exchange is very easy to perform using a blockchain wallet. It also facilitates quick Bitcoin transactions on a global scale.

Security and Safety: it maintains a security centre to secure each Bitcoin exchange through the wallet. The centre prevents any unauthorised access and also takes care of backup fundings.
Multi-platform access: blockchain wallet can be accessed  from any device, at any time and any place. It supports applications for Android, iOS as well as desktop.
Design structure: It has a well-organised framework that facilitates dynamic transaction charges.
Global utility: It functions as a global platform. It gains conversion rates of  over 20 unique types of currencies.
Security and safety: To secure bitcoins from theft or loss, It facilitates protected storage of around 98% of digital assets in the offline mode.
Multi-platform access: it can be utilised on both IOS and Android applications.
Total management mechanism: Coinbase wallet carries multi-signature wallets that give full control over the user's private keys.
Insurance: The owner of the coinbase wallet gets support from various insurance policies to look after stored currencies.
Facilities for Instant transactions: It permits the wallet holders to trade their regional currencies with bitcoins easily and quickly without any hassle. It basically implies that the wallet holders can carry out their exchanges instantly.
Blockchain wallets and coinbase wallets both provide an app-based as well as web-based trading. Despite the fact that browser tools and mobile applications are much more simple to use, the process of exchanges is different. 
Coinbase wallet is best fitted for manageable format and buying and selling of Bitcoins. On the other hand, Blockchain provides comparatively more tools and resources for operating Bitcoin exchange in the digital marketplace.
The dashboards of both platforms are almost identical. In the dashboard, users can obtain information about their wallets as well as rates and the latest trends of cryptocurrencies.
However, after signing up,  the differences between platforms will be more noticeable. In the blockchain platform, you'll notice along with the options of "Send" and "Request", the platform also mentions "Be your own bank". This phase clearly shows the difference in the concept of both platforms.
Customer support is a sensitive area for both platforms; however, there are minimal complaints regarding both platforms' interfaces. Yet, almost all of those complaints pointed towards poor customer services, which can result from high volumes of transactions on both platforms.
However, Coinbase has earned A+ ratings. Both platforms generally respond by means of emails within a span of 4-5 days.
Their customer support responsiveness needs to get some improvements as both of them are already leading platforms for the cryptocurrency community. 
While dealing with digital money exchanges, security is consistently a top priority. Cryptocurrency trading platforms like Coinbase and Blockchain are acutely mindful of this situation and keep on spending millions of dollars to provide safety to their networks and limit shortcomings. 
Both organisations have been victims of cyberattacks in the past. However, their individual interior security systems helped to show quick response. 
The security system of Coinbase can beat the security arrangements of a lot of the biggest financial institutions and banks. Conibase's security system uses machine learning and AI security that can distinguish questionable actions on accounts. Also, The users will not lose their assets by unlawful hacking, theft or by accident since they store 98% of their digital currencies offline.
On the other hand, blockchain wallets have an established security centre that detects any unusual activity and shuts down the network unless the issue is resolved. In blockchain wallets, any dubious action is quickly detected as Blockchain is a distributed network, which means if there are changes in any of the blocks, it will get quickly distributed throughout the network, making it much easier to detect the hacked block and start the process of resolving the issue.
The registration process of Coinbase is simple to follow. Users can register on this platform free of charge. Coinbase charges a base fee of 4% on every exchange done on the platform.
Further, with Coinbase, users are required to add and verify their financial accounts in order to begin the process of buying BTC, LTC or ETH with U.S dollars.
Registering on the Blockchain wallet is hassle-free. However, it charges a minimal amount for registration. Similar to coinbase, blockchain wallet also charges a nominal 4 per cent of each transaction carried out on its platform. Recently, Blockchain has launched a dynamic fee system that allows users to run a smooth transaction even when traffic is high, given that they have to pay a higher fee for it. Hence, the actual fee in a blockchain wallet might be pretty high compared to coinbase.
Merchant service usually relates to merchant processing assistance that facilitates a platform to receive a transactional fee by means of an encrypted getaway by utilising the user's credit card/debit card/NFC/RFID permitted device.
CoinBase wallet offers merchant services to its users. Aside from credit/debit cards, users can deposit funds by making a bank transfer. 
However, the Blockchain wallet only allows cryptocurrency to carry out fund transfers.  
A crime insurance policy is a type of anti-threat management that safeguards an investor from the loss of cash, property, or any business trade-related crimes. It enables investors to file lawsuits following the incident of criminal violation that has the potential to ruin an investor financially. Criminal offences such as robbery, security thefts, embezzlement, forgery, or any other related crimes are covered by the policy. 
Coinbase supports its wallet holders with criminal policy as well as many other related insurances. While in the case of a blockchain wallet, no such facility is available.
Closing Thoughts
From the above comparison, we can say that both the platforms have their own advantages as well as disadvantages. The decision to choose one of them will depend on the requirements and needs of the user.  You can use either of them to collect Bitcoin or Ether and get access to your wallets using a mobile app for your comfort.
If you are a newbie, we advise you to start with the Coinbase platform as it helps users with navigation. In case you are up for performing cryptocurrency transactions without needing any central management, a Blockchain wallet is a perfect option for you.
Learn everything about Blockchain technology through expert-supervised blockchain training at the BLOCKCHAIN COUNCIL. Learn from the best blockchain course and get benefits from certification programs.