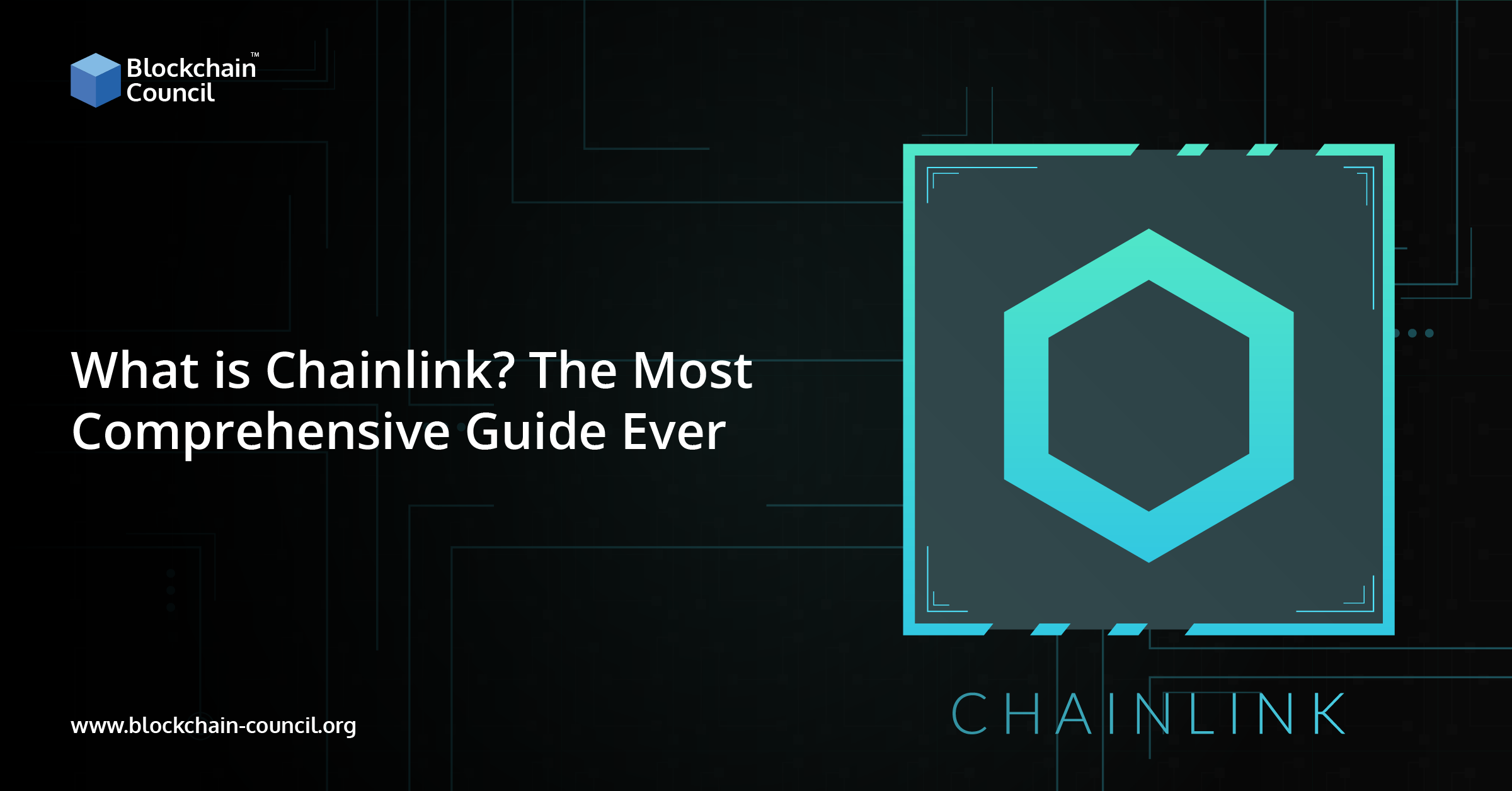 Someone who has been dealing in cryptocurrencies and blockchain technology lately must be aware of the importance a good oracle network has within the trading infrastructure. Oracles render a seamless interactive link for the decentralized Web 3.0 cluster where users can access existing data sources, legacy channels, and upgraded computations. In addition, decentralized oracle networks, often called DONs, support the creation of hybrid smart contracts where on-chain sources are integrated with off-chain ecosystems to aid the execution of Decentralized Applications (DApps) and related protocols.

In simple words, an oracle network is an entity that facilitates access to reliable data sources across multiple blockchain channels, ensuring an optimum trading experience for investors. This article has shared an in-depth analysis of the renowned blockchain oracle protocol, Chainlink. You will get answers to questions like what chainlink is, what is chainlink used for, and everything about its native token. So let's start the expedition:
What is Chainlink?
When talking about blockchain oracles, one cannot miss mentioning the name of Chainlink Oracles. Launched in 2017, Chainlink takes pride in being one of the most popular and trusted oracle solutions. The revolutionary protocol strives to work as a secure connection between the off-chain and on-chain blockchain environments. Chainlink is a network of nodes that provides details, information, and data from sources on-chain and off-chain infrastructures.
The platform solves one of the most prominent shortcomings of smart contracts, i.e., their inability to interact with data outside the native blockchain network. Most use cases related to smart contracts such as DeFi require knowledge of real-world data and off-chain events. Oracles expand the working capacities of blockchain by rendering access to an exclusive gateway to external sources while keeping hold of the on-chain data. They enable Ethereum smart contracts to safely connect with data from other sources, payment systems, and AUIs without the original data getting damaged or corrupted.
The network runs on its native virtual token called LINK. Chainlink LINK tokens are utility tokens that facilitate the settlement of payments made for the services rendered on the network. Chainlink, like Ethereum, is written in Solidity and GoLang programming languages. It is an open-source model infrastructure that allows users to securely connect to any off-chain data source without fearing security risks.
Smart contracts are pre-defined agreements that help evaluate and execute information when certain pre-defined conditions or requirements are satisfied. They work as a gateway for users to make verified transactions on the blockchain and off-chain channels. As they are verifiable and non-transferrable, they offer high-end security to users.
Chainlink claims that the core infrastructure of the platform helps to ascertain if the pre-decided specifications of the smart contract are met or not. However, talking about Chainlink, or Blockchain Technology altogether, you must understand that smart contracts are an integral and prominent part of the blockchain network.
Connecting external information and data sources to smart contracts on the blockchain in a language that the participants can easily understand is crucial. Chainlink provides a link that allows data sources to connect with smart contracts in a language understandable to both parties. It bridges the gap between On and Off-Chain data to resolve the connectivity issue in smart contracts. Chainlink is a network of nodes that support decentralization by providing details, data, and information from off-blockchain sources to on-blockchain smart contracts by using the oracles.
The data extracted by Chainlink oracles is highly dependable as it comes from reliable sources, and so users can easily base their investment decisions on them.
How Does Chainlink Work?
Chainlink makes use of different nodes to acquire the data that is requested. The network consists of two engaging and interactive components on the blockchain network that set it apart from others in crypto trading. They are:
On-Chain Component
Off-Chain Component
Chainlink is unique and innovative in its services. It strives to keep user satisfaction a top priority. The portal arrives at a consensus before returning the data to the smart contract. This process helps to ensure that the data is not dependent on a single oracle.
The Chainlink nodes are designed in a manner that they can conduct data retrieval tasks one time as well as multiple times. The Chainlink network comprises many buyers and sellers who make exchanges and transactions on the network using various kinds of contracts. These contracts help the platform remain safe from illicit activities like fraud, theft, and financial glitches. The types of contracts available on Chainlink are:
Requesting contract
Requesting Contracts are arrangements executed when a smart contract requests data. This happens when the process starts and the smart contracts request to send the information from the external resources.
Service level agreement contract
This agreement helps to obtain the off-chain data from reliable resources. The Chainlink network registers this protocol as an event request and produces a matching smart contract called a Service Level Agreement Contract. Service level agreement contracts contain three contracts, namely:
This contract verifies an oracle's legitimacy and performance on the network before discarding non-valuable nodes and evaluation.
This contract is responsible for checking and verifying the oracles chosen to satisfy the purpose and then verifying the outcomes.
This contract is responsible for requesting the nodes from the operators, collecting their bids, and ensuring that the request gets fulfilled by selecting the proper amount and number and the right kind of nodes.
The transfers, exchanges, and transactions happen on the network through these contracts only.
About Chainlink's LINK Token
LINK is the native currency token that supports transactions on the oracle protocol. Powered by the Ethereum blockchain network, LINK is a popular choice amongst investors when it comes to crypto. These tokens help compensate the node operators for their services rendered to the platform. They get rewards for many services, including retrieving accurate and reliable data for smart contracts and depositing it to the creators' who request data.
The ERC20 standards inspire the LINK tokens as they are powered by and issued on the Ethereum network.
However, the token itself is an ERC677 token. It allows users on the platform to remain to rest assured that their transactions and transfers are secured and safe. Furthermore, the users can gain clarity on their transactions as and when required.
The users or the token holders trade LINK tokens into a smart contract for it to become a node and supply data to the Chainlink Oracles. This ensures that data accuracy is present at all levels and no false or fake data is available on the network. In addition, this acts as a verification of the reliability of the data that constitutes the blockchain network.
However, the users must create a Service Level Agreement contract for selecting the right kind of Oracles. It helps specify a particular set of data appropriate for the transaction or the trade. This contract, when created, is used by the Chainlink software to match the user to the most appropriate oracles that can give the required data to the user. Here, buyers choose the data of their choice and preference, and the data providers compete then to deliver the same.
To make a bid, the holders must stake LINK tokens into the smart contract, and if the data is found inappropriate or fake, the protocol rejects it. When the providers are selected, it becomes their job to ensure that the chain gets correct data information. The providers process and translate the data and provide it to the buyer via Chainlink services. Chainlink then aggregates and measures the data collected and provided to the buyers using an oracle reputation system. It ensures whether the data sources are reliable or not.
The data providers then get paid if everything goes well and according to the plan, which means if the data sources are reliable. However, the reward given to the node providers depends on the prevailing market conditions and the market demand for the data.
How to buy Chainlink's LINK Tokens
You can buy LINK tokens from various sources; however, a trusted cryptocurrency exchange platform will remain the best resort. If you are still in the nascent stage of learning crypto trading, investing through an exchange can be a safe option. These portals allow users to trade in a safe environment without worrying about the safety of their assets. Some of the top-tier exchanges supporting LINK trading are:
Crypto.com: The trading platform is a popular choice for investors willing to buy and sell LINK. The users need to pay 0.4% for transaction fees. If you plan to buy in a higher amount, you may get a reduction in the transaction fee. One can earn up to 14.5% on this platform.
Coinbase: Coinbase thrives as one of the most trusted exchanges for crypto. The platform charges 1.49% as a commission fee for every exchange you make.
Binance, Kraken, Bitstamp, FTX, Huobi Global, etc., are other prominent options for buying and selling LINK trading pairs.
LINK's Market Dynamics
One thing that makes crypto unique is the fact that there is a fixed total supply for a project that offers an anti-inflationary touch. You must be wondering how many Chainlink tokens are there in the market presently and what is the project's capital worth. We have it all sorted for you. Take a look:
The token has a total supply of 1,000,000,000 and a circulating supply of 467,009,549. LINK's market supply presently stands at a worth of $6,126,568,432. The coin is enjoying a fair share of success within the crypto ecosystem and is likely to sustain its presence amid constant support from investors.
Despite being a billion-dollar industry, crypto works as a highly dynamic domain where every investment comes packed with certain risks. Unfortunately, LINK is noway elusive to these market patterns. However, the team of experts working behind the project strives to survive the adversities of the market.
This calls for some voluntary efforts from investors to enroll in some cryptocurrency trading courses or invest their time in gaining crypto education through books or the Internet. The more knowledge you will gain about cryptocurrencies, the better you will play in the market field.
Conclusion
Chainlink is undoubtedly considered one of the best cryptocurrencies to buy, sell, or hold for investors willing to put funds into a long-term initiative. SUpported by trusted exchanges, LINK is a good option if you are looking forward to putting your baby steps in crypto. Chainlink's trusted brand name, unprecedented tools, services, and core blockchain infrastructure makes LINK a thriving cryptocurrency. However, it is good to do some research before investing in a project. Doing your research will help you choose a project that suits your interests. So, before you decide to buy Chainlink, you must ensure that it aligns with your investment objectives. Happy trading!!!!!