Want to know how blockchain is helping in fighting against coronavirus? You have landed on the right page. The article illustrates the potential of blockchain to fight the outbreak, explaining the list of Blockchain use cases containing COVID-19 pandemic.

Learning Of Blog
Introduction
Potential of Blockchain to Fight COVID-19
Various Blockchain Platforms and its Use Cases
Conclusion
Introduction
Coronavirus has affected all continents of the globe where millions are infected, and thousands are dead. Governments, reputed health agencies, top enterprises, and others are using different types of emerging technologies to deal with deadly COVID-19 pandemic.
Out of all the advanced technologies, blockchain technology is aiding government and enterprises in terms of patient monitoring, tracking and tracing, and many other ways to deal with this outbreak. Blockchain is also facilitating early detection of epidemics, protecting user privacy, and assuring a secure medical supply chain during the outbreak tracking.
Curious to learn about blockchain technology and become a blockchain expert? Check out the best blockchain certification courses here.
Role Of Blockchain In Fighting Covid-19
Blockchain has proved its success in many real-world applications and can be applied to support coronavirus outbreak fighting as well. Let's see the real potential of blockchain in fighting against the COVID-19 epidemic.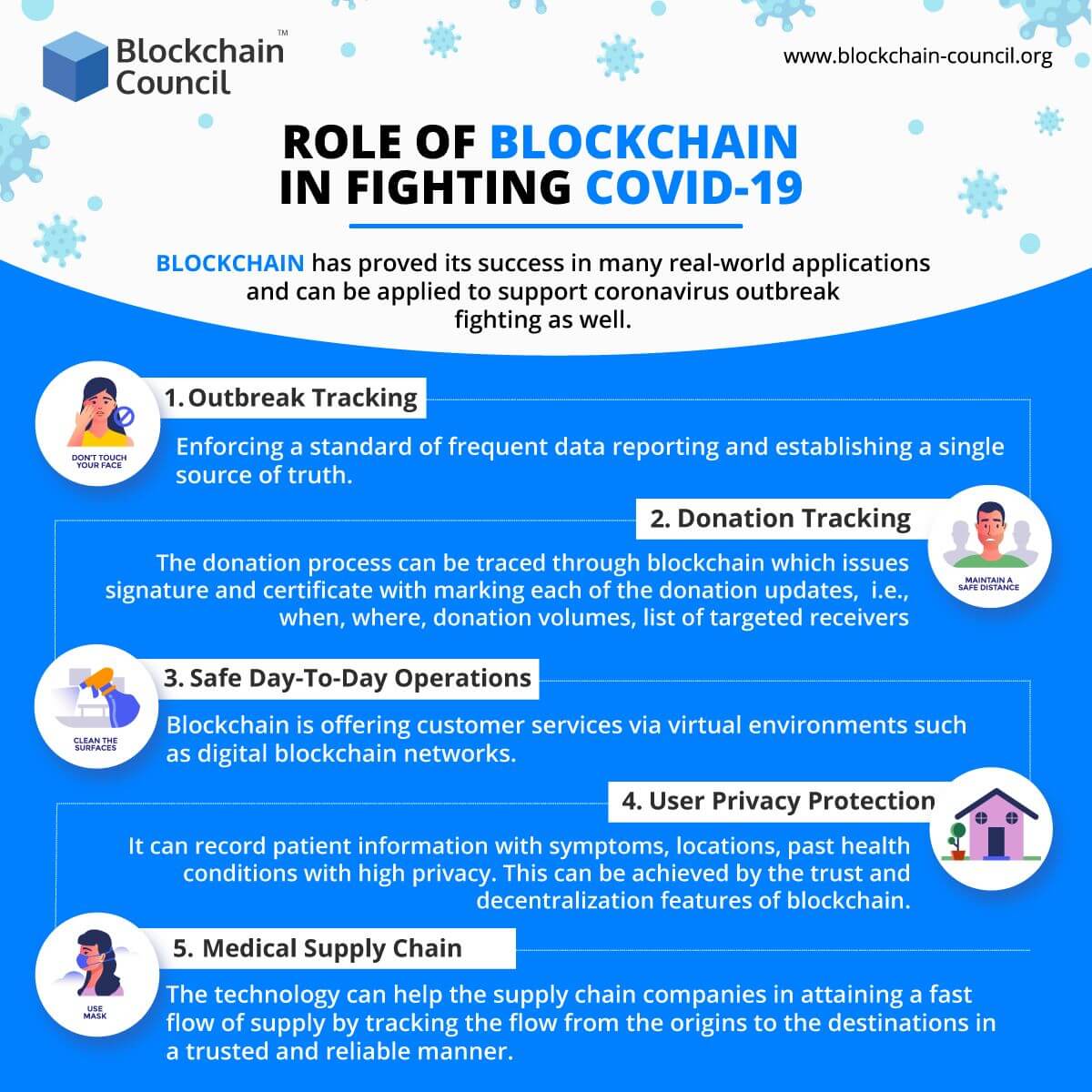 Outbreak Tracking– Enforcing a standard of frequent data reporting and establishing a single source of truth.
Donation Tracking-The donation process can be traced through blockchain which issues signature and certificate with marking each of the donation updates, i.e., when, where, donation volumes, list of targeted receivers.
Safe Day-To-Day Operations-Blockchain is offering customer services via virtual environments such as digital blockchain networks.
User Privacy Protection

– It can record patient information with symptoms, locations, past health conditions with high privacy. This can be achieved by the trust and decentralization features of blockchain.

Medical Supply Chain

-The technology can help the supply chain companies in attaining a fast flow of supply by tracking the flow from the origins to the destinations in a trusted and reliable manner.
Various Blockchain Platforms and its Use Cases
As we have understood the potential of blockchain technology, let's explore its use cases that are helpful in containing this epidemic.
Hashlog
To fight against the deadly coronavirus outbreak, one of the exciting applications is HashLog, a blockchain-based platform.
The HashLog visualization engine interacts with Hedera Hashgraph's distributed ledger technology in real-time to guarantee real-time logging and data visualization of disease spread. From the public data of the US Centres for Disease Control (CDC) and the World Health Organization (WHO), Hashlog is capable of providing real-time information for tracking the epidemic. It can track the movement and pinpoint infected people to prevent further spread of the disease.
PHBC
PHBC stands for Public Health Blockchain Consortium. This blockchain-based platform aims at verifying communities and workplaces that are risk-free from the coronavirus outbreak, as well as other high-risk viruses, bacteria, and fungi. This platform can also help in identifying safe zones where there have been no confirmed cases of the coronavirus. It can monitor the movement of uninfected persons, while restricting their return if they have gone to the areas known to be infected, thus containing the spread of disease in the safe zones.
VeChain
VeChain, a blockchain-based platform, aims at monitoring vaccine production in China and to curb the spread of fake face masks by teaming up with Chinese and American companies. This platform is working hand in hand with production facilities to make sure that new KN95 masks imported from China are authentic. From materials, codes to package, all activities related to vaccine manufacturing are recorded and stored on distributed ledgers. This project also provides a reliable method to reduce the risk of potential modifications to vaccine information.
Hyperchain
Lack of transparency has been one of the most significant issues during the epidemic outbreak. Hyperchain is the next blockchain-based platform that works uniquely for donation tracking to fight against the coronavirus outbreak. This platform aids governments and healthcare organizations in the donation process to the infected victims in China. This platform ensures that the donation process is immutable, traceable, and reliable. It offers a transparent portal that allows donors to watch where their funds are operating. By providing proof of need and proof of receipt, this blockchain charity platform ensures that the donations reach immediately to the intended party.
Conclusion
Due to the diverse spread of blockchain technology across domains and functionalities, enterprises and governments are in a good position in leveraging blockchain applications against COVID-19. Not only this, the leading authorities such as WHO has also found the relevance of this technology to fight against coronavirus outbreak. And to further deal with the pandemic situation, the world needs to apply emerging technologies such as blockchain methodically to handle this type of public health emergency. For future aspects, blockchain platforms should be more optimized to achieve better performances in terms of reduced network latency, increased throughput, and improved security, to make blockchain an ideal choice for emergency healthcare applications like the COVID-19 epidemic.
To get instant updates about Blockchain Technology and to learn more about online blockchain certifications and become a blockchain expert, check out Blockchain Council.