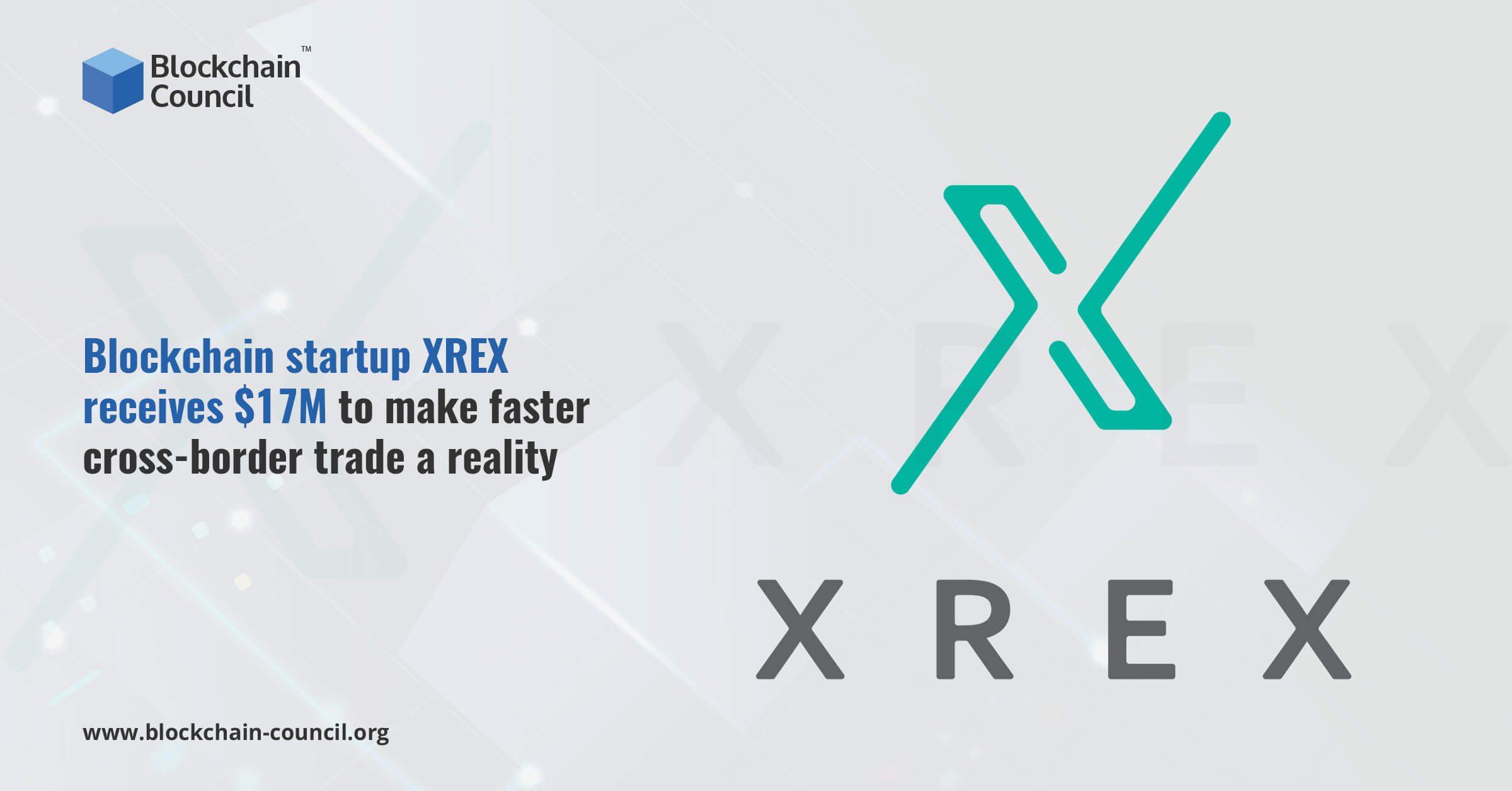 A substantial portion of the global trade is conducted through the use of the United States dollars and this, in turn, creates quite a bit of a problem for countries that usually have less reserve of the American dollars. The blockchain-based startup named XREX was launched initially to help cross-border businesses arising out of the emerging economies, to carry out faster transactions with the products using methods like payment escrow service or even an exchange platform for crypto to fiat currencies. 

XREX is basically a Taipei-based startup company that has raised around $17 million in a pre-Series A funding event that was led by the CDIB Capital Group. The funding round was also joined by participants that included SBI Investment which is again a subsidiary of SBI Holdings, Three D Capital, Global Founders Capital, E.Sun Venture Capital, MetaPlanet Holdings, Systex Corporation, AppWorks, New Economy Ventures, Black Marble and Seraph Group. The last funding event in which the company had taken part was back in the year 2019, when the startup had raised $7 million in seed funding.
According to the company authorities, a portion of the new funding will be spent on applications for licenses in countries such as Hong Kong, Singapore, and South Africa. It will also be used to form partnerships with several banks and various financial institutions such as payment getaways and so on. 
Wayne Huang, who is the chief executive officer and the co-founder of XREX, stated that they were specifically willing to build a regulatory-friendly cap table. He admitted that it is quite a challenging matter for a startup like them to raise that much funds from public companies or banks, but this time they were really determined and dedicated to win the funding round and eventually they became successful.
Huang had sold his previous company which was basically an anti-malware company by the name of Armorize Technologies which was also an SaaS developer. The company was sold in 2013 to another company named Proofpoint. The main function of Armorize was to analyze the source code in order to detect any sort of vulnerabilities, and a considerable number of his clients were basically developers from cities like Bangalore and Chennai. 
It was during his travels that he discovered that there were numerous amount of cross-border issues with money transferring, as he himself ran into them a lot many times. However, when Satoshi Nakatomo introduced his Bitcoin White Paper research, it got the attention of almost every cyber security professional in the world and he was one of them. 
It was then that he started wondering about how blockchain technology can be leveraged to facilitate financial inclusion in markets that are emerging in countries like of India. His ideas were realized when he teamed up with Winston Hsiao, who is also the co-founder of XREX and also the founder of the first Bitcoin exchange platform in Taiwan which was named BTCEx-TW. Hsiao on the other hand had grown up in India and was quite familiar with the cross-border money transfer issues since he was also into exporting of semiconductors made in Taiwan. 
The XREX Crypto services provide merchants with the ability to conduct trade through digital fiat currencies and especially to merchants who belong to a country where there is low liquidity of the U.S dollar. Their main objective is to make sure that the merchants can have quicker access to the U.S dollar so that they can pay off the authorities quickly and secure their precious commodities when they are importing stuff. 
In order to use the platform, the merchants need to sign up and register on XREX wallet which consists of a commercial escrow wallet by the name of Bitcheck. Huang mentioned that it is equivalent to having a credit letter from a recognized commercial bank. Bitcheck then makes use of currencies that are digitally rendered such as the USDT and USDC along with stablecoins which have been pegged with the U.S dollar. 
Finishing thoughts: Want to build your own Cryptocurrency based projects?
Learning Blockchain, and Cryptocurrency are easy now, all thanks to reputed online courses and training sessions. Blockchain Council is one such organization that offers online training and certification programs to aspiring trainees to render them desired competencies so that they have a successful career in the Blockchain space. Keeping the rising demands of blockchain professionals in mind, Blockchain Council certifications are diversified to meet each aspirant's discrete needs. They have a host of training and courses on Cryptocurrencies that provide world-class knowledge and support.
To get instant updates about Blockchain Technology and to learn more about online Blockchain Certifications, check out Blockchain Council.