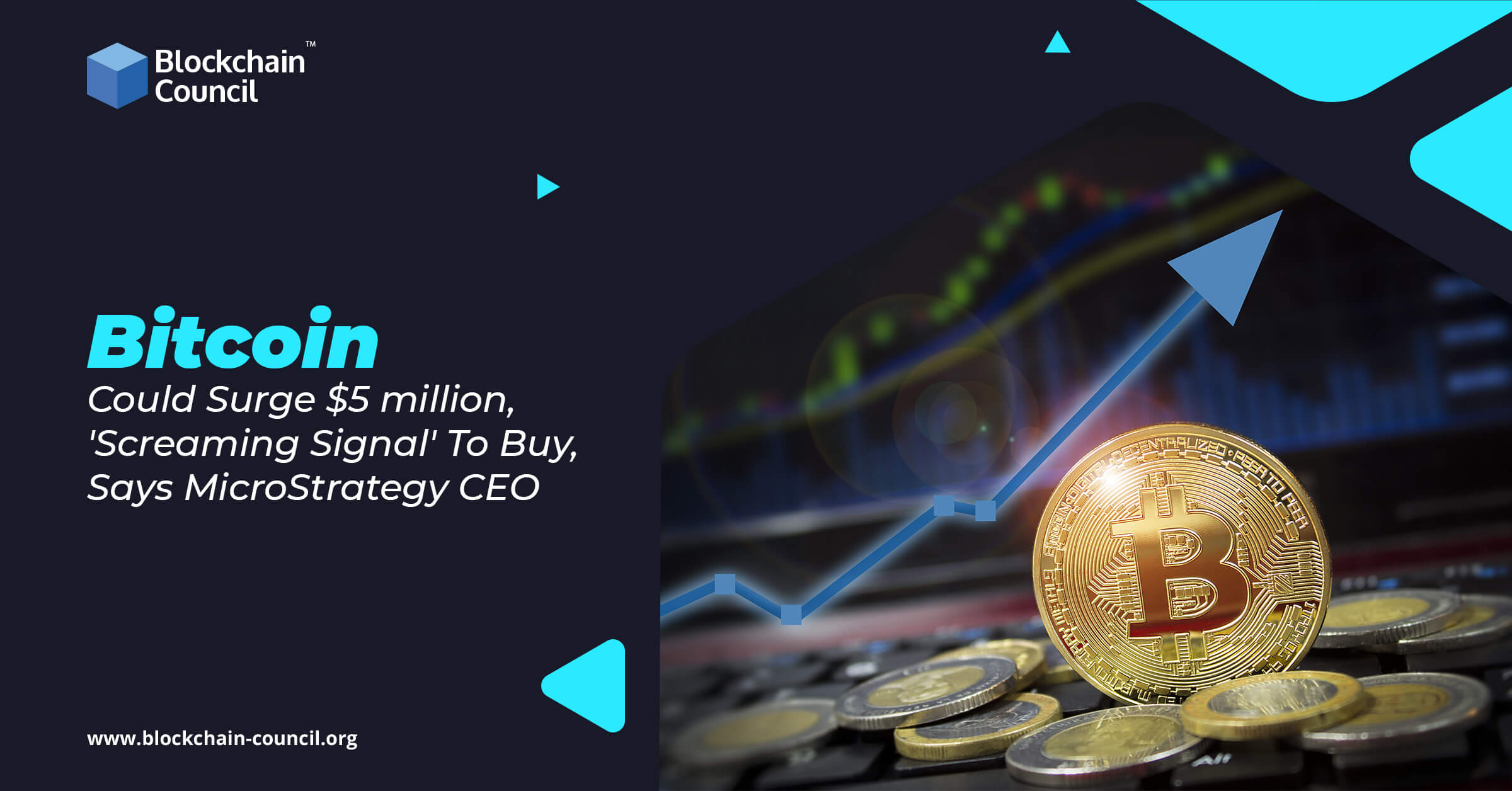 According to the latest announcement, CEO of MicroStrategy, Michael Saylor, predicts that Bitcoin price could hit $5 Million and considers BTC as a "screaming buy." 

Now that Saylor predicts the price of Bitcoin to hit $5 Million, it indicates that his price foretelling surpasses all predictions, including the one made by Kraken. 
Recently, the CEO of popular cryptocurrency trading platform Kraken also believes that BTC will surpass all records and will hit $1 million in the next few years. 
Saylor's words came during an interview with FamilyOffice, first spotted by Daily Hodl, where he stated that he assumes BTC price would hit a million dollars adding it could reach $5 million. According to him, if it merely substitutes all the indexes with monetary index money, why shouldn't it hit a market cap of $100 trillion or even more?
According to Saylor, Bitcoin is Screaming Signal
According to Saylor, BTC is showing investors a "screaming signal" that it should be bought, as it has the potential to reach "$200 to $300 trillion addressable markets. He also cites Bitcoin as the most common cryptocurrency, with the buy signal being that it has been growing at a rate of 200 percent per year for the past 12 years. 
He also predicts cryptocurrency with FAANG (Facebook, Amazon, Apple, Netflix, and Google) stocks and believes that cryptocurrency will keep on outperforming when compared to FAANG stocks. This assumption comes from the fact that he doesn't think the tech giants will rise by a factor of ten from where they are today, considering the fact that he thinks they will "maybe" triple in value over time.
Following the economic fallout and rise in money printing that started early last year, Saylor believes Bitcoin's promise has become much easier to comprehend.
In his words, "Bitcoin got to be a much easier trade in March of 2020. And every month since March of 2020, it's been de-risked exponentially, and then the need is exploding."
2021 The Best Year So Far For Bitcoin
Although there are over 4,000 cryptocurrencies, still Bitcoin-the first-ever cryptocurrency is considered to be the most successful cryptocurrency to date.
It all started in 2009 where the Bitcoin network was first introduced, and since the cryptocurrency has seen some significant ups and downs. 
2021 has been the best year for Bitcoin as it experienced an unexpected hike. In January 2021, its price rose to $40K, and on 16 February, the price further surged to $50,000, and finally, on 13 March 2021, it was announced that the price crossed $61,000 to set a new all-time high. 
At the time of writing, BTC is trading at the rate of $52,752.00 with a market capitalization of 983,367,972,775. 
To get instant updates about Blockchain Technology and to learn more about online Blockchain Certifications, check out Blockchain Council.