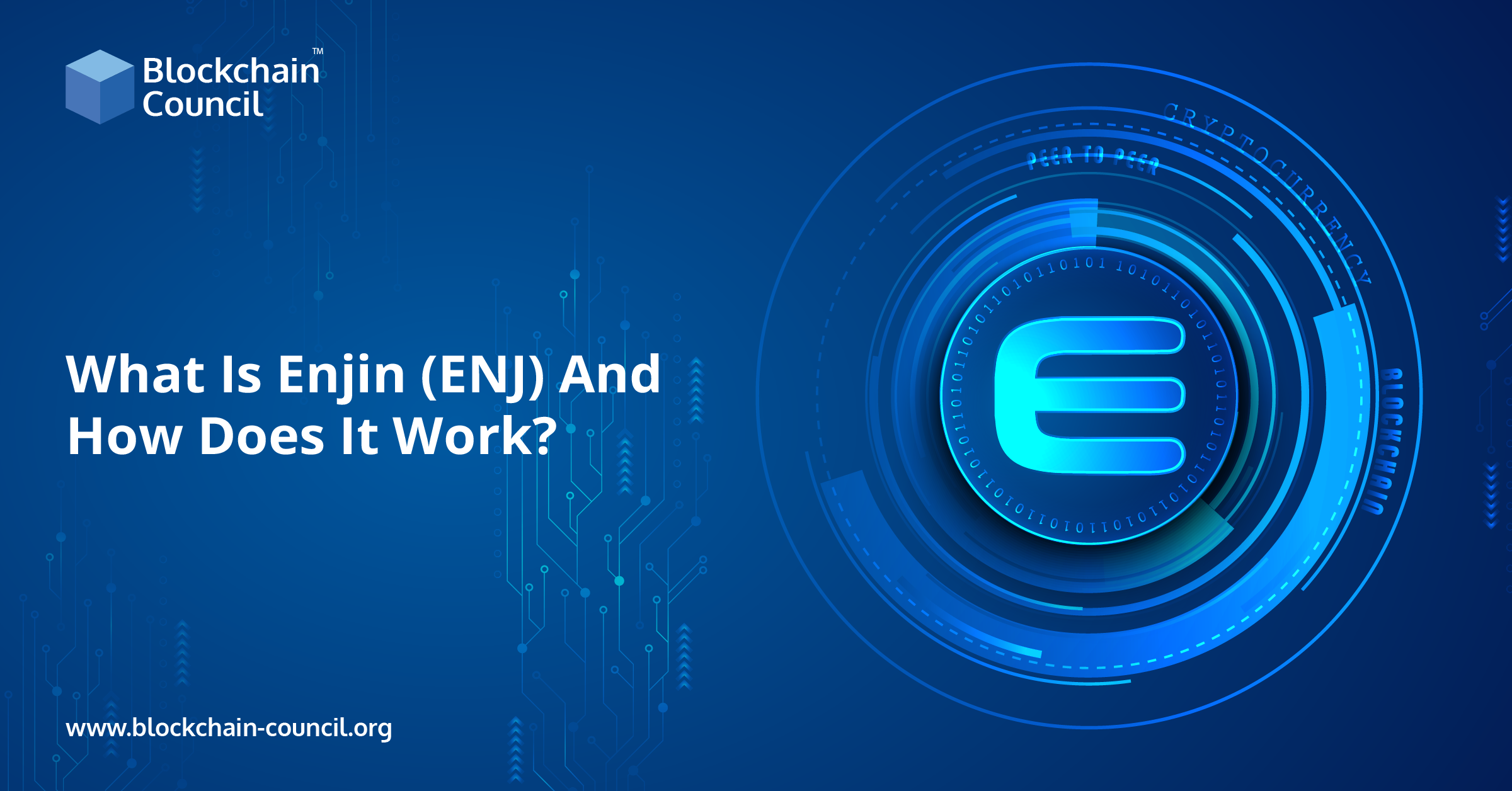 If you are looking forward to setting foot in the cryptocurrency market, the first thing you need to do is find the right cryptocurrency. Many traders out there are browsing for their ideal crypto coin. Ethereum and Bitcoins are the top priority of almost everyone. However, you need to know that they are not the only option; other crypto coins are equally good. Enjin is one of the best crypto coins which is gaining momentum in the crypto market over the past few years. Many are new to this term; let's learn about what exactly is Enjin, how it works, where to buy or mine them, and every other detail about this in this article.

What is Enjin?
Enjin platform is an exclusive platform that offers developers the ability to create content, design, store, and trade them. The primary focus of Enjin is on gaming, and the users involved in Enjin make use of the native token called ENJ, which is backed by the Ethereum blockchain as is an ERC20 token. The cryptocurrency Enjin originated on the Ethereum blockchain and came to light in late 2017. The Enjin cryptocurrency projects help people tap into the world of cryptocurrencies easily. These are less complicated, and even novice traders can make a better profit in a brief period.
History of Enjin
Enjin is a Singapore-based tech company that offers the finest services for Ethereum blockchain developers and several game developing communities. The company was launched in 2009 as this platform enables users to effectively build websites, forums, and apps that primarily focus on gamers. Enjin is still growing, and the founders of this project include Maxim Blagov and Witek Radomski.
The company advanced towards a blockchain platform in 2017 and was succeeded by an IOC short for initial coin offering, which gained approximately. Enjin, after launching its ERC20 token, the company established its own exclusive blockchain tools and services. In 2018, the company successfully launched a blockchain wallet known as the Enjin wallet, which is compatible with every android device. Following this, a few months later, they introduced wallets that are accessible on IOS devices as well.
How does Enjin work?
The primary objective of Enjin is to provide you with a safe and secure space to store your virtual goods that may be useful for multiple games. The game items, such as swords, characters, etc., are stored in the form of tokens which can be redeemed at your convenience. However, there are certain steps one must follow in order to destroy or develop the items in the game:
Acquisition 
This is the first step where the developers purchase Enjin coins.  
Minting 
The next step is to create and design the games using the ENJ tokens purchased.
Gaming 
The players get these tokens in the form of rewards which later they use for multiple needs.
Trading 
The majority of players trade these tokens with fellow players.
Melting 
The final step is to sell these tokens for ENJ.
Suppose you wish to know the working of Enjin; having an in-depth idea of how its native coin works is mandatory. The native coin, as mentioned earlier, is an ERC20 token that is backed by the Ethereum network. Ethereum miners secure these coins, which implies that you cannot access these ENJ coins independently. The platform has improved its scalability solution, which is now called Efinity.  Enjin works by maintaining a connection between game publishers, online gaming communities, and gaming servers on a single platform. The native coins demand a relatively low transaction charge.
The Enjin platform gives content developers and game players complete control over in-game assets. Every user can manage the in-game properties that are spread over different platforms. Adequate blockchain training provides you with better insights into foundational blockchain concepts and helps develop the required skill sets for effectively implementing smart contracts.
How to use Enjin effectively?
Even though the principal uses of Enjin tokens surround the gaming market, Enjin is extending its cases into real estate sectors and loyalty rewards. Enjin offers added utility as they are highly compatible with Ethereum based DeFi platforms. This feature allows the users to invest ENJ coins in order to earn interest while others borrow their Enjin tokens. These are shielded effectively through Ethereum smart contracts. Furthermore, enjin coins can be integrated into other pools; this will help users ream further profits/ yields and unveil better opportunities.
How to select an Enjin wallet?
Several Enjin wallets are available out there that can store the coins effectively. You can choose from these according to your needs and functionality. If you are a new user, Coinbase wallet, Ethereum wallet, web, phantom stronghold platform, Lumi collect, etc., are some of the best Enjin wallets currently available. In addition, users can install Enjin wallets on their mobile phones. But how to select the right Enjin wallet? Here are a few things to consider before you install any.
Company reputation

Technologies used

Backup features

Look for wallets that give the option to handle different cryptocurrencies under an as single roof.

Easy cryptocurrency conversions

QR code scanner

Blockchain evolution

Customer services play a crucial role as the crypto market is dynamic, and the value falls and rises frequently.

Liquidity risks revolve around wallets and crypto coins. Cash flow and funding liquidity can harm your trading volume.
Important characteristics of Enjin
Enjin is a powerful tool for creating non-fungible tokens and other digital assets. It is important to know why this platform stands out from other alternatives. Below mentioned are some unique features of Enjin.
Instant documentation of transactions, smart contracts, and tokens, Development of virtual products, Wide assortment of SDKs are the primary features. But, apart from these, there are three major features that the majority are unaware of.
Smart wallets
The most appreciable feature of Enjin is the smart wallets. This basic blockchain wallet brings together different games and applications. The wallets offer a wide range of features because they are the same; it has been installed over a million times. However, the Enjin crypto wallet is different from other smart wallets. These wallets put forward dedicated subscription services that enable the server owners to run tile-limited services. For example, the server and community owners can offer time-limited services to the users where they can access the web contents. In addition to this, the smart wallets confirm a connection between every user account across every trustworthy platform.
Public API accessibility
Ethereum developers and game developers can access a public platform API that thrives on the JOSN-RPC platform. API helps the users to check their account balance without any complicated steps. This feature alongside provides its users easy access to smart contracts.
Escrow-based marketplace
In addition to other features, Enjin supports an Escrow-based marketplace. The Escrow system is popular for easy handling of multiple transactions. Enjin users experience smooth transactions of in-game assets and crypto coins protected by high security by deploying this feature. Another important part of this escrow system is that it facilitates player-to-player exchanges. The primary function of in-game smart wallets is to help you find a suitable item and carry out the transaction in a few steps.
What makes Enjin unique from other cryptocurrencies?
 The co-founder Witek Radomski of the Enjin said that the native coin ENJ immediately backs every token minted with the Enjin platform. Enjin is a special cryptocurrency and is not like any other cryptos out there. Enjin operates similarly to currencies whose primary focus is on the assets and games on the platforms. As a result, ENJ is more viable compared to other competitors. If you ever happen to come across the Enjin marketplace, there are specific terms used for the scales. And if you wish to transfer gaming items to another player, you need ENJ.
How and where to buy Enjin Coins?
 The most commonly asked question when it comes to Enjin is where to mine them. But unfortunately, considering the current situation, you cannot mine Enjin directly from any platform. So then the next question arises, "how and where to buy them?"
Even though Enjin is not found in every crypto exchange, they are abundantly found on Coinbase, Gemini, Binance US, and Kraken. Each crypto platform has its own unique features and limitations; for example, Binance US only provides its services in 43 states. Therefore, before you finalize with any platform to buy not just Enjin but any crypto coins, inspect the terms and conditions, and read online reviews and feedback to have better insights. For instance, let's imagine you choose Coinbase to purchase Enjin coins; here, we will list down how you can purchase Enjin coins without any trouble:



   

Create an account
So if you are doing these on Coinbase, download the Coinbase app and begin by signing up by entering all the essential details. Then, to create an account, you will have to show an ID proof to confirm that you are ready to make the account. The time required to verify your ID varies with your location; typically, it takes a few minutes.



   

Add a payment method.
The apps you have chosen will offer you various payment methods, which you can select at your convenience. For example, you can use a bank account, credit or debit card, or even initiate a wire.



   

Strat trade
After completing the above two steps, in Coinbase, a double arrow icon will be visible; click on that and later select the "buy" button to proceed with the purchase.



   

Select Enjin coins from the asset list provided
In a platform like Coinbase, there are several crypto coins available. All you have to do is enter the name "Enjin coins" in the search bar. Then, by tapping on the suggestions, you will land on the purchase screen.



   

Type in the amount you wish to purchase
Once you have selected the crypto coins you need to purchase, enter the amount you wish to buy using fiat currency; the app will convert the amount into Enjin coins.



   

Confirm/ finalize your purchase
Select "preview buy" to confirm your purchase. Before you click, make sure everything looks good, and there is no mistake.
By following this method carefully, you can purchase Enjin as well as any other crypto coins effortlessly.
What to consider before buying?
 If you intend to buy Enjin coins, here are some things you should be well aware of because once the coins are brought, there is no going back.
 

Wallets

 

Fees

Transaction times
How to sell Enjin coins?
Simply follow these steps to sell Enjin coins.
By signing up for an altcoin exchange, you can easily sell Enjin coins and expect faster cash.

You can sell Enjin on Bitcoin or Ethereum. This is because they are the most popular cryptocurrencies, and it helps you access high-volume liquidity easily.

After signing up and verifying your account in Ethereum or Ethereum, click the "fund" option.

 

In the dashboard, you will find a quick trade option.

The final step is to click "withdraw" and the top menu bar.
Is now a good time to buy Enjin Coin?
In 2021, Enjin showed a bullish trend, and this year it is considered one of the fast-growing cryptocurrencies. So, YES, Enjin is a good investment in 2022. But experts suggest traders and investors take extra care as these are highly volatile.
Conclusion
Summing up everything we have discussed, Enjin tokens act as a backbone of the digital assets developing platform. You cannot mine any native coin of this platform as it is backed by Ethereum blockchain technology. With every passing year, the demand for digital assets is increasing manifold, which is partly driven by the popularity of NFTs. Hence, Enjin, a platform that permits the development of NFTs and digital assets, has proven its potential to step into the digital landscape.