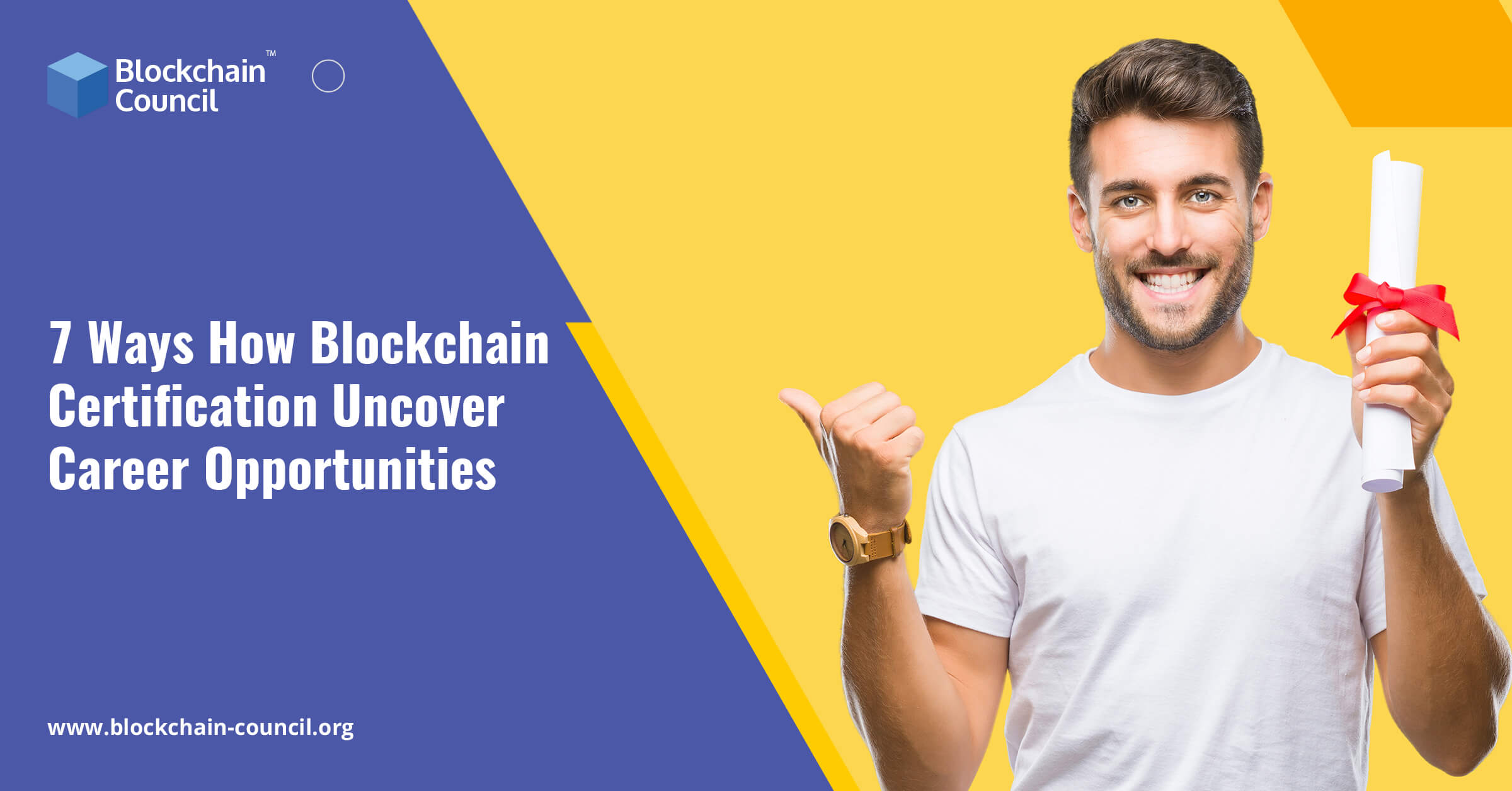 Blockchain is a leading decentralized platform symbolizing the innovation of cryptocurrency. Since the introduction, it is gaining popularity as a professional niche and attracting entrepreneurs towards itself. Blockchain is introducing a gamut of career opportunities including Blockchain engineers, developers, and designers.

As the industry is booming, you can also grab technical skills and career opportunities. All you need is an Authorized Blockchain Certification to become a CBE (Certified Blockchain Expert).  Whether you are an entrepreneur or tech-savvy, the certification will make you reach the desired goal in life.
Here a question arises how does blockchain certification can make a way to success for you. If you are the one with this question in your mind, this article is for you. Let's have a deep dive into the 5 ways how blockchain certification uncovers career opportunities.
In the competitive world, an effective resume is key to grab job opportunities. Blockchain certification creates a positive impact on your skills in front of the interviewer and increases the chances of selection. Even if you are a fresher graduate, you can start your career as a Blockchain developer.
Blockchain is emerging as an innovative technology for IT, finance, and cryptocurrency companies. With the certification, you have a higher chance to get selected in your dream company as compared to an uncertified graduate. You may surprise to know Tech Mahindra is amongst the leading Forbes participants in Blockchain. The certification in your resume makes you a perfect candidate according to the business requirements.
An authorized certification not only weighs up your resume but also provides an in-depth specialization in Blockchain technology. For the certification, you need to enroll in Blockchain training and courses. The training programs are designed to make you excel in implementing Blockchain and its use cases on business applications.
After the training, you must clear advanced tests and interviews to become a certified blockchain expert. An authorized Blockchain certification is given to you if you clear all the parameters. Also, the certification ensures you have in-depth knowledge of Blockchain applications and are ready to work as a professional.
Streamlined Blockchain development techniques:
As discussed above, the certification reflects your Blockchain development techniques. The training courses uncover various Blockchain development techniques including UTXO transactions, account models, consensus mechanisms, and much more. These skills will give a sustainable boost to your career in IoT, CBDC, retail fashion, e-sports, and the legal industry.
Along with that, Blockchain certifications offer a great insight on Blockchain mining, ecosystem, and architecture to excel your skills. It uncloses various career opportunities for you in business development, engineering, IT, sales, and operations. Whether you want a career in IT or banking, the certified courses enhance your skills according to the current industrial standards.
Hiring virtual assistants is one of the top trending human resource acquisition techniques used by businesses. In this, they hire an offshore professional for the projects instead of building a team at their premises. The technique is worthwhile for businesses and generates career opportunities for virtual assistants.
With an authorized certification, you can display your skills and proven knowledge of Blockchain technology. The Blockchain certificate makes a CBE and increases your chances to work with businesses. Being a virtual assistant, you can develop Blockchain solutions for two or more companies without any legal restrictions.
Freelancing is like being a virtual assistant but the difference it offers a platform to meet global clients. You can display your certification and attract various clients to your profile. In freelancing, there is a gamut of opportunities if you have the relevant skills according to industrial requirements.
Freelancing platforms are trustworthy and make your work as an independent professional serving Blockchain solutions. Block certification helps you in promoting your application and winning large projects of global giants. Like virtual assistants, freelancers can also work on multiple projects simultaneously and showcase client testimonials for promotion.
Undoubtedly, Blockchain technology is gaining popularity worldwide, but not everyone has in-depth knowledge about it. Blockchain certification makes you an authorized person to share your knowledge with beginners. Also, you have YouTube as the world's largest online platform to upload your videos and generate an expected income.
Moreover, the certification allows you to work as an authorized Blockchain tutor in a firm or on a customized website. You can create a customized tutoring platform and start training beginners with advanced Blockchain technology. Even if your audience has an interest in forex trading, you can create forex trading courses for them. According to experts, students prefer learning from certified tutors as compared to unauthorized content creators.
Last but the best career opportunity on the list. Global markets appreciate entrepreneurship with innovative ideas and certified services. With the certification, you can easily jump into the growing business world and fulfill the needs of your targeted customers. A Certified Blockchain Expert can initiate its enterprise in retail, banking, telecommunication, e-commerce, FMCG, IT, and other related domains.
Being a certified professional, you will be able to attract customers to your business and generate the expected productivity. Even if you want to initiate a B2B firm, you can create Blockchain models for other enterprises using Blockchain architecture and cryptographic algorithms.
Expert Verdict:
Blockchain certification is more a key to success than a piece of document. You will get access to a variety of career opportunities being a Certified Blockchain Expert. As Blockchain is growing, you can even build new career opportunities and earn the desired livelihood. The certification allows you to work in various domains including retail, telecom, banking, IT, and e-commerce.
During the training, you will go through various Blockchain models, cryptographic algorithms, and architecture. Once you complete the training, you become an authorized expert with immersive Blockchain development skills. You can join your desired enterprises as a Blockchain developer, tester, and engineer using the certification.
Even if you do not want to work as a 9 to 5 employee, Blockchain certification unlocks various self-employment opportunities. You can start working as a virtual assistant or freelancer and work with multiple clients without any legal obligation. Along with that, you can initiate an entrepreneurship, tutoring platform, or coaching institute according to your preferences. You can introduce various forex trading strategies for the audiences who want to learn forex trading.
At the end of the note, blockchain certification offers a treasure of career opportunities to hunt. You can also get access to treasure by becoming a Certified Blockchain Expert. All you need to do is to search for the best Blockchain development courses and start chasing your passion.