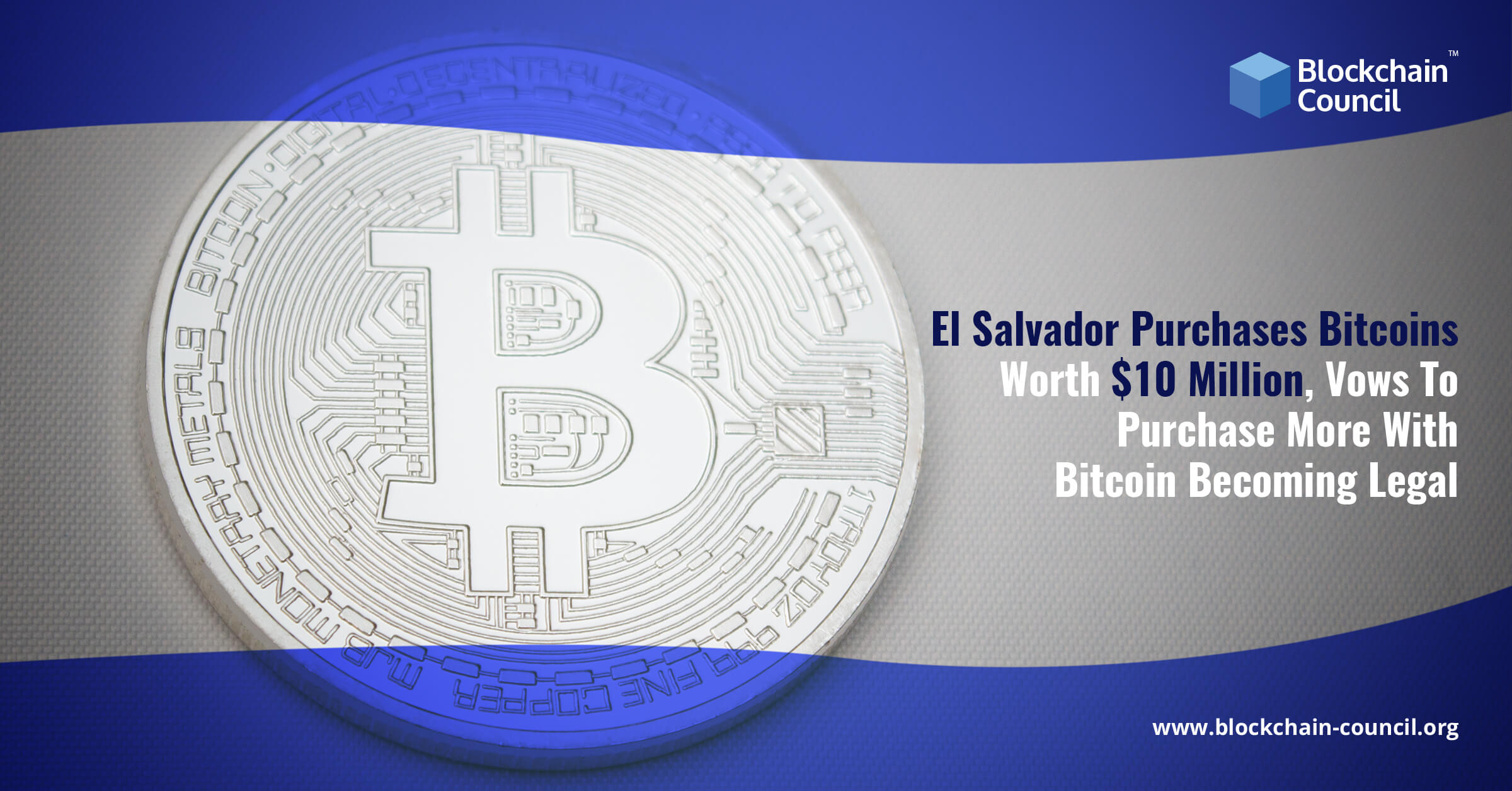 The biggest cryptocurrency in the world by market capitalization, Bitcoin, is currently trading at a staggering value of $52,000 and it is at this point that we get to her from Nayib Bukele, who is the respected President of the country of El Salvador. He announced on Twitter that the country had made history by purchasing 200 Bitcoin at an estimated worth of $10 million.

El Salvador has just bought it's first 200 coins.

Our brokers will be buying a lot more as the deadline approaches.#BitcoinDay #BTC🇸🇻

— Nayib Bukele 🇸🇻 (@nayibbukele) September 6, 2021
In addition to that, as the deadline for the Bitcoin law comes closer, the President, who is also the driving factor behind the legalization of Bitcoin in the country, further added that he vows to continue purchasing more Bitcoins in the future.
The country of El Salvador is on its way to becoming a pioneer when it comes to accepting Bitcoins after the legal will be passed in that region on the 7th of September, 2021. Many people may not know about this, but the movement surrounding cryptocurrencies had begun there a long time ago. El Zonte is a small town which is located on El Salvador's Pacific Coast. Sometime back, an anonymous donor had initiated a project by the name of Bitcoin Beach in El Zonte.
The town of El Zonte does not have any banks as such. On the other hand, the residents of tha town had been accustomed to the use of Bitcoins in their attempts at purchasing certain things and conducting certain transactions. Tomorrow the initiative will spread out across the whole country with the legalization bill. 
Also, what many people may not know about President Bukele is that he has been an avid supporter of Bitcoin since back in the early days of 2017 when he had expressed his interest in the cryptocurrency on Twitter. Therefore his recent position on cryptocurrency and the plans that he has in mind may be a lot more calculated and analyzed than what many people have to think of.
In one of those calculated actions, President Bukele has announced that the country has acquired 200 Bitcoins and, in the future, plans to purchase even more as soon as the Bitcoin law comes into effect.
A country has purchased Bitcoins: What are its implications?
As per the current price of Bitcoin in the market, a collection of 200 Bitcoins would amount to an estimated worth of $10 million. People may not realize this now because many companies are out there who are purchasing hundreds and thousands of coins, but the implications of a country making a purchase of Bitcoin and that too, for use as a legal tender, is far more powerful.
This is the first time that we are witnessing a country purchasing Bitcoin as a legal tender, and it is undoubtedly a matter of fact that this will certainly not be the last time when something like this happens. Some experts are of the opinion that this incident just might have a domino effect, and we see a chain of countries mimicking the actions of El Salvador and start adopting the cryptocurrency. 
From tomorrow, every single adult citizen in El Salvador will be receiving a token amount of $30 in Bitcoin in their digital wallet. The future of Bitcoin is indeed taking some really interesting turns as something like this event, where a country is purchasing the cryptocurrency to use it as a legal tender, could not even be imagined when the cryptocurrency was introduced in the market.
Experts are also of the opinion that many other smaller countries will take inspiration from El Salvador and just might start purchasing Bitcoin for their country as well. But what if a bigger country with a huge population suddenly decides to adopt Bitcoin? What happens then?
Finishing thoughts: Are you interested in developing your own DeFi based applications and Cryptocurrency projects?
Learning Blockchain, Cryptocurrencies and Decentralized Finance (DeFi) applications are easy now, all thanks to highly esteemed online courses and training sessions from Blockchain Council, which is one such organization that offers amazing and effective online training and certification programs to aspiring trainees while rendering them desired competencies so that they have a successful career in the Blockchain space. Keeping the rising demands of blockchain professionals in mind, Blockchain Council certifications are diversified to meet each aspirant's discrete needs. They have a host of training and courses on DeFi and Cryptocurrencies that provide world-class knowledge and support.
To get instant updates about Blockchain Technology and to learn more about online Blockchain Certifications, check out Blockchain Council.